Luz de la Riva Simone hint of cool water base lube - Lubricant from Luz de la Riva

Product Details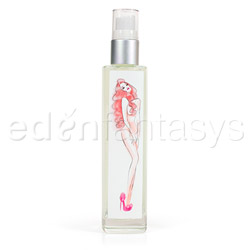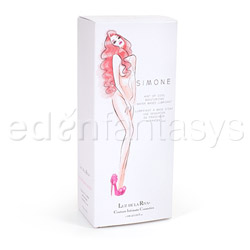 Summary:
If you're looking for a great quality cooling lubricant that not only does a great job of cooling but leaves things feeling refreshed, slick, and smooth, without the sticky and greasing feeling that other lubricants leave behind, then Simone Hint of Cool Moisturizing Water Based Lubricant is the one for you. With its cooling sensation and natural extracts, it's bound to enhance those intimate moments and leave your skin feeling soft and luxurious afterward.
Pros:
Cooling, slick, smooth.
Best use:
Simone Hint of Cool Moisturizing Water Based Lubricant by Luz De La Riva is the classiest, most couture looking lubricant I've ever seen-or owned! This little lady's lubricant is designed to cool you down and keep you going without the worry of constant reapplication. The natural extracts in Simone leave your erogenous zones tingling and feeling refreshed and rejuvenated. This is a great quality cooling lubricant for those looking to spice things up in the bedroom; or should I say cool things down!

Simone works great on the genitals as well as on the nipples, without being too overpowering or leaving a burning sensation that some tingling and cooling lubricants leave. Grab Simone to use with vaginal intercourse as well as manual stimulation with or without the help of your favorite toy! Men will also enjoy the effects of Simone when applied to the penis.

Ladies with glycerin allergies will want to keep looking as Simone does contain glycerin.
Simone is does not have a flavor or a scent, and therefore I wouldn't advise you to use this for oral sex.
Texture / Consistency / Thickness / Viscosity:

In the bottle, when left standing upright, Simone has a shiny, milky like film that gathers toward the top of the bottle. Shaking the bottle will mix the lubricant, causing the shiny, milky film to mix in with the rest of the product, but it does return after being stationary for a while. As for the rest of the lubricant, it appears a little cloudy.

Simone isn't a thick lubricant and has more of a thin, slick consistency. It dispenses out of the pump head cap easily and isn't going to leak or be messy. It stays where you put it and isn't runny. This lubricant feels very natural to the touch and when applied to the genitals.

The best part about Simone, besides how natural it feels, is that it doesn't leave you feeling sticky or greasy afterward; while it lasts a good bit of time it does absorb well into the skin leaving it feeling silky and smooth. Cleaning it off your body is up to you, you can wipe it off or rub it in!

Being a water based lubricant, Simone is safe to use with any of your favorite toys.

Base:

Water

Ingredients:

Purified Water, Glycerine, Xanthan Gum, Poloxamer 407, Sodium Sterate, Flavor, Menthyl Lactate.

Color:

Clear

Taste / Aroma:

Simone is scent and flavor free. When applied to the body a scent isn't noticeable at all; however, if you unscrew the cap and smell it in the bottle, it does have a slight smell that I would describe as a clean, refreshing scent that isn't powerful at all or unpleasing. When smelling this product I think of a refreshing drop of dew on a leaf.

Because there isn't a specified flavor or any suggestion on the package of being use for oral, I did not taste it and I wouldn't advise anyone to. This lubricant is marketed as a personal lubricant, not an oral pleasure lubricant.

Performance:

Simone Hint of Cool Moisturizing Water Based Lubricant does its job very well as a cooling lube. When using it either with a partner for vaginal sex or alone during solo play, it lasts a fair amount of time and the cooling effects can still be felt for quite sometime after playtime is over, thanks to the menthyl lactate.

The cooling effect is just the right amount to be exciting and pleasing without being too overstimulating. Simone doesn't leave a burning sensation behind that some cooling (or warming) lubricants tend to do. It is very pleasing to use if you enjoy cooling, tingling, and the overall feel and sensations that menthol provides. It feels good vaginally, on the external parts of the vagina, as well as the nipples. Men can also enjoy the cooling effect of Simone when applied to their penis, which gives a new level of excitement to manual stimulation to themselves or by a partner.

Don't let then thin consistency fool you: this lubricant leaves your skin feeling slick and silky once applied and makes penetration easy or allows toys, fingers, etc, to glide nicely along the areas that it is applied.

Because of the natural extracts it feels refreshing and moisturizing on contact. Cleaning up after using Simone is up to you as it absorbs well into the skin and leaves it feeling soft and smooth. You can rub it in or wipe it off!

Safety features:

Paraben free

Special features:

Packaging:

Simone Hint of Cool Moisturizing Water Based Lubricant comes in a very chic feminine box. It isn't discreet at all and depicts a drawing of the Simone character on the front: nude, but in a tasteful way. The glass bottle is more discreet than the box and just has a sticker outline of Simone on the front.

Volume:

3.6 fl.oz.

Weight:

0.6 lb

Personal comments:

Personally, I am an immediate fan of both of the Luz De La Riva products I have been given to review. You can check out my review of LuLu Forbidden Fruit Edible Massage Oil Here.

I have tried popular name brand cooling lubricants found in most retail stores such as KY and Wet, and I have had unpleasant experiences with both. They either lacked in cooling effect or let me feeling a burning, irritating sensation. Simone was great to use: I absolutely loved the instant cooling effect when I applied this lubricant. It lasts a fair amount of time and I could still feel a hint of cool for a while after I used it and was just sitting back to relax. The tips of my fingers that got the lubricant on them felt super soft and silky.

I was surprised at how well this lubricant stayed slick and it didn't require much product to get there.

I think EdenFantasys will have success with this line of products, and I hope to see more from Luz De La Riva! I may just have to try one of each of their products that are released. I'd love to see some body lotions by this company because of how soft the massage oil and the lubricant leave your skin feeling.

For ladies with glycerin allergies, Luz De La Riva offers another personal lubricant called Simone Extra Slick Glycerine Free Water Based Lubricant; I hope to try this out as well.