Sliquid LLC Sliquid organics gel - Lubricant from Sliquid LLC

Sliquid Natural 4.2oz videos
Product Details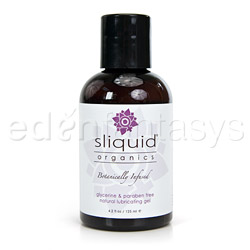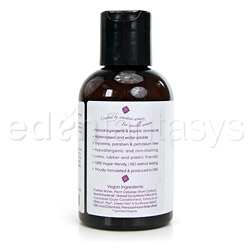 Summary:
Sliquid Organics Natural Gel is an excellent, unbeatable choice for those looking for a good, thick, long lasting lube without the glycerin or parabens so often seen in other lubes. It's rich, slick, and filled with organic botanicals and natural lubrication. It's perfect for the body, and it's environmentally conscious.
Pros:
No parabens. No glycerin. Recyclable. Long lasting. Organic botanicals. Excellent for vaginal use.
Cons:
Not perfect for anal sex or male masturbation, slightly off putting herbal taste.
Best use:
Sliquid Organics gel is an excellent choice for anyone looking to break away from the glycerin and parabens in most water based lubes, yet still wanting a thick, gel like consistency to their lubrication. Not only is it free from the things that so often cause infection and irritation, it's loaded with good, organic, botanical ingredients. Sliquid Natural Gel is thick enough for anal sex, slick enough for masturbation, and it's water based, so it can be used with any and every toy you may own.
Texture / Consistency / Thickness / Viscosity:

This lube is clear and thick, rather like a hair gel but without the stickiness or funky smell. It applies easily without dripping and tends to stay where you put it, yet spreads effortlessly.The press top lid allows you to squeeze out as much as you want yet controls the amount so that you don't end up dumping out a huge dollop that would go to waste.

You definitely don't need a huge dollop. This Natural Gel is quite slick for a water based lube without the overly slick feeling you sometimes get from silicone. It's quite a bit nicer than most gels I've tried. It doesn't feel gloopy or cheap and, in fact, feels rather luxurious for a water based product.

It also lasts quite a long time without losing it's slickness, especially with vaginal use when natural lubrication helps to reactivate it.

Base:

Water

Ingredients:

Purified Water, Plant Cellulose (from Cotton), Organic Aloe Barbadensis, Natural Tocopherols (Vitamin E), Cyamopsis (Guar Conditioners), Organic Extracts of Hibiscus, Flax, Green Tea & Sunflower Seed, Citric Acid (Citrus Fruits), Phenoxyethanol (Rose Ether)

Taste / Aroma:

Sliquid Organics Natural Gel, being botanically infused with organic extracts of hibiscus, flax, green tea and sunflower seed, has an herbal sort of smell and taste to it. The scent is not overwhelming or even what I'd call strong; just a hint of green, herbal goodness that neither adds to nor detracts from the experience. The taste is also quite herbal and, while not horrible, it's not something I'd use intentionally for oral sex. It lacks the sweetness of glycerin based lubes and has a hint of bitterness to it. It's not enough to prevent oral sex but it's not exactly pleasant or tasty either.

Performance:

I was really quite impressed with how long lasting the Sliquid Natural Gel is. It's not ideal for male masturbation as it does tend to get a little sticky, then dry out without the addition of water, but for female masturbation and vaginal sex it is quite good. The addition of a woman's natural lubrication helps keep the Sliquid from drying out. I found it to be fair for anal sex. It does get a bit dry after awhile, and the anus has no natural lubrication to aid in keeping it slick but the addition of a bit of water or spit will cure that problem. I don't recommend adding more lube. Add water, yes. But more lube, no. Adding more tends exacerbate the problem rather than fix it.

Clean up of this lube is exceptionally easy. It seems to get a little bit sticky/tacky as it begins to dry but doesn't flake or leave a coating on your body if you can't wash it off immediately. When you do wash it off, a damp washcloth does the trick with just a swipe or two.

Safety features:

Glycerin free / Hypoallergenic / L-Arginine free / Paraben free / Petro-chemicals free

Special features:

All natural
Moisturizer
Organic
Vegan

Packaging:

I have a thing for bottles and I love, love, love the bottles the Sliquid Organics line comes in. They are dark brown, thick, recyclable plastic, with a press top lid, and a subtle label that goes with the organic theme. Simple, tasteful and very natural looking.

It really looks a lot like any higher end natural health and beauty product. In fact, the fact that it's a lube is unlikely to be noticed by anyone looking at the bottle unless they look very closely.

Personal comments:

This is the second in the Organics line that I've tried, the first being the natural stimulating lube. (EF doesn't carry it yet. Boo) I was very impressed with both - which is saying a lot as I'm absolutely not a fan of water based lubes, and wouldn't bother owning any if it weren't for all the silicone toys in my box.