Doc Johnson Motion lotion 12 nights of xxxmas - Lubricant from Doc Johnson

Motion lotion 12 nights of xxxmas videos
Product Details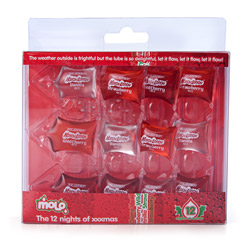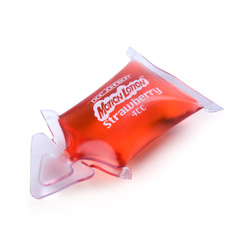 Summary:
The 12 Nights of XXXmas is a cute gift idea - give your lover 12 promised nights of hot, delicious oral sex! For those who do not mind strong warming sensations on the tongue (and elsewhere) or acrid flavors, these nice-smelling oral sex enhancing lubes might be a fun experiment. Users sensitive to glycerin should steer clear.
Pros:
Option to give as set or individually, variety of flavors.
Cons:
Some may find flavors unpleasant, glycerin based, stains.
Best use:
Though advertised as a lube, this edible lube is far better suited to flavoring oral sex. While they may look festive, they do not provide enough lubrication for intercourse. Each 12 pack contains four each of three different flavors: Cherry, Strawberry, and Vanilla. Designed to be separated for use as stocking stuffers, they can also be given as a set in their pretty, festive box.

Users who are sensitive to parabens and aspartame can rejoice, as these flavored lube packets contain none. However, if glycerin gives you problems, then steer clear - a yeast infection is a terrible way to ruin a holiday.
Texture / Consistency / Thickness / Viscosity:

This product is very thin, almost watery. Expect your hands to get covered with this stuff when you open each pillow pack, because it will instantly start to dribble everywhere. The single-use pillow packs make an otherwise impossible task of applying the Motion Lotion much more practical - squeeze the pack gently over the desired area, and it pours right out. Be careful, as it will quickly pour right back off of your target and onto, say the sheets, where the red flavors will stain. The Motion Lotion feels slick, but rather oily against the skin. Against the tongue, initially it feels only slightly oily; during oral sex, it quickly thins down in the saliva to an unnoticeable texture.

Base:

Water

Ingredients:

Glycerin,Flavor (Aroma),Mangifera Indica (Mango) Fruit Extract,Carica Papaya (Papaya) Fruit Extract,Ananas,Sativus (Pineapple) Fruit Extract,Butylene Glycol,Alcohol Denatured, Citric Acid,Water (Aqua),May Contain: Caramel,Red 33(CI 17200), Red 40 (CI 16035). Yellow 5 (CI 19140), Yellow6 (CI 15985), Blue 1 (CI42090)

Color:

Clear / Red

Taste / Aroma:

The Strawberry flavored packets smell strongly of "generic red berry" artificial flavoring. For those who like candy flavored like this, it smells wonderful; others may find it cloying or artificial smelling. The Wild Cherry packs have almost no scent, just a hint of "cough syrup cherry." Few will find this appealing. The Vanilla variant smells faintly of sugar cookies.

The flavoring of all three is remarkably similar. For the strawberry, there is a faint hint of "generic red berry" flavor; for the cherry, a hint of cherry flavor; the vanilla tastes a tiny bit like sugary frosting. However, with all three, the taste is quickly overwhelmed by a strong medicinal, artificial taste that bites at the back of the mouth, like smelling cleaning products. Though they are nor marked as warming, these Motion Lotions bring a sensation just this side of burning to the tongue. This fades within a few seconds of licking a lubed-up body part, and you are left with an aftertaste very similar to the smell you started with. (This is the only stage where the strawberry is recognizable as strawberry)

Flavor:

Cherry / Strawberry / Vanilla

Performance:

As an oral sex enhancer, Motion Lotion lasted well. It begins to dry up and get sticky after a few minutes, which is easily solved by adding a little water (or saliva), or applying more. Only a small amount is needed to flavor and lubricate a set of genitals of any variety, so one pack is plenty for a long session, or for taking turns.

Clean-up is a more difficult matter. If wiped off, it leaves a thin, greasy film on the skin. Those who choose to lick all of it off of their partners will find that the skin feels sticky when it dries. A soap-and-water cleanup is necessary with this product.

The set includes:

Twelve pillow packs of three assorted flavors.

Safety features:

L-Arginine free / Paraben free

Special features:

Edible
Moisturizer
Warming

Packaging: