Bound by diamonds ankle cuffs by Cal Exotics - reviews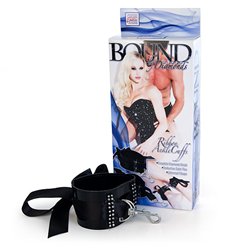 Bound by diamonds ankle cuffs
Ankle cuffs by California Exotic
Please, let me know via email when the new review on this product is available.
Bound by diamonds ankle cuffs reviews
The product itself as an ankle restraint fails in all categories. It's uncomfortable. Any shift of movement has hard edges cutting in to your skin. It's not breathable and very hot - and not in a hot and sexy type of way. You tug on it and the ribbon gives. It all had good intentions, but it just didn't meet the expectations. It would work great as a prop in a photo, but definitely not as a hardcore bondage restraint.
If you're using these on yourself to excite your partner from the visual aspect, these will do the trick as they are super cute and sexy (as long as you don't look too closely to see they look pretty cheaply made). Functionally, the tie closures can be annoying to deal with in the middle of "things" and the ribbon tends to feel looser pretty quickly. Also,the vinyl-like material can get sticky and uncomfortable and the edges can rub your skin raw (not sexy).
Designed to be sexy, feminine, unintimidating beginner cuffs, these unfortunately fall far short in the execution. Poorly made of low-quality materials, they are uncomfortable, can't be closed well enough to stay put in even light use, and look like a small child's version of bondage cuffs. Aimed at beginners, they seem to be hoping that a beginner won't notice that these are basically a novelty item that won't be very usable.