Sex. How to Do Everything - guides to a better sex - reviews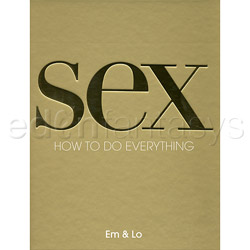 Sex. How to Do Everything
Book by DK Publishing
Please, let me know via email when the new review on this product is available.
Sex. How to Do Everything reviews
"Sex: How to do Everything" covers a large area of things you need to know about sexually. It isn't perfect, but it does include a lot of great, sexy pictures. I do, however, feel like The Big Bang (another of their books) is a much more comprehensive guide than this.
Em and Lo have written a fantastic overall guide to 'mainstream' sex, with really lovely photographs setting it a cut above the rest. It covers all the bases, from manual and oral sex, to positions, to all manner of fantasies and ways to spice things up. It provides great basic information, with a focus on healthy relationships physically and mentally, but unfortunately doesn't delve into specifics and lacks any information on LGBT issues or relations.
If you're looking for something sexy to read to get you off while expanding your sexual horizons, this is the one for you. Great to read by yourself or with your significant other thanks to full color, super-sexy pictures on almost every page, and introductions and tips for just about every sexual practice there is. It's educational enough to broaden your sexual knowledge and horizons, but fun enough to read with your partner to add a little steam to your evening.