Little Deeper love cushion - position pillow by Little Deeper - reviews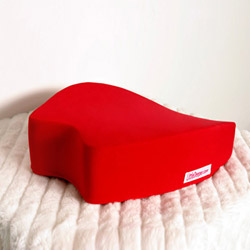 Little Deeper love cushion
Position pillow by Little Deeper
Please, let me know via email when the new review on this product is available.
Little Deeper love cushion reviews
The Little Deeper Cushion was very fun for us. Helps enhance performance. The perfect tool in the bedroom. If that doesn't work...you can always practice some stretching on it.
Well made and bridging the gap between sturdiness and comfort, the Little Deeper Love Cushion is one of those great items that you buy and it does everything it promises. This is marketed as both a sex position aid and a Yoga cushion and although we don't do the latter, there's no reason to think it wouldn't work for that too. Overall it's a great, solid 5 star product and one that's well worth owning.
This is my first love cushion and I wasn't sure about the shape of it, but after testing it out I love it. It makes a lot of positions more comfortable and a lot less work. It can be used in a variety of ways so it keeps things interesting.