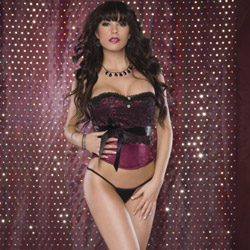 Satin and lace corset
Corset
by Coquette
Need more opinions?
Please, let me know via email when the new review on this product is available.
Satin and lace corset reviews
This corset can be laced once and never again thanks to the side zipper. Even though it will fit a wide variety of individuals because of the numerous sizes, individuals with a larger chest who like support may not like this so much because there is no support in the bust; the cups are flat and there are no shoulder straps to help keep the corset up from the weight.
The Satin and Lace Corset by Coquette is absolutely stunning in appearance and an excellent price. The problem with this corset is that the zipper on the side of the corset split as soon as I had tried it on. It's not a strong zipper at all. I wasn't able to tighten the lacing at the back without the zipper splitting all the way from the bottom upwards. I'm not sure if I just received a defect product but it really spoiled the experience.
This corset, in a Medium, is only 13" long. It's not your typical fit for a corset. However, it's adorable, and with some black slacks and a blazer, would make an awesome outfit for a night out!