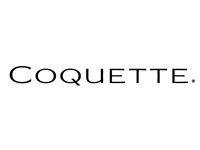 Coquette
Flirt With Style™
Our Mission is to create fashion that inspires confidence, through innovative design, superior fabrics, marketing support and partnerships with our customers, suppliers and employees.

Coquette offers six unique collections, each individually adorned and tailored with the highest fashion-forward modernizations. The collections each entail an intense diversity of styles while captivating a realistic feminine appeal. Our vast collections range from sultry and seductive to fun and playful, whether it be a babydoll, costume or novelty item.

Coquette continues to maintain their strong successful reputation while providing you with the premier brand that's been there for you since 1979. The brand philosophy is to enhance the mood and empower the wearer to feel good from the inside out.
News and announcements
LETS CELEBRATE - CHECK OUT A FEW OF COQUETTES FAVOURITE COSTUMES FEATURED ON EDEN!

COQUETTE WINS COSTUME MANUFACTURER OF THE YEAR AWARD

LAS VEGAS (Coquette International Inc.) – Coquette received honours Monday evening at the STOREROTICA Awards as the 2011 Costume Manufacturer of the Year. The award show was held during the International Lingerie Show at the Rio Hotel and Casino.

"We are extremely pleased to have been chosen for this award and are honoured with the recognition it brings," said Peter Horea Owner. "Our Masquerade Collection is comprised of a variety of quality themed costumes that we are continually proud to put our name on. This significant acknowledgment within the industry shows that our team's hard work and dedication is being received with such appreciation by our retailers and their buyers."

The Masquerade Collection features costumes for couples, career themes, fairy tale characters, animals and role-play outfits that incorporate sexy lingerie underneath. Stay tuned for the release of the 2012 Masquerade Collection that will feature more innovative and fun costumes for next season.

Coquette Joins the Eden Link Community!

Coquette is proud to be a new member of the Eden Link community! Take a moment to tour Coquette's new profile and stay tuned for updates and videos on our new lines.

Coquette offers six unique collections, each individually adorned and tailored with the highest fashion-forward modernizations. The collections each entail an intense diversity of styles while captivating a realistic feminine appeal. Our vast collections range from sultry and seductive to fun and playful, whether it be a baby doll, costume or novelty item.

Our Mission is to create fashion that inspires confidence, through innovative design, superior fabrics, marketing support and partnerships with our customers and suppliers.

We look forward to hearing your feedback and answering any questions you have.

Best regards,
Brittany Roefs & The Coquette Team
Recent Coquette reviews