Sportsheets 5-Piece vibrating position pillowcase with dildo set - Position pillow from Sportsheets

5-Piece vibrating position pillowcase with dildo set videos
Product Details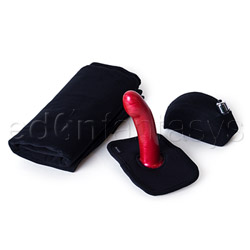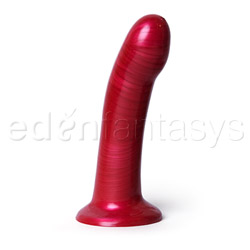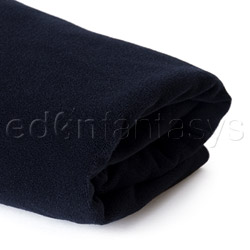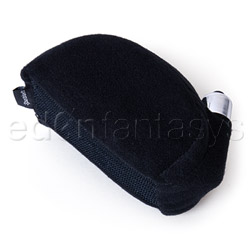 Summary:
Sportsheets has created a cost effective way to experiment with dildo pillows, normally the pricey provenance of Liberator. They created this kit with cost in mind, and although it occasionally shows, it's a great way to experiment to see if you like this sort of toy.
Pros:
Cost effective, versatile, nice dildo.
Cons:
Wobbly dildo, hard to use vibrator lump.
Best use:
This kit consists of a pillow case designed to have things Velcro to it, a small foam lump with a hole in it for a bullet vibrator, a bullet vilbrator, a Velcro patch for holding a dildo, and a dildo.

It's designed for people who want to try a pillow for hands free masturbation, but don't fancy paying Liberator shape prices. It can work for couples or solo, and although certainly not as stable as a Liberator shape designed for the same purpose, it's certainly a good way to experiment with this sort of play.

It's also more travel friendly than a whole big Liberator pillow. The dildo is on the small and untextured side and the pad won't fit anything much bigger, so it's probably not for size queens. The vibrator is fairly strong, but probably not enough for the more power hungry individuals out there.
Design / Craftsmanship / Material:

The materials used in this kit are relatively inexpensive for the most part, but the craftsmanship seems all right. The one stand out is the dildo which is made of lovely body safe silicone. The pillowcase is made out of a material designed to have Velcro on it and it's a bit itchy, so if you're the sort of person who's very sensitive to fabric texture this kit might be one to skip. The Velcro pad for holding the dildo is a bit wobbly and its unsteadiness can take some getting used to. The bullet vibrator is plastic and fits into a foam "bump" covered in a cheap velour. The bullet is a very standard design and probably is not designed to live a long life. Small inexpensive bullets like this one are usually destined for short but productive lives.

All in all, everything made of fabric is sewn sturdily, and the dildo if cared for properly should last a lifetime. Having experimented with various positions I would say finding a position that will be comfortable and stimulate both internally and externally without the use of one's hands is a bit difficult and may for some anatomies be impossible.

Material:

Foam

/

Silicone

/

Velvet

Material safety

Color:

Black / Red

Length:

38" / 6"

Width:

1 1/4"

Weight:

17.5 oz

Performance:

All in all I suppose this product does allow one to try some new positions as well as new sensations, though the best ones may not be what you expect them to be. Kneeling and bouncing up and down is not recommended as it's very hard on the knees. One of the nice positions (at least if you happen to possess a vagina) is laying on your back with your legs spread, and rocking the pillow to make it "thrust" This position also curbs some of the issues of instability that the dildo has when it's sticking directly up.

The vibrator bump is eh. It provides some stimulation, but most positions don't provide enough to get the average person to orgasm, especially if one is moving the pillow to "thrust" with it.

Generally, it works well with some finagling, but it's far from perfect.

Love pillow special features:

Washable

Sex sling and support special features:

Padded

Packaging:

The packaging is minimal. It all comes in a smallish cardboard box with each individual piece wrapped in plastic. It's easy to open, but not ideal for storage, it's neither very discreet nor terribly informative, which is fine as it's largely self-explanatory.

Care and Maintenance:

These are fairly simple to care for.

The cloth bits (except the vibrator lump): One can toss these in the wash on the delicate cycle, and then allow them to air dry. Putting them in the dryer is not recommended. I would recommend wiping down the vibrator lump, or generally cleaning it as one would a sofa or similar upholstered object.

The dildo is silicone and can be boiled to sterilize it, or wash in a soap free dishwasher in the top rack. It should be used only with water based lube and stored separately from other silicone toys.

Other

Safety features:

Food-grade material / Hypo-allergenic / Latex free / Non-porous / Phthalates free