Gear essentials Grinder - Cock ring from Gear essentials

Product Details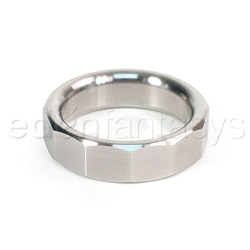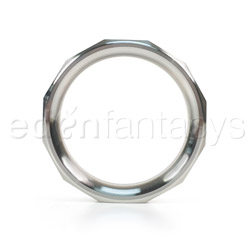 Summary:
The Grinder is an amazing cock ring for those who are more endowed than others. The Grinder is very easy to clean and store. There are a few downsides - the first is clearly that this is a non-adjustable cock ring, meaning it is only usable by those who fit the set requirements. The other downside is the fact that it is very cool to the touch, but this is easily fixed by submerging the stainless steel in warm water for a minute or two.
Pros:
Easy to clean, very strong and durable with a neat design.
Cons:
May be too large for some.
Best use:
The Grinder cock ring by Gear Essentials is a one of a kind steel cock ring that will stand up to wear and tear and the test of time. The Grinder was designed to slide over the penis to the base of the penis. This ring was not designed to go behind the scrotum. The Grinder, like most other cock rings, restricts the blood flow from the penis and helps sustain an erection.
Material / Texture:

This cock ring is made from stainless steel. Since this is made from stainless steel, there is no give in the ring; there is no bending or stretching whatsoever. You should not have to worry about bending or breaking this, unless you run over it with a car, and for your sake let's hope you're not wearing it at the time.

The Grinder is cool to the touch even when left out in room temperature; to warm this up you can place this ring in warm water, and rest assured that it will not stain or rust.


Material:

Stainless steel

Material safety

Texture:

Smooth

Safety features:

Anti-bacterial property / Food-grade material / Hypo-allergenic / Latex free / Non-porous / Phthalates free

Shape / Design / Size / Fit:

The ring is designed to look like a lug nut, which is quite cool. The diameter is about 1 7/8" while the width of the steel is about 1/2". The ring is quite large and will fit men with larger sprockets. Men who are average to below average may want to look elsewhere.

The only draw back to the stainless steel material is the fact that it can be hard finding the right size, and measurements have to be precise, unlike the TPR or silicone rings that have a little give in them and will conform to your or your partner's penis.


Color:

Silver

Cock ring style:

Band

Width:

1/2"

Weight:

0.75 lb

Care and Maintenance:

Cleaning this toy is a snap. Stainless steel is non porous and heat resistant. You can use anti bacterial soap and warm water, or you can place this in a dishwasher. Once clean, you can towel or air dry this ring before placing it back into the drawstring pouch that it came in. You should store this in a dry and dark place, preferably at room temperature.

Packaging:

The Grinder cock ring comes in a very discreet draw string pouch. The pouch is plain black and does not feature any pictures or words that would draw attention to it. This pouch is great for storage, and the draw string should hold up to many uses.

Personal comments:

This cock ring is fairly large. If you are above average then this ring may be for you; if you are average or below average, then you may want to pass this up, unless you have a 300 pound hulking green giant you would like to gift this to (I do not really know how much the Hulk weighs, but you get the point).

Unfortunately, this was a tad bit loose on me, but should have the desired effect on someone who is a little bit thicker.

This ring is certainly a great cock ring. The durability and the ease of cleaning this ring certainly are the finer aspects of this ring. The downside is that this may be too large for some. I am giving this a four star rating.