Nuts and Bolts
This is a beautifully crafted cock ring. All the little details have been though out. It has a strong masculine look, without any real hard edges that might become painful in play. It's fantastic and with proper care it should last a lifetime.
Published:
Pros:
Beautifully crafted. Smooth rounded edges for comfortable wear.
Cons:
None, just be sure to measure to get a proper size.
My husband and I have been thinking of trying a metal cock ring for some time now. To me, the metal is much more pleasing to the eye than a silicone ring. There is just something about a shiny, hard, cold ring that does it for me. The images of this item are not what came to me in the mail. In the stock photos it looks like a simple smooth ring. It's not. It really looks like a over-sized nut. You know, the kind you would buy from home depot and attach to a bolt with a hex wrench. It appears to have lots of hard, sharp edges but when you touch it and get a closer look there are none. This is a very well thought out ring. All of the hard points that would be on a normal hardware nut have been removed, taking away any chance for discomfort to the wearer or his partner. The very thin flat section that replaces the pointy areas adds a bit of visual interest. It really creates another surface to reflect light and draw attention to this beautiful piece of cock jewelry.
When dealing with a metal cock ring, sizing is very important. There is no give, so measuring yourself or your partner to get the proper fit is important. I measured this ring many times and compared it to other measurements that I have found for this ring and got slightly different results. Laying the ring flat and measuring from outside edge to outside edge is 2.5 inches. The ring itself is .25 inches thick making the interior of the ring 2 inches in diameter. The height (or bandwidth) of the ring is 5/8's inches. The manufacturer lists the measurements as: 0.6 bandwidth, 2 inches or 50.8mm diameter.
It's a bit thicker than many silicone cock rings. In my experience this thickness pushes the balls forward just a bit more, taking up a bit of shaft space, visually. Although, it doesn't seen to take up that shaft space during intercourse. If you are interested in this nut/bolt style ring, but want something with a bit thinner bandwidth Gear essentials has another cock ring called the Bolt that is very similar.
The grinder came in a 6.75 by 5 inch black velvet draw string bag with two tiny labels on the strings. One label was the Eden Fantasys barcode and item number. The other tag had the Name and measurement information from Gear Essentials. It's a simple bag, it's not padded and it's not fancy, but I really kind of like the packaging. I tend to store me toys in a case instead of in original packaging, so a small bag takes up very little space but protects the steel from getting scratched. It's also not a tiny bag, so you could easily fit more items if you wanted to pack a small discreet bag for a weekend away.
Keeping this guy clean is super easy. You can easily boil it, bleach it or simply use your favorite toy cleaner. As with any metal toys, just be sure it's dry before putting it away. With a little care, the Grinder cock ring should last a lifetime.
Here are a few images of the Grinder. I had a difficult time getting a crisp image of the rounded edges on the inside of the ring, but the inside is smooth and rounded making it a very comfortable ring.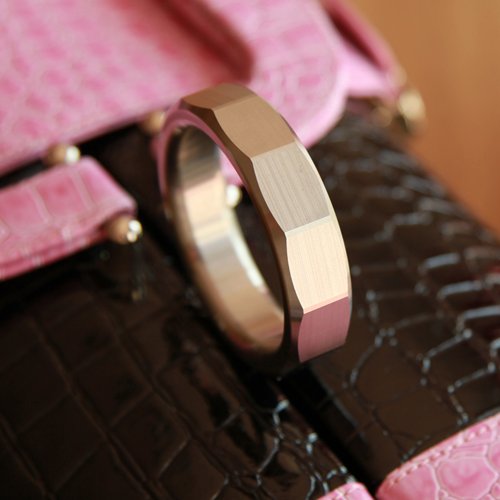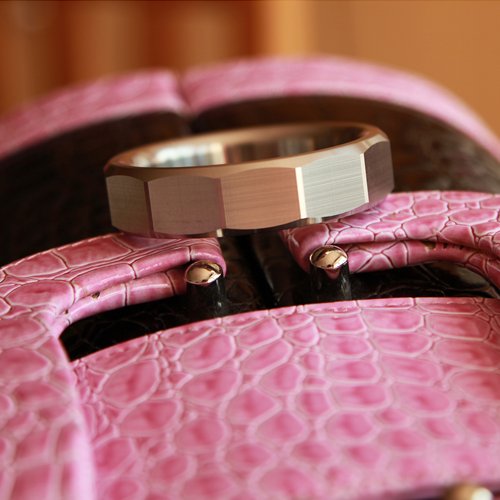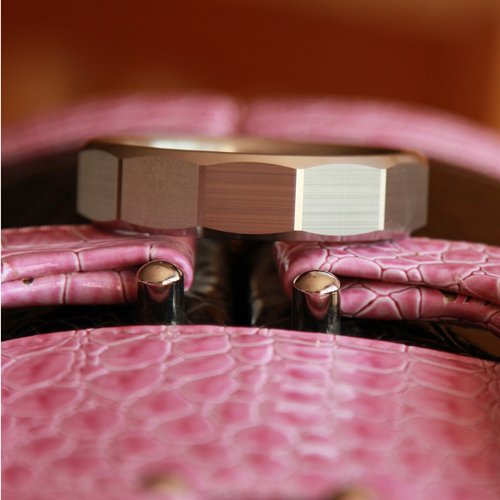 Experience
When I got the Grinder in the mail and it was different than I expected it threw me off a bit, but I have to admit that I love the design much more than the one I thought I was getting. My husband said it was very comfortable, although maybe a bit intimidating because it lacks any give or stretch. We found that the Grinder did infact give a firmer erection that lasted a bit longer. Even after ejaculation my husband stayed firmer for longer.
We used this cock ring around the testicles and the penis and when I got ready to write my review the product details page written by another reviewer says that this is a penis only ring. Hmm. So, I researched a little on the Gear Essentials website and blog and they show many images of their metal rings around both penis and testicles. On the FAQ page they state that cock rings are usually placed "at the base of the penis, behind the scrotum" but you can also wear it around the shaft of the penis only. It would take quite and impressive cock to restrict blood flow with the 2 inch Grinder.
I want to point out that because of the nature of cock rings, they should not be worn for extended periods of time. A proper tight fit will restrict blood flow and should not be worn for longer than 20 minutes. To get a proper fit please have a look at the
Gear Essentials Sizing Guide
.
This product was provided free of charge to the reviewer. This review is in compliance with the FTC guidelines.

Thank you for viewing
Grinder
– cock ring review page!