Rocks Off Limited Big Boy - Prostate massager from Rocks Off Limited

Product Details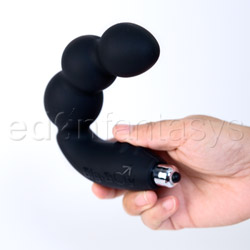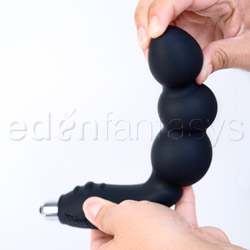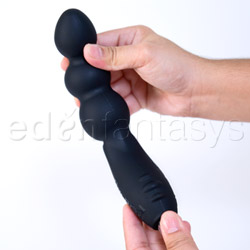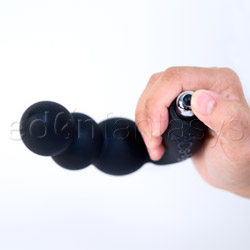 Summary:
Warning, Big-Boy is for experienced anal toy users only. Not for the faint at heart. As the name says it's " BIG ". I got some of the best anal orgasms I've ever had using it.
Pros:
Easy to clean, Mild vibes, Good for both G and P-spots.
Cons:
Would be easier to insert anally if angle was greater between handle and last bulged end.
Best use:
From its design, it's clear that Big Boy is meant for prostate and perineum stimulation. At one and three quarter inches at its thickest point, Big Boy is not for beginners. But if you're an experienced anal toy user it will blow your mind. Due to the shape of this dildo there is absolutely no chance of losing it internally.

One great thing is that Big-Boy comes with a battery installed. Just remove the piece of paper from the top of the battery and play away.
Material / Texture:

The Big-Boy is made of high grade silicone, which is soft to the touch yet firm enough to make anal insertion easy. This also makes cleaning a breeze. There is, as with most silicone, no smell at all. The texture is very smooth which is good because Big Boy is so large.

Material:

Silicone

Material safety

Texture:

Bulged

Safety features:

Food-grade material / Hypo-allergenic / Latex free / Non-porous / Phthalates free

Design / Shape / Size:

The Big Boy is designed for prostate and perineum stimulation, but as my wife Di found out it also works great for G-spot and clit stimulation. The Big-Boy is just as the name implies, BIG. The body consists of three bulges. The first bulge is one and a quarter inches thick and has a tapered end to aid in insertion and tapers to 3/4 inch before the next bulge. The second bulge is round and one and a half inches thick and tapers to one inch before the last bulge. The final bulge is one and three quarter inches thick and tapers to three quarters of an inch before the tail.

The three bulges are curved slightly and connected at an angle with the vibe holding tail. The tail has three raised ridges which when coupled with the RO-80mm bullet vibe do a great job of perineum stimulating. The vibe has only one speed which to be honest, even though I wished it was a little stronger, did a great job.

Length:

7"

Insertable length:

4 1/4"

Circumference:

5 3/4"

Diameter:

1 3/4"

Weight:

13 oz

Performance:

The fact that Big Boy is big and shaped for maximum prostate contact along with perineum stimulation are its highlights. If you're an experienced anal toy user you will love the size and feel. The vibe is good, not great but good. If you have a desire for more power I do believe most bullet vibes should fit. I did have one problem with the Big Boy. With the three bulges curved and then angled from the tail--I'm sure they did this for maximum prostate contact-- after I inserted the first two bulges with easy I found it very difficult if not impossible sometimes to get the last bulge in my ass. This was because with the first two bulges pointing forward when I tried to get the last one in they were pushing forward not up into my ass. With a little manipulation of the vibe tail I was finally able to get the last bulge inserted and it felt great, but not for long. With my ass slippery with lube the first two bulges pushed the third on out. I found by sitting on Big Boy after I had the third bulge inserted it stayed in place and felt great.

Control type:

Push button

Powered By:

N-1

Care and Maintenance:

As I said before, care is extremely easy. Being made of silicone with a removable bullet vibe just put it in the dishwasher, without the vibe of course, or wash it with a good toy cleaner or antibacterial soap and hot water. Do not use silicone lubes. Even though Big Boy is made of silicone and is easy to clean I highly recommend using a condom on it if you plan on sharing with others. I did this when I used it because if a toy pleases my prostate my wife Di usually likes to try it at least once on her G-spot. The condom in no way degraded my pleasure. I didn't even know it was there.

Care and cleaning:

Boilable / Dishwasher safe / Toy cleaner

Packaging:

Big-Boy comes in a very nice box with a window so you can see it inside and it stores in a nice cutout. The O in Big Boy on the package and on the toy itself is the male symbol. Ladies don't let this discourage you it also is shaped perfectly for your G-spot and clit.

Experience:

Having twenty some years of anal enjoyment experience I'm always on the lookout for new anal toys. When I saw the shape and size of Big-Boy I knew I had to experience it. As soon as it arrived I had to try Big-Boy out. As I said I use condoms on all my anal toys in case my wife Di wants to give them a try also. So I lost my clothes, worked a condom on to Big-Boy, and lubed it and my eager ass up very well. Laying back on the bed I pressed the tip of Big-Boy against my ass and worked it around until I was relaxed enough for it to ease in. The bulge felt great. Applying more pressure the second bulge slipped right in behind the first and as soon as it was all the way in the tip of Big-Boy hit my prostate and made my whole body convulse. I laid still for awhile enjoying this wonderful pleasure, but being the greedy guy I am I wanted to feel the huge third bulge in me. As I pressed harder to get it in my ass the tip was pressing extremely hard on my prostate. It was pleasurable but at the same time slightly uncomfortable. That's when I realized the angles were causing the tip to go forward and not up into my ass. I bent the handle holding the vibe down slightly and with a little pressure the third bulge finally popped in and my prostate was cradled between the first two bulges and felt great. As I released the handle and turned on the vibe the third one popped out. Frustrated I got the third bulge back in my ass and with the vibe buzzing away I sat on the edge of the bed and this kept all three bulges in my ass and with the vibe hitting my prostate and perineum the tingles began to surge through my body. Normally with this type of anal toy I stroke my cock while enjoying the feelings running through my body, but with Big-Boy buried to the hilt in my ass I looked down and my cock was standing tall and with in a few minutes of enjoying the feeling as my whole body trembled, instead of a huge cum squirting orgasm cum just began flowing from the head of my cock like a river as my prostate convulsed. I eventually stopped cumming, but my body continued to shake with pleasure. It was a totally new experience for me. I had never cum like that before and it wasn't a one time thing either. I've done it three more times with the same results.

Even though Big-Boy is suppose to be a boy's toy Di couldn't resist trying it herself. With a condom on it and a little lube she had no problem slipping it into her pussy. To be honest it fit her pussy better than it did my ass. She said the angle of everything was perfectly hitting her G-spot with wonderful pressure and the ridged vibe end was laying right on her clit. She turned the vibe on; Di doesn't like heavy vibes directly on her clit, and she got a huge smile and said it was wonderful. Using her fingers she used just the slightest rocking motion and was squirting all over the place in no time. It looks like it's not just for boys.

Other

Neck diameter:

1"

Special features:

Batteries included
Hands free
Waterproof

Functions:

Vibrating