Rocks Off Limited Butt Boy - Prostate massager from Rocks Off Limited

Product Details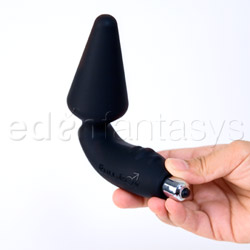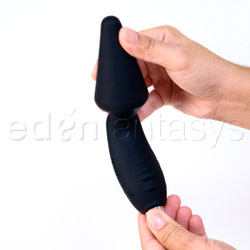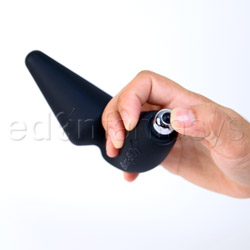 Summary:
Rock-off Butt Boy is a new conception when it comes to p-spot toys. Where as other Rocks-off p-spot stimulators usually have a curve this one is a plug, the first one of it's kind actually. It is quite comfortable and can be taken in quite easily. It might stimulate the p-spot somewhat when rocking back and forth but may not be as efficient as more targeted p-spot toys that have a wider tip that stimulate a larger surface area in the rectum.
Pros:
Silicone, vibrator battery included, stays in, waterproof.
Best use:
Butt boy is the first vibrating butt plug and perineum stimulator that exists according to Rocks-off. It is essentially used as a butt plug but it is also effective at stimulating the perineum at the same time. Compared to other toys in the line of prostate stimulators available from Rocks-off, the Butt boy isn't constructed with a curve that is optimal for prostate stimulation.

Unlike other Rocks-off products this cannot be used for stimulation of the g-spot in women because it lacks the curve. However Rocks-off have a few options available to women exclusively. The Butt boy is geared towards men but can also be used and enjoyed by women as a simple butt plug with a practical little handle.

It is meant to be used as a toy that you insert and then let the handle settle on the perineum and you must rock back and forth to stimulate both the perineum and p-spot at the same time.

It is quite safe due to the external stimulator. It is unlikely that it would get lost in the rectal canal due to the base.
Material / Texture:

This stimulator is made of body safe silicone. It has a velvety matte texture that is conducive to attracting lint/dust/hairs. The product had an initial smell similar to that of plasticine. It went away with the first wash though.

A flame test indicated that it was indeed made of silicone as the toy remained intact.

The silicone is soft/velvety to the touch but is quite firm so it is probably not the best for beginners as it might be too rigid. However, if you are a beginner looking for a bigger toy and you are used to firmer materials for anal play, this would be a good option.

Material:

Silicone

Material safety

Texture:

Bulged / Smooth

Safety features:

Food-grade material / Hypo-allergenic / Latex free / Non-porous / Phthalates free

Design / Shape / Size:

The shape of the plug is wonderful to ease one in to the larger girth. It starts off small and gradually increases in size and quickly becomes smaller at the neck of the base.

The size of the plug at its widest point is mostly for the intermediate anal player as it is 1.75 inches in diameter. Its probably not fit for the average user looking for a bit of quick stimulation. It is for individuals who enjoy more girth to their anal toys. It is a butt plug that needs to be savored slowly.

The perineum stimulator has three nice ridges that are prominent enough to be felt but are not encumbersome.

Length:

7"

Insertable length:

4"

Circumference:

6"

Diameter:

1 3/4"

Neck diameter:

3/4"

Weight:

10.5 oz

Performance:

PLUG:
This plug is on the bigger end of butt plugs. You will need preparation with other toys in order to use this one. It is possible to use this toy alone since its size gradually increases and to do it slowly. But you might have to go so slow that it could be tiresome for the hand, using a smaller plug is easier.

The perineum stimulator is a great size and the neck connecting the plug to the stimulator is not very flexible. This allows the possibility for a partner to use the stimulator as a handle for thrusting the toy.

VIBE:
The vibe is quite moderate in terms of strength. For clitoral or overall body stimulation it is quite mild, kind of buzzy. It will arouse but it won't get you over the edge on its own. In the plug, it is felt quite well. The perineum stimulator vibrates more strongly than the plug itself but the vibrations carry well down the neck and body of the toy.

The vibrator is waterproof. So those who enjoy anal play in the shower this is a must!

Control type:

Push button

Special Features:

Bendable
Hands free
Waterproof
Batteries included

Powered By:

N-1

Care and Maintenance:

Since this product is made of silicone it is quite easy to care for. Mild soap and water or sex toy cleaner will work. It is also possible to clean silicone toys with 10% bleach solution, wash it in the dish washer top rack-no soap, and finally it can be boiled for 3-5 minutes.

This toy comes in a very lovely box that makes storing easy. However, it is also possible to store this toy without its box but Rocks-off recommends that you keep the Butt-Boy in a bag to keep it from touching the surface of other toys you may have that aren't as safe.

With silicone toys it is important to use only water based (or oil-based unless you are using a condom) lubes to keep the toy looking as good as it was once you received it. Silicone lube tends to break down silicone toys making their surface permanently tacky.

Care and cleaning:

Bleachable / Boilable / Dishwasher safe

Experience:

My partner hasn't been willing to try this one but I have been more than willing. So the current perspective is that of a woman. I have asked a few men on EF about their take on its effectiveness on p-spot stimulation and most men tend to agree that it could work as long as the man rocks when he inserts it.

So far my favorite way to use it is as a thrusting toy. I put plenty of lube on it, and reapply quickly there after. Then I slowly move myself down onto the plug. The stimulator makes great a handle. I will thrust in and out until I can take the whole thing.

It requires time and patience. Preparing with other toys is definitely recommended as well as lots of lube. I found that I needed more lube than usual with this plug compared to other smaller plugs. The first time I tried to insert it I lacked patience and although it was quite fun to use I actually hurt myself in the process. I pushed myself too far, too quickly.

Now I take my time to enjoy it.

When it is inserted all the way in it is quite filling. It is by far the biggest I have managed to take. The stimulator locates itself on the labia and the vibrations are quite nice. Personally I rather a vibrator to my clit and less vibrations in my butt. It is still quite good in any case. It's also possible to rotate the handle so that it points away from the body so it can be possible to use a vibe more comfortably.