Shiver me Perineum and then some
The Butt Boy is a fantastic anal/perineum stimulator that is 100% silicone. Very filling and stimulating, and sure to please if you can handle the larger plug.
Published:
Pros:
Awesome dual anal and perineum stimulation, 100% silicone, stays where you want it.
Cons:
A bit girthy and unforgiving.
I am super excited to write this review because it's taken me quite some time to actually use this toy. I bought this because I really like vibration when it comes to anal play. Now I've done some perineum play and liked what I've done so this seemed like a great toy to try. The Butt Boy is made by a company called Rocks Off out of the UK. Almost all of their toys are based around their RO bullet platforms, which the Butt Boy comes with a RO-80mm bullet. The rest of the Butt Boy is made out of 100% silicone. The Butt Boy comes in a black case with a clear plastic window, which flips open and gives access to the toy. The box it's self is 7 3/4" tall, 5" wide and 2" deep. Inside is a removable plastic tray for the toy, which has a catalog/instruction book underneath it. The instructions are in English, French, Croatian, Czech, Dutch, German, Italian, Polish, Portugese, Russian, Spanish and Chinese. One of the downsides to the Butt Boy is it takes an "N" battery, which are old camera batteries that may not be super easy to find, so I would make sure to have a couple on standby.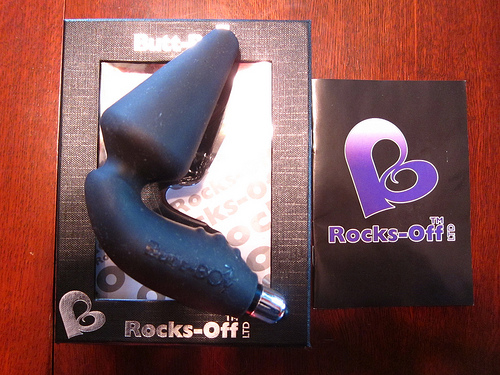 The Butt Boy is basically a right angled toy, so the plug part goes into your butt, while the part that holds the vibrator is pressed agains your perineum. The plug part measures at 4" insertable with a diameter of 1 3/4" or 6" in circumference. The other end is 3 3/4" long with about 2-2 2/2" that would be pressed against your perineum, and is 5" in circumference. The RO-80mm bullet is 3 1/4" long and 5/8" diameter, which I must say, I cannot figure out how this equals 80mm, but here nor there. The material is a very soft and velvety silicone, though it's quite firm and does not have a lot of give. At the base of the plug where it meets the perineum stimulator it is quite flexible, and this seems to be the only part of the toy that is forgiving.
Care for the Butt Boy is quite easy. It's 100% silicone and 100% waterproof, so you have a number of options. You can use hot water and anti-bacterial soap. You can use a toy cleaner/sanitize. You can boil the silicone part (DO NOT BOIL THE BULLET!!!). Finally you can use a 10% bleach solution to clean it as well. Now I will note that no where in the instructions does it give one cleaning instructions, nor does it say on the the web site they tell you to go to (www.rocks-off.info). At that site, it asks you to verify your product and it takes you to a page which appears to have a link to care instructions but would not open anything every time I clicked on it. As far as storage, I have just been using the box it came in because it's very nice. Like all silicone toys, it is a lint magnet, so I would keep it under wraps some now. Also, there in nothing discrete about the packaging, it has a window and seems quite obvious about what it is.
Experience
First, before we get into the nitty gritty, I want to share a couple of photos to help compare the size of the Butt Boy.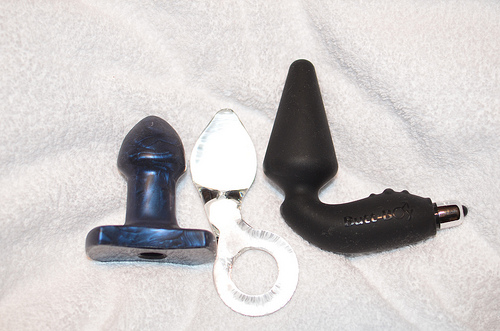 Here is the Tristan 1.5, the Icicles #14, and the Butt Boy.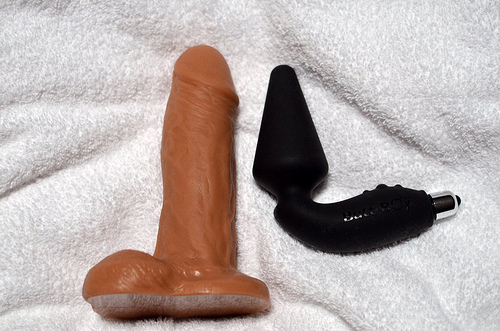 Here is the Butt Boy with Vixen Creations Lone Star.
As I alluded to earlier, it's taken me quite some time to be able to properly use this toy. I've been experimenting with anal play now for about 4 months, and it's taken me about two months to be able to take the Butt Boy. I have to say, when I took it out of the box I was actually kind of shocked on how big it was. More importantly, it's very unforgiving and frankly, when you get to the ridge of the plug, unless you are totally warmed up, it has been quite painful for me. So finally, I was able to do it. I warmed up with various toys, moving slowly bigger and bigger to try to be able to take this, and even after spending a good deal of time with the girthy Vixen Creations Lone Star, I still wasn't able to. So I moved up. The jump was to the Vixskin Maverick by Vixen Creations, and frankly was shocked that I was able to handle that. Only after that was I able to handle the Butt Boy. Now once in, I hit the button on the bullet, and I have to say, it was one of the most intense sensations I've had in my life, not to mention one of the most powerful orgasms in my life. The other thing that I have to add is that it stays in super well. I was able to walk, have sex, and generally do most things without and discomfort or it popping out. Also, I have to give them a big thumbs up for the quality of the RO-80mm bullet. It's super strong and not lack luster at all.
Now I really like everything about this toy, save the size. I don't mind girthy things, in fact I quite enjoy them, but between the firmness and the size this is very hard to handle. Maybe I'll feel different in a couple of months after I've gotten accustomed to warming up properly, but it's just a bit too much. I think if it were even a 1/4" narrower in diameter it would be easier, but for me it's a bit on the large side. That being said, would I recommend it? Yes. Will I use it again? Yes. Do I love this toy? Yes. And because of that, it gets 5 stars.
This content is the opinion of the submitting contributor and is not endorsed by EdenFantasys.com

Thank you for viewing
Butt Boy
– prostate massager review page!