BMS Enterprises Euphoria enhanced - Prostate massager from BMS Enterprises

Product Details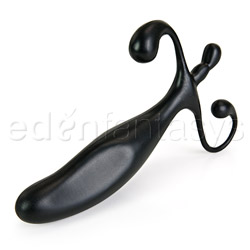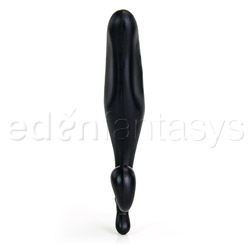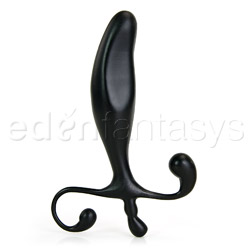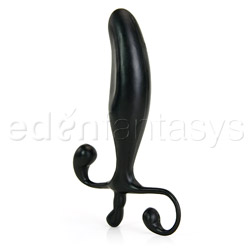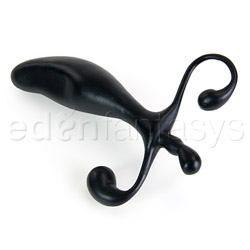 Summary:
The Euphoria line of prostate massagers from BMS enterprises provides a less expensive alternative to the Aneros line. They are made from plastic as well which provides good rigidity for prostate stimulation. They can be used manually, but their true beauty lies in the hands-free option using just your pubococcygeus muscle to bring you to an intense orgasm.
Pros:
Excellent prostate stimulation, size makes it easy to use, silicone lubes okay, inexpensive.
Cons:
Plastic material is not as safe as silicone for anal play.
Best use:
Looking at the Euphoria Enhanced by BMS Enterprises and it all seems obvious. It looks like it is designed to give the Aneros line a run for their money. It might just be able to do it too. The toy slides in easily and automatically stops when the perineal stimulator hits home. The top and bottom being different is useful in making sure that it is aligned properly, but if you've got a prostate, it should be pretty easy to tell if it's aligned properly based on the sensations within.

The Euphoria Enhanced can be rocked externally either manually or if in a semi-reclined position by rocking back and forth. This makes for excellent prostate stimulation if playing solo; but if you have a partner, you can lay on your back and let them do the work. You can do that long enough to orgasm, or if you prefer, leave the toy in place and add some prostate stimulation to intercourse to make for a great combined orgasm. The suggested way for solo play, however is to use your pubococcygeus muscle (you know, the one you use to control your urination) to move the toy to contact your prostate. If this is done long enough it can make for a very intense orgasm.
Material / Texture:

The Euphoria Enhanced is smooth plastic, this makes it safe to use with any lube that's out there. This is great with anal play because sometimes it's nice to use a lube that isn't water based because this might allow for more thicker, longer lasting, and/or water resistant formulas. The smooth texture of this toy along with it's size allows it to be able to slide right in with very little warm up.

Material:

Plastic

Material safety

Texture:

Smooth

Safety features:

Food-grade material / Hypo-allergenic / Latex free / Phthalates free

Design / Shape / Size:

The Euphoria Enhanced is clearly sculpted for prostate stimulation. It has non-insertion extensions toward the top and bottom, one of which is designed to provide stimulation to your perineum. The diameter of the prostate massaging portion is 1 1/8 inches, which is an 1/8 inch larger than the regular Euphoria but is still very reasonable for anal play and should be suitable for for all but the tightest of sphincters. Remember, just use lube and relax and this should go right in. The insertion portion narrows back down so the toy stays in place well and it pulls the perineum massager to right where it belongs. It has 4 inches of insertable length which seems to line up pretty well for prostate massage. This is a half inch more than the regular Euphoria, so if you already know how far in your prostate is, you can choose accordingly, but the difference is small enough that either will probably work.

Color:

Black

Length:

5 3/4"

Insertable length:

4"

Circumference:

3 1/2"

Diameter:

1 1/8"

Weight:

0.3 lb

Performance:

The Euphoria Enhanced is a very good prostate massage toy at a reasonable price. It has a little more to it than the regular Euphoria, so if you think you want something slightly larger, upgrade to the Enhanced. The Aneros line has lots of different sizes as well, but there seems to be additional costs involved in that line. This toy is easy to use and provides great performance in terms of prostate stimulation whether you use it solo as suggested in the literature or with a partner. If you are looking for a good inexpensive way to get into prostate massage, this is a good choice.

Care and Maintenance:

The problem with plastic is that although it is non-porous and phthalate free, it cannot be completely disinfected unlike pure silicone. This means that it should be covered with a condom if one is planning on sharing it or using it vaginally.

Maintenance is simple by just using anti-bacterial soap and hot water or for a deeper cleaning, use isopropyl alcohol.

Packaging:

The Euphoria Enhanced comes in your basic clear plastic packaging with a literature card behind the toy providing some useful information about the toy and how to use it. Not a lot of information about the prostate (like how to locate it, etc.) but it does provide a suggestion about one of the best ways to use the toy. Overall, this is pretty simple yet effective packaging.

Experience:

I think I would be remiss if I didn't mention that I have not ever experienced any of the Aneros line of toys. I am making comparisons here based on what I have seen and read about the Aneros line not based on actual experience. I do have the Nexus Glide, but there are definitive differences between that toy and the Euphoria line that I felt it wasn't as good a comparison. I will say, however, that I think the Euphoria Enhanced is every bit as good for prostate massage as the Nexus Glide. The Nexus line might put a little more emphasis on perineal massage, but for pure prostate massage, all three lines seem very similar to me.

Other

Neck diameter:

1/2"

Special features: