Pipedream Metal Worx Double trouble - Prostate massager from Pipedream

Metal Worx Double trouble videos
Product Details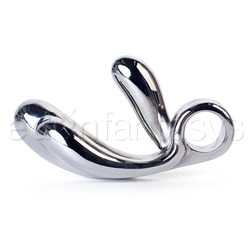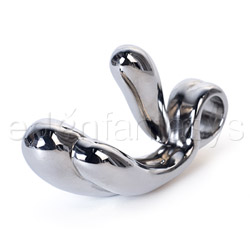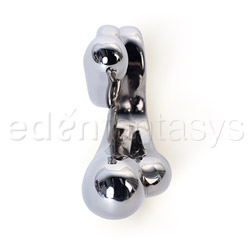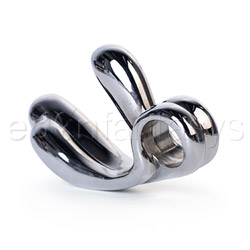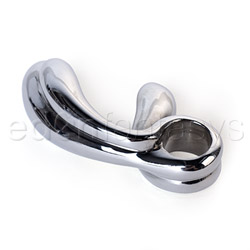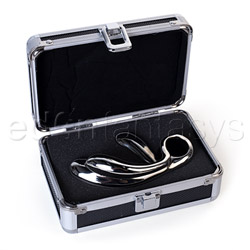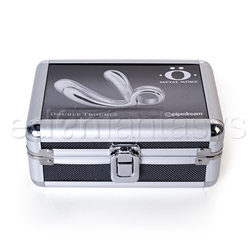 Summary:
This is a gender friendly massager. It is designed for prostate massage, however it works just as well for g-spot stimulation. The attached "thumb" can be used for perineum massage as well as for clitoral play. The steel allows for temperature play. All that is needed is time and willingness to learn the most effective ways to use it.
Pros:
Can be used by men and women, nice design, great storage.
Cons:
Some imperfections, not stainless steel.
Best use:
While this steel dildo from Metal Worx is listed as a prostate massager, I have found that it has multiple uses and can be used by men and women alike. It is very gender friendly and can be used for p-spot stimulation and g-spot stimulation as well as for vaginal or anal insertion. The overall design of this dildo makes it possible to experiment in a large variety of situations, bringing pleasure and orgasm lovers into the world of steel toys at a less expensive cost than other steel toys. It can be heated or chilled to liven up any bedroom play.
Material / Texture:

While it is listed as stainless steel, I do not believe this to be true. It is steel but the exact grade is questionable. It has a safety rating of 10 and can be used with any kind of lube as it is completely non-porous.

There are some slight flaws in the steel itself. On the inside of the loop at the base, it has lines where they didn't polish it out as smoothly as the rest. There are also slight discolorations wherever it meets any other part of itself. These are noticeable but didn't distract from its purpose.

It is heavy but very easily controlled during insertion due to the loop at the base. It is solid and caution should be used when trying to thrust it as it could easily cause bruising if thrust too hard. The smoothness of the steel allows for easy insertion with a small amount of lubrication.

It can be heated or chilled with hot or cold water, or by placing it in the refrigerator when you are wanting to add extra stimulation. Do not heat it in the microwave as metal is not microwave friendly.

This dildo can be used by beginners or more advanced users alike, however a beginner may be intimidated by the circumference of it.

Material:

Polished steel

Material safety

Texture:

Smooth

Safety features:

Food-grade material / Latex free / Non-porous / Phthalates free

Design / Shape / Size:

The overall design of the massager looks like if you take your index and middle fingers and hold them together, slightly curved down and curve your thumb slightly in, almost making the letter "C". It has a loop at the bottom, making it easy to hold onto and control where you want it to be.

The length of the entire massager is 5 5/8" in length. The "two-fingered" main insertable area is 4" in length and has a circumference of 4 3/4" at its widest part and tapers to 2 1/2" at the base. The single "thumb" area is 2 1/4" long and 3" in circumference.

At the base there is a loop that you can slide your finger through to guide it. This is 1 1/2" in diameter.

Color:

Steel

Length:

5 1/2"

Insertable length:

4 1/2"

Circumference:

4 3/4"

Diameter:

1 3/4"

Weight:

1.5 lb

Performance:

While this is sold as a prostate massager, we used it on both him and myself and I found it as enjoyable as he did.

For him, once it was inserted (anally) the "thumb" could be used to massage his perineum area as well as his prostate. We found that it was easier to use if I held it and controlled the amount of pressure and thrust on him, due to the shape of it being hard for one person to control with much success. It worked best for him by "rolling" it back and forth, much like a "princess wave".

For me, once inserted (vaginally) it was very easy to find my g-spot and by using the same rocking "wave" could be used for clitoral stimulation as well. It was also much easier for him to control it while it was being used on me.

It is important to be careful with the amount of pressure as it is hard and can cause bruising and pain if used with too much vigor.

Care and Maintenance:

Steel is very easy to care for. You can use a light bleach solution, boiling water, soap and water or a toy cleaner. Take care to dry it completely before storing to avoid causing any damage.

It is compatible with all lubes. Just a small amount of lubricant is needed as it is very smooth to start with.

Care and cleaning:

Soap and water

Packaging:

It comes in a very attractive black and gray case. On the top is a sticker with a picture of it that can be removed.

It is 7 1/8" x 4 1/2" and is 3" deep. The body of the box is black while it is trimmed in gray metal. It has polished metal corners and a metal flip-hasp allowing you to close it and store it.

Inside is a foam insert that is fitted for the Double Trouble to lay snugly inside, keeping it safe from getting scratched.

I would be willing to buy more of this line based a lot on the thought that they put into classy storage for these items.

Other