LB Trading Ltd Nexus Neo - Prostate massager from LB Trading Ltd

Product Details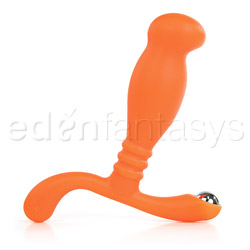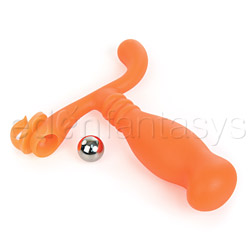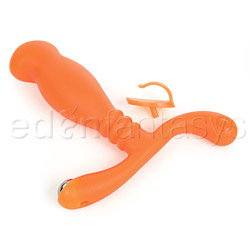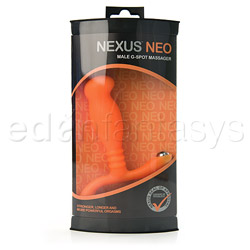 Summary:
The Nexus is a great product for adding a new dimension to regular sex. It's a passive product - achieving the best result when you 'plug and play' and leave it inserted during foreplay, oral and sex itself. The prostate stimulation really intensifies orgasm.
Pros:
Easy to clean, good size, love the innovative roller ball.
Cons:
A little too rigid, s-shaped handle is impractical.
Best use:
The Nexus Neo is a prostate massager, designed to stimulate a man's P-spot through the 'bot' spot. Made from bright orange plastic, it's a fairly hefty and awesomely colorful product that comes complete with an external roller ball that apparently massages the perineum.

The Nexus resembles a corkscrew to a certain extent, except you can't uncork a cheeky Cabernet with it.

It's utterly safe for anal play because the t-bar across the top ensures it can't get lost in an eager orifice, while the s-shaped bar enables the Nexus to be manipulated and wiggled even when it's 'in place.' It's thin enough to neatly nestle between your butt cheeks and could even be worn 'out and about' although the handle makes it difficult and uncomfortable to sit down on.

The plastic's quite hard, so there's a certain rigidity that some anal-toy fans might not like. The Nexus comes with a separate gadget for 'popping' the metal roller ball out so you can totally clean and sterilize the toy, however doing so doubles the amount of small components you can lose now if the ball rolls away and the little orange gadget is the sort of thing that will disappear within moments of purchase. Keep it in the slick plastic packaging.

The length and width of the Nexus are challenging, but satisfying. It's not huge and is the right insertable length to neatly stroke the prostate.
Material / Texture:

Nexus is made from rigid orange plastic, which makes it a totally uncompromising anal toy. It has no scent and the molding is perfect - there are no ugly or jagged seams. The color is amazingly bright! It kind of matches the rigid construction - uncompromising. There's definitely nothing half-assed about the look at feel of this toy.

Material:

Metal

/

Plastic

Material safety

Texture:

Bulged / Ribbed / Smooth

Safety features:

Food-grade material / Hypo-allergenic / Latex free / Non-porous / Phthalates free

Design / Shape / Size:

The 'plug' part of the Nexus has a delightful organic shape to it, knobbly in all the right places and the stem tapers down until it's quite narrow. The big, heavy head is a good, smooth shape for massaging the prostate and is also small enough to make insertion pretty easy.

The s-shaped t-bar poses some problems. One end is turned inward, to allow the roller-ball to nestle in the 'taint' and massage and perineum. The other end points outward, as a 'handle' for users to move the Nexus with. That unfortunately means that sitting down while wearing it is damn near impossible, as it sticks out too much.

The size is perfect - just thick enough to be challenging, without being intimidating or difficult to insert. The insertable length is just right to reach the p-spot.

Length:

5 3/4"

Insertable length:

4"

Circumference:

4"

Diameter:

1 1/4"

Weight:

0.3 lb

Performance:

Nexus is best as a passive toy - insert it and it multiplies the stimulation without being the focus of it. It adds a whole new dimension to sex, or receiving a blowjob, but doesn't offer that much pleasure in of itself.

Care and Maintenance:

Plastic is a breeze to clean with hot soapy water, and you can use oil-based, water-based, or even silicone lube on it without concern. The plastic packaging the Nexus comes with is a great place to store it, and it small enough not to take up too much space in the toy box!

Packaging:

The Nexus comes in a cool, clear plastic sleeve and features full instructions. Because there's a detachable roller-ball and a gadget to 'pop' the ball out of the Nexus, it's worth keeping the packaging to make sure you don't lose either of those essential bits.

Experience:

My wife and I tried the Nexus on me and at first I was disappointed. I didn't feel much with it inserted, despite my wife jiggling the s-shaped handle. The roller-ball did a nice job massaging my perineum (although I kept wondering - is this what a mouse mat feels like?)

My wife tried 'fucking' me with the Nexus, but I actually found the small stem meant it was quite painful to withdraw. The rigid plastic is unyielding and if you get at it from the wrong angle, uncomfortable.

But it wasn't until we started having sex that I REALLY came to appreciate this toy. Leaving the Nexus buried in my behind, I started fucking my wife doggy-style and there was something about my hip movements that got the Nexus working it's magic. My build up was intense and delicious. When I finally exploded, my orgasm was incredibly intense.

So the Nexus is ideal as a sort of hard, plastic butt-plug. When in place, it heightens sensations and I felt amazing when I finally came.

Other