LB Trading Ltd Nexus Revo - Prostate massager from LB Trading Ltd

Product Details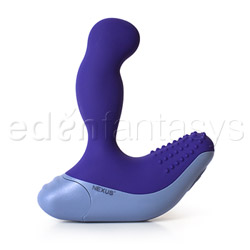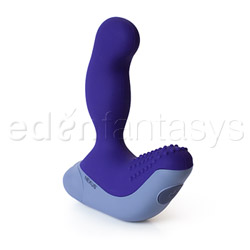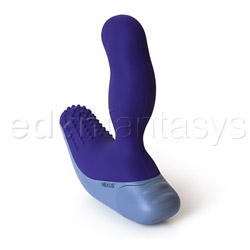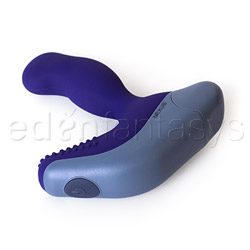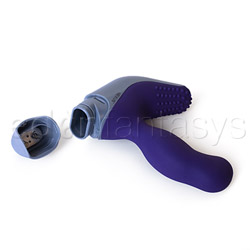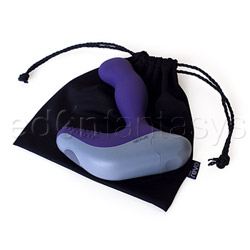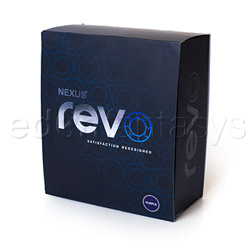 Summary:
Behold the next step in the evolution of prostate massagers, the Revo from Nexus. Take a tried and proven shape of the Nexus line and add a rotational function to the tip for a truly new "twist" in P-spot massage. A separate vibe with two patterns adds to the stimulation of the perineum for all around enjoyment. Sized just right for newbies and advanced users alike, anyone can enjoy this toy. For the female bodied folks, this could also be used for G-spot/clitoral stimulation as well.
Pros:
Strong rotating tip motor, separate vibe for perineum, easy to use controls.
Cons:
Not waterproof, could use more rotational speeds.
Best use:
Nexus is well known to make quality, stimulating toys for the prostate massaging crowd. Their designs are effective, well thought out and are loved by many. It's no wonder that they continue the innovation by creating a rotating P-spot massager that targets that 'oh so pleasurable' spot.

Simply apply you favorite water based lube to your anus and toy, insert the toy and hit the easy to use control button. Enjoy the rotation as it caresses your prostate or add the vibes to the mix to stimulate your perineum with a series of massaging nubs.

Women looking for a strong rotating G-spot toy may also benefit from the Revo. The shape may fit those with shallow G-spots and the vibes in the tip of the base may prove to be just the thing for dual stimulation.
Material / Texture:

Nexus has used 100% silicone for the top 3/4 of the Revo. It has a matte finish that has a bit of drag - this helps to hold onto the lube. Once the lube is applied it becomes very slick and insertion is effortless. The tip of the insertable section is soft and has some give until you get to the bottom of the first bulge. This allows the mechanical elements room to move. Bellow the first bulge the silicone has only a slight bit of give as it is covering the plastic form, this just helps to keep the toy in place and give your anus something firm to hold onto. The small nubs on the base of the toy are soft and pliable.

The lower portion of the Revo is firm plastic. It houses the vibe for the perineum, the two AA batteries and provides the backbone so the rotational function can perform. .

Material:

Silicone

Material safety

Texture:

Noduled / Smooth

Safety features:

Food-grade material / Hypo-allergenic / Latex free / Non-porous / Phthalates free

Design / Shape / Size:

The shape and size is very similar to the rest of the Nexus line, great for beginners to anal/P-spot play and pleasurable for the advanced crowd as well. The shape zeros in on the prostate with ease and makes it easy for newbies to find theirs.



The tip of the Revo measures 1 3/8" diameter, (3 7/8" circumference) and is oval in shape. The second bulge comes in slightly less in diameter at 1 1/4" at its widest but is overall bigger in circumference at 4". This is because this bulge is more rounded. Down 4" from the tip the neck measures an anus relaxing 3/4" diameter. This helps to keep the Revo in during use. The perineum section comes out from the neck 2 1/2" which should work for most bodies.

The base is somewhat large so sitting on it may not be the most comfortable. It is best to use the Revo in a laying down position. The instruction advise to use the standard P-spot position of laying on your side with one knee pulled up. This works fine but does not give much access to your penis nor does it work well for partner play. It can be worn while standing or walking around but it may want to slip out. For this some tight fitting manties will do the trick. During sex, some positions will work better than others for keeping the Revo in place. A little experimentation will be in order.

Color:

Purple

Length:

5 3/4"

Insertable length:

3 3/4"

Circumference:

4 1/4"

Diameter:

1 1/4"

Weight:

1.3 lb

Performance:

The Revo shines in the performance department. Controls are right at your fingertips by way of a single on/off button positioned at the end of the perineum portion. A single push of the button starts the rotation, a second push gives you a pulse vibe pattern and a third press gives you a escalating/pulsing pattern. One last press of the button turns it off.

The top bulge has a strong rotational action that until now only the high end rabbit toys for the ladies could offer. You will find it very hard to stop that tip from turning. Even when clenching my buns of steel all I could manage was to slow it down slightly, this just made the base move more. There is definite power here. The tip has about 3/4" of overall travel which makes for about a 1 1/2" circle, plenty to thoroughly massage the prostate. It can also be used to massage the anal opening by only inserting the tip in the anus.

The rotation can barely be heard when in front of you and is totally quiet once inserted. The vibes are slightly louder but are easily cover by a blanket.

Control type:

Built in control pad

Powered By:

Aa-2

Care and Maintenance:

Since the Revo is not waterproof, care must be used when cleaning. There is a small O-ring around the battery compartment but this only makes it splash proof at best. Hold the toy so that the batteries are up and rinse of the antibacterial soap or toy cleaner. You could also use a toy wipe to clean off the Revo. Sorry, no boiling here.

(showing O-ring)

The only other somewhat hard part about cleaning the Revo is the nubs on the base. An old tooth brush will help here for sure.

Storage is provided by Nexus by way of the packaging or the included pouch.

Care and cleaning:

Soap and water

Packaging:

Not only to you get a top notch toy, you get high quality packaging too. Your Revo comes in a clam shell style box that slides inside an outer sleeve. Inside, the Revo's base is nestled in a foam cutout. Under this foam piece is an instructional booklet and a plastic card. Nexus also supplies a toy pouch to store your toy, in case you need a smaller storage option.



The plastic card is an "Authenticity Card" with a unique number printed on it. By going to the website and entering the number you can be entered in a contest to win a Revo 2 in 2012 before the new model hits the shelves. They will be giving away 50 of them.

The box is somewhat discreet. Someone seeing it on a shelf may just pass it off as a computer game or something. If they happen to pick it up and read the back you secret will be revealed. Still, the box would be nice for gift giving to a trusted friend/companion.

Personal comments:

I only have two complaints with the Revo. One, it is not waterproof! This not only makes cleaning a bit more challenging, it limits my play time with it. With kids around and my crazy work schedule, the shower/tub sees most of my play time. Thoughts of sealing it with silicone caulk have flown through my head more than once.

The other complaint is the lack of a rotational speed option. It sure would be nice to speed it up when things get going good. I think if it was a bit faster I might be able to actually have a super "O" using the Revo. I get somewhat close but there is just not enough to push me over the edge.

Experience:

Aside from my two complaints, this is fast becoming one of my favorite P-spot toys. I have wanted a rotating toy for anal use for some time. Every time a new rabbit comes out, I am fast to read the reviews only to be let down by claims of women being able to stop the rotation by clenching down. During an orgasm my anus could crush a can (Thank you Eleven) so I need something with a good strong motor. Nexus gave me that motor in the Revo. I can only hope the next version has more options in the rotation department. My high ranking of the "Vrooms" reflects the strength of the rotation.

The vibes are a nice addition and provide good external stimulation but for some reason that does nothing for me. Most of the time I do not even turn them on during solo use. They are nice when using it during sex with the wife, she says she can feel the vibes through my shaft so she gets some extra stimulation as well.

I found the best way to keep it in during sex is with me on my back and the wife on top or in the doggie position. Other positions require a hand now and then to keep it in. I have had good luck wearing around the house with the help of underwear, although feeling the rotation is sort of hard when walking.

All in all, this is a great addition to my toy box. I will highly recommend it to anyone looking for something new in the P-spot massage department.

Other

Functions:

Multifunction / Multispeed / Rotating / Vibrating