Lover's Choice Inc. Ophoria a-vibe - Prostate massager from Lover's Choice Inc.

Product Details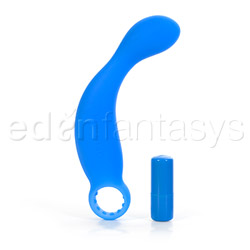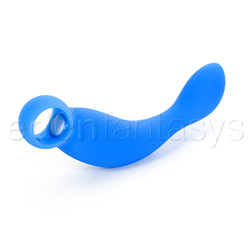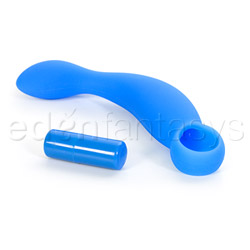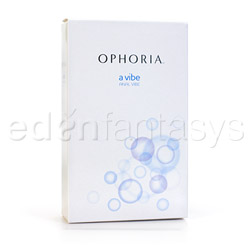 Summary:
As new users to prostate toys, we found this toy to be easy to insert and comfortable to have inside. The bullet is in a convenient spot for access and manipulation and the handle is well designed. In addition, the size and length are non-threatening for first time users. This is recommended for both first time users and advanced users who prefer smaller girth or smooth textures.
Pros:
Soft, smooth, flexible, quiet vibrator, waterproof.
Cons:
Low powered vibrator (uses watch batteries).
Best use:
This prostrate massager by Lover's Choice, Inc. is a very soft and smooth silicone toy created for anal use. With its curve and bulbous tip, it can also be used for G-spotting, but it does not have a lot of girth and size queens will want to pass on this. If you are sharing this with a partner or using it for both anal and vaginal use, you will want to either use this with a condom or clean it between uses.

As far as being used anally, there are some things to consider. It does not have a large flared base although there is a bit of a flare by the handle. It would be best to use this for partner play or tie a long string to the handle so you can remove the toy if it gets pulled inside since it has a fairly small diameter of 1 1/8". Advanced anal toy users may be able to use this without the string or a partner.
Material / Texture:

The material is very soft and smooth to the touch. It has a fair amount of drag to it and you will need to use water based lubricants with it.

Not only is this toy soft, but it is very flexible. While it may not hold its shape, the neck can be bent in an angle of about 15-20 degrees.

The only "texture" on this toy is the name "Ophoria" which is inscribed in the handle. It did not bother us upon testing and could not be felt. Other than that, this toy is very smooth and soft.

Ophoria is made of food-grade material that is hypo-allergenic, latex free, non-porous and phthalates free.

It is recommended for both beginners and advanced users who prefer small girth or smooth texture.

Material:

Silicone

Material safety

Texture:

Smooth

Safety features:

Food-grade material / Hypo-allergenic / Latex free / Non-porous / Phthalates free

Design / Shape / Size:

For a beginning user, the design is very non-threatening and comfortable. The bulbous shaped head is approximately 2" long and 3.25" in circumference. This is followed by a 1" neck which is slightly over 2" in circumference. The remaining 3" of insertable length has the largest circumference of 3.5" or 1 1/8" in diameter. It is at the bottom of this portion that the name is inscribed. The handle may be a bit hard to use for people who have large fingers with a ring size over 10 or 11 due to its size. However, it is very easy to reach when the toy is inserted and my husband was able to manipulate and control the toy very easily and control the bullet vibrator.

The neck seems to be small enough compared to the bulbous head that it would stay in if you were having an orgasm, however, we were not able to test it to that point. But, there is a definite difference between the size of the neck and the size of the bulbous head.

Length:

5 3/4"

Insertable length:

5"

Circumference:

3 1/2"

Diameter:

1 1/8"

Weight:

0.3 lb

Performance:

As someone new to anal play and prostate massagers, we found the toy to be outstanding because it is non-threatening in its girth and soft and flexible to the touch. While it was flexible, it was still easy to insert and it went in easily each time it was inserted. There was no need to do some gymnastic pose to get the toy inserted.

In addition, my husband found the bullet control very easy to use to turn the toy off and on. The bullet is inserted in the toy and there is a push button in the handle where you grip the toy with your finger. The vibrations from the bullet can be felt the whole length of the massager and are very strong even in the tip. While the vibrations are not deep and rumbly, they are also not high and buzzy. When held in my hand with the bullet running, the vibrations could be felt in my wrist also.

Unfortunately, while the bullet is very easy to insert, it is hard to remove for changing the batteries or cleaning the toy by boiling it or throwing it in the dishwasher.

When tested in water, it performed well and did not have any problems. I was concerned about it being waterproof because of the way the bullet is inserted, and you will want to make sure that if you are using the bullet with the massager that it is fully inserted and nothing is exposed.

Functions:

Vibrating

Control type:

Push button

Special Features:

Batteries included
Powerful
Removable bullet
Waterproof

Powered By:

3 watch batteries

Care and Maintenance:

You will definitely need to use lubes with this toy but please make sure that they are not silicone based. You may use water based lubes with it.

This toy is very easy to clean, largely because it is bleachable, boilable and dishwasher safe as long as you remove the bullet first. If you prefer, you can wash this with toy cleaner or even just soap and water.

Unless this toy is stored in a box somewhere, you will find it probably picks up some dirt and lint. It was not a "lint magnet" because when it was on our bed it did not pick up a lot of dirt. However, when I lightly ran it over our bedroom bunny without touching him, it still picked up several of his hairs.

Care and cleaning:

Bleachable / Boilable / Dishwasher safe / Soap and water

Packaging:

The Ophoria comes in a white cardboard box with the words "a vibe" on it. It is nice for gifting but I would not consider it to be discreet or overly informative. I would not store the toy in the box simply because I recycle my boxes and the box is very large for the size of the toy that you get inside.