Aneros Vice - Prostate massager from Aneros

Product Details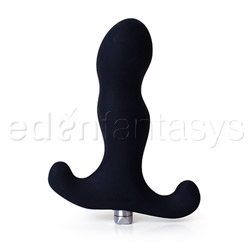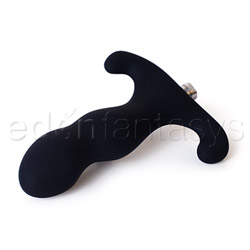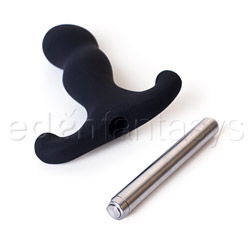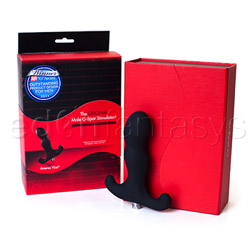 Summary:
Overall this is a nice prostate massager. For those that already have an Aneros product, it's a nice upgrade, bringing both vibrations and sterilization to the table. Those looking for their first prostate massager may want to consider the size first. While not huge, some warm up will be necessary for those new to anal stimulation. For those more experienced, this toys size is easily manageable and will provide hours of pleasure.
Pros:
Masculine, sterilizable, bullet uses AAA battery, discreet packaging good for storage.
Cons:
Silicone holds onto smells and needs a fair amount of lubricant to become slippery.
Best use:
The Aneros Vice
is a prostate massager designed for men. The design and shape of the toy cause it to move in and out when the pelvic muscles are squeezed. This causes stimulation to the perineum, anal entrance and the prostate. This positive feedback in sensations can lead to the body pushing the toy in and out on its own. This makes this a great toy for those that are wanting to do Kegels but want to make it a little more fun and pleasurable. This stimulation can also be a great addition when either giving or receiving oral sex, during intercourse, masturbation or just for wearing around the house. Some have managed to orgasm from only the Aneros itself with no penile stimulation at all in what is called either an anal orgasm or prostate orgasm.
The Aneros Vice is the first and currently only silicone Aneros available. It has the same basic design as the
Aneros Progasm
with some minor differences. The Progasm is made out of plastic and the Vice is made out of silicone. The other main difference is that unlike the rest of the Anero' family, the Vice has a removable vibrating bullet. The bullet adds a new element to the experience and can be used both with the Aneros Vice and alone on its own. The fact that it is made of silicone means the toy can be sterilized and thus shared. Silicone also holds a given temperature longer allowing for temperature play in which you can either heat up or cool down the toy before insertion for a different sensation.
Material / Texture:

The Aneros Vice is made out of fairly hard silicone with very little give to it. While softer than the hard plastic on the other Aneros massagers, there are definitely softer silicone toys out there. The reason for this hardness is that the perineum and k-tab are all made out of the same material and so if the silicone was softer these wouldn't apply enough pressure or be firm enough to work correctly. The silicone also has a fair amount of drag to it. You will need to use a good amount of lubricant to overcome this. On the plus side, this drag also helps lubricant to stick better to the toy. The toy has no smell when it arrives; however, after being used and even with repeated cleanings, the toy tends to hold onto smells. The silicone is black in color although in looks more like a very dark gray when seen in person.

Material:

Silicone

Material safety

Texture:

Smooth

Safety features:

Food-grade material / Hypo-allergenic / Latex free / Non-porous / Phthalates free

Design / Shape / Size:

The Aneros Vice looks very similar to the Aneros Progasm both in size and design. It has a slightly less angled front section that feels a little bit different going in but overall if you like the design of the Progasm you'll probably like this one as well. The biggest thing the Aneros Vice has going for it is the very high quality bullet included with it. It's made of stainless steel and looks somewhat like an actual bullet from the front. This, combined with the black color of the main part of the toy, gives the Aneros Vice a very masculine feel. The bullet runs off of a single AAA battery and has 6 vibration settings (low steady vibration, low rollercoaster, low pulses, high steady vibration, high rollercoaster, high pulses). The fact it uses AAA batteries is much nicer than most bullets this size that require watch batteries that are more expensive and not as easy to find. The bullet is turned on with a strong push to the button on the bottom. Subsequent pushes switch the vibration pattern. The bullet is turned off by holding down the same button for several seconds. This button takes a far amount of pressure to activate it so there's little chance of it getting turned on accidentally.

Color:

Black

Length:

5"

Insertable length:

4"

Circumference:

4"

Diameter:

1 1/4"

The set includes:

Prostate massager and removable bullet

Weight:

1 lb

Performance:

The best thing about the Aneros Vice by far is the vibrations. There are very few vibrating butt toys that are of high quality and good design. The Aneros Vice is both. It has a great design that is only marred slightly by the fact that the silicone is not quite as smooth as the other plastic Aneros. Given that it would be very difficult to have a removable vibrating bullet in a plastic body due to plastic's inability to grip, this is an acceptable loss and is overcome by an adequate amount of lube. While the bullet stays in place very well, it sticks out far enough that with a little force it can be removed for cleaning. There are a wide variety of vibration patterns that are quite an enjoyable addition to an already pleasurable toy. The quietness of the bullet is also an added bonus and could even allow for use of the bullet when out and about. Even without the bullet in, the Aneros Vice holds its shape fairly well making it very versatile.

Control type:

Push button

Powered By:

Aaa-1

Care and Maintenance:

Being made of silicone, the Aneros Vice should not be used with silicone lubes as this can cause degradation. Water based lubes have no issues and should provide adequate lubrication. If you still desire to use silicone based lubes, you can try a small spot test on the base to see if it reacts. As mentioned in the material/texture section this toy tends to hold on to smells. The toy looks clean after a single cleaning though with just soap and water. For those worried about the smell, the toy can be boiled or soaked in a bleach solution which could very well take care of the smell in addition to sanitizing the toy at the same time. The included bullet says it's not waterproof but it does have an O-ring that seems to work fine under water at least for short spurts. Boiling would not be recommended with the bullet due to the internal components; however, since it's made of stainless steel, bleach can be used for sanitizing purposes. It is generally recommended not to store silicone toys touching each other as they can react with one another. This shouldn't be an issue considering the toy can easily be stored in the very nice case included with the Aneros Vice.

Care and cleaning:

Soap and water

Packaging:

The outer box that the Aneros Vice comes packaged in does not seem very well built. It was ripped when it arrived and would probably not last very long. The box is covered with testimonies of people that have used Aneros toys as well as a sticker stating that the product received the "O" award. There is a band that wraps around the box that has some information about the v-series that the Aneros Vice belongs to. Inside the outer box is a much nicer and more discreet box. The only hint of it being a sex toy is the word Aneros in fairly hard to read type other than under direct light. This makes this box very discreet as unless someone knows what Aneros is they will be none the wiser. This box is kept closed by magnets on the inside. Opening the box completely, you are greeted with an advertisement for the Aneros Tempo. On the back are some basic directions on how to use the toy as well as a warning for those that are allergic to nickel. Removing the directions reveals the bullet and Aneros Vice in its form fitting packaging. Underneath the bullet is a single AAA Energizer battery.

Personal comments:

I have quite a collection of prostate massagers. Overall I really like this toy and would definitely rank it in the upper range of the prostate massagers I have but I think it will take more time to decide whether this dethrones my all time favorite prostate massager the Aneros Prograsm. For those that don't currently have any of the prostate massagers I own, here's a picture with it next to the Tantus Ryder for size comparison.

Other