Jopen Ego e3 - Cock ring from Jopen

Product Details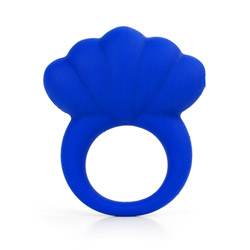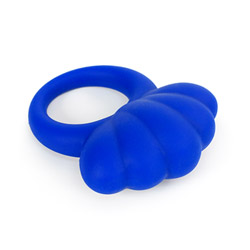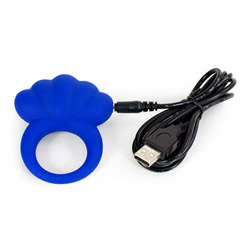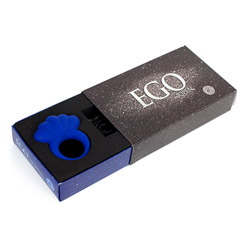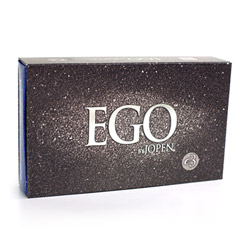 Summary:
Give your ego a boost with a larger, firmer penis and an ear-to-ear smile on your partner's face with this offering from Jopen. The e3 is a cock ring for those looking for top notch materials and performance. You get a comfortable to wear ring, high performance, rumbly vibes, and a wonderfully large shell shape that is sure to please.
Pros:
Rumbly vibes, rechargeable, waterproof, will reach most clits.
Cons:
May not fit smaller guys the best.
Best use:
Vibrating cock rings serve two purposes: make the penis harder/last longer and provide stimulation to the partner. The Ego e3 from Jopen is no exception! Everything about this ring is top shelf, from the USB rechargeable Li-Ion battery, travel lock feature, silicone material, and nice storage box. All of this comes together to provide pleasure for both partners.

Grab a bottle of oil or water based lube, slather it on your package and the ring, and slip it on. The stretchy silicone means you can put it on soft or hard, around the shaft only or the "whole package". Once in place, press the on/off button and find a setting you both enjoy.

Not only can this be a wonderful toy during sex, but it is a wonderful clit vibe as well. Use it for some foreplay to stimulate any erogenous zone you choose. To top it all off, you can use this ring anywhere you see fit: shower, tub, in a rain storm...you just have to love waterproof toys.

Please remember that a cock ring should not be worn for more than 30 minutes to prevent possible injury.
Material / Texture:

Nothing but quality 100% silicone here - well, did you expect anything else from Jopen? Yes folks, a blue matte finished silicone is used for hypoallergenic, latex and Phthalates free, worry free use. No taste or smell, and you can share with different partners after proper cleaning.

A sea shell shape, complete with five bulges, provides a bit of texture for your partner. Used as a clit vibe, these provide wonderful stimulation but are hardly felt during sex.

Material:

Silicone

Material safety

Texture:

Smooth

Safety features:

Hypo-allergenic / Latex free / Non-porous / Phthalates free

Shape / Design / Size / Fit:


As you can see the e3 is rather large; next to the LX-4 and Bedroom Kandi rise and shine this ring is up there with the biggest I own. This can be both good and bad. On the one hand, the e3 is sure to reach the majority of clits out there, plus it allows Jopen to use the Power Bullet (same as the LX-4). On the other hand, the size will reduce the length of the penis and may not be the most comfortable in some positions.

Overall the ring measures 3" from top to bottom, and the shell area is 2 1/2" across. The ring itself measures 1 1/4" diameter unstretched. Stretched it will fit a pop can, but ideally you want to be in the 1 1/2" - 1 3/4" diameter range for the best performance. Myself, I am at the 1 3/4" diameter mark and found it to be very comfortable around the whole package, with no problems with it moving around. Wearing it around just the shaft did not work so good; the combination of lube and natural juices from the wife allowed it to spin freely around my shaft. For those just wanting to wear it around the shaft, you may want to wear it without lube or very little.

Color:

Blue

Cock ring style:

Stretchy ring

Max stretched diam.:

3"

Unstretched diameter:

1 1/2"

Diameter:

1 1/2"

Length:

3"

The set includes:

Weight:

0.2 lb

Functions / Performance / Controls:

To get things going, you will need to fully charge the battery. To do this you will need a USB port. Now chances are just about everyone has one on their computer, but there are other places to find them; the local Big Box store I work at has USB ports that plug into a wall outlet. Next thing to do is insert the charge jack into the small hole on the side of the shell.

Once fully inserted, a blue LED light will come on in the center top of the shell to let you know it is charging. During use the light is also on, which is fun when the lights are off.


A nice feature is the locking function that keeps the vibe from turning on when traveling or during storage. To lock the vibe, you just press the on/off button three times. The vibe will turn on for a second, and the light will come on briefly to let you know it is locked. Just press it three times quickly to unlock it.

The vibes are on the rumbly side and travel through the silicone nicely. This means the wearer will feel it almost as much as the receiver. Straight vibes is all you get, but you can increase the intensity as you like; the longer you hold the button, the more intense the vibes.

But wait, there is more! At the highest setting the e3 is whisper quiet: no need to turn the TV or radio on with this one. Hell, I can just barely hear it when I am wearing it. Top notch, eh?

Functions:

Multispeed

Special features:

Powered By:

Rechargeable / USB

Control type:

Push button

Care and Maintenance:

Standard cleaning practices can be used with the e3: soap and water, toy cleaners, and 10% bleach can all be used. Just do not boil it or place it in the dishwasher. The ring is fully waterproof so no worries there, just don't try to charge it around water. (Seriously, the instruction booklet says not to...)

Storage is pretty standard as well. Keep it away from dissimilar materials to avoid a material reaction. Silicone is well known for being a dust/lint magnet, so you may want to use the included box or plastic zip top bag to keep them at bay.

Other