My drink is the one with the cock ring
If you don't need particularly strong vibrations and you don't need more than a couple of minutes to reach orgasm, you may love the e3. If you need power and a longer battery life, you are better off skipping this one.
Published:
Pros:
Small
Quiet
Silicone
Cons:
Weak vibrations
Short Battery Life
Textures aren't that great
I am always on the lookout for a great couple's toy, but I've been feeling a little bit jaded lately when it comes to toys marketed to couples. When I saw the great reviews for the Ego e3, I desperately wanted to love it, but it left a lot to be desired.
First off, let's talk about the packaging. It's discreet...ish. There is no photo of the vibe on the
front
of the box, which only says "EGO by Jopen e3" on a black textured background. The textures give the impression of pebbles. On the back is a photo and some basic information. If you slide off the outer black sleeve, you find an inner blue box. Inside is a foam insert with two shaped recesses (one for the toy, one for the charger).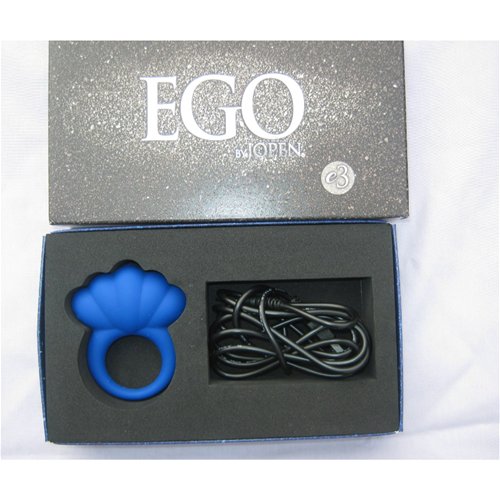 Now on to the e3 itself. It's waterproof, relatively quiet, has a one year warranty, and is made of a deep blue silicone. Remember to only use water-based lubricant on silicone toys and that silicone toys don't get along with other silicone toys. Keep them separated.
The e3 is small and easily hidden, if you need to keep it out of sight. The vibrating shell part is about 2 ¾ inches across and 1 ½ inches tall. The ring is 2 inches in diameter from outside wall to outside wall, and the opening is 1 ¼ inches in diameter.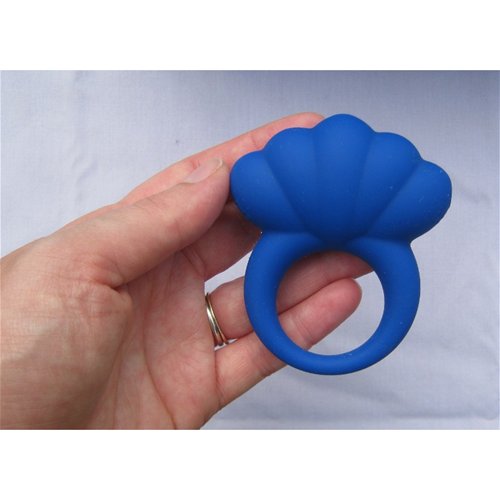 The e3 is rechargeable with it's included USB charger. For those that are new to USB chargers or a little tech challenged, that means that it charges by plugging in to your computer. One end of the charger plugs in to the computer, while the other end plugs into the side of the e3. It takes about 3 hours to charge fully. A little light comes on at the top when it is charging, and turns off when it is done.
Use is fairly simple. Press and hold the single button on the top until you reach the desired vibration strength. To turn off, press the button once, quickly. To lock for travel, press the top button rapidly three times. You unlock it the same way. Please not that the e3 has no vibration patterns, only different speeds.
Now, what we've all been waiting for...how fabulous is it?! By other reviews I've read, both on Eden and elsewhere, I was sure I was getting the toy of toys. That's not what I got. My husband and I tried it in several different positions and were disappointed in each one. Why that is comes down to three very specific issues. First, the vibrations are pretty weak. I was expecting at least 4 vrooms, but what I got was a low 3. I need at least 4 to have an orgasm. Second, it starts to lose strength after a couple of minutes. It slowly loses intensity until the battery finally dies, which on a full charge is, no kidding, about 20 minutes. If you like long love sessions, well, you're not getting it here! Third, those really nice shell ridges are not nearly as pronounced in real life as they seem in the product photos. I was thinking that center scallop shape was going to hit my clitoris really well, but it really doesn't stand out that much. So, in order for me to like this one, it would have to be stronger, last longer, and have a more pronounced center ridge. As it is, I don't like it and can't recommend it.
So, it fails as a couple's toy. Anything else it can be used for? Of course some people have put them on dildos with great success. I haven't had success with that. But that doesn't mean it's useless. Give these thoughts a try:
1.
A handheld clitoral vibe.
Maybe you don't need lots of power. Maybe you need less than 20 minutes. Not everyone has the same needs that I have, and if you can get this to work, more power to you. I couldn't.
2.
A small, cute muscle massager.
It did feel nice on my shoulders. Just saying.
3.
A unique and awkward drink marker.
"Which martini is yours?" "Oh, it's the one with the blue vibrator."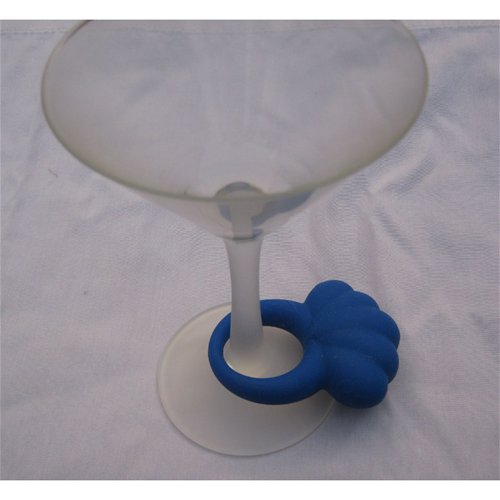 4.
An uncomfortably tight statement bracelet.
If you want to torture yourself, that is.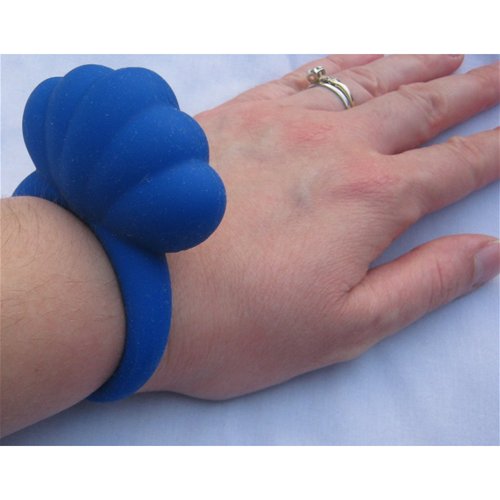 5.
A hair tie.
Do you think anyone is going to notice there is a vibe in your hair, or will they think it's just one of those decorative combs?
So, to wrap it up, I'll say this: If you don't need tons of strength and don't need long to orgasm, this is awesome. If you do need some oomph, texture, and time, only get this if you keep losing your martini.
Follow-up commentary
1 month after original review
I've taken this out a few times and tried to use it as a separate clitoral vibrator. I was determined to make it work somehow. However, something about the vibrations combined with shape is just not right. So many people really loved the e3, and I really wanted to. And I tried to love it, but I just can't.
This product was provided at a discounted price in exchange for an unbiased review. This review is in compliance with the FTC guidelines.

Thank you for viewing
Ego e3
– rechargeable penis ring review page!