Kama Sutra The getaway kit - Sensual kit from Kama Sutra

Product Details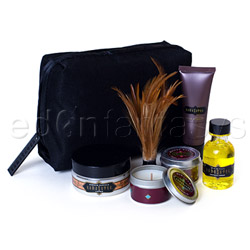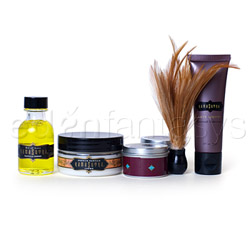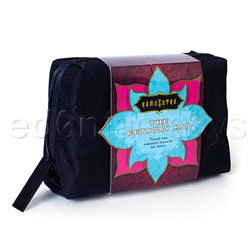 Summary:
Take the Getaway Kit on your next trip with your sweetheart or just pamper yourself! It has everything you need for a sensual massage, night of foreplay, and romance is included. So come on, pack those bags and get going to your destination of love.
Pros:
Everything you need for a night of romance, perfect for travel, high quality
Cons:
Lube is a little runny.
Best use:
After a long day on a plane, the getaway kit is the perfect answer to soothe your partner and release all the stress of the day before igniting the passion. The kit is perfect. Used as a massage kit, it provides for relaxation. Used as foreplay, it temps the senses and eases you into a night of sensual sex. Plus, it's travel size and fits easily in a bag. If you're daring enough you can bring it on carry on as it meets the 3oz rules. Alone for the night? No worries. Treat yourself to a sensual massage and passion. Just bring along a few toys to finish the night off with.

The kit includes: A feather tickler, lube, kissable creme, edible body dust, and a romance candle.

There are over 100 ingredients but the entire kit is hypoallergenic and dermatologist tested. Everything is latex safe and does not stain fabrics!
Texture / Consistency / Thickness / Viscosity:

Body Dust: This dust is an extremely fine powder. It makes any skin, even hairy skin like a man's chest, feel as smooth as a baby's bottom. My guy is hairy and, with just a little bit on him, my hands were gliding effortlessly against his skin.

Massage Oil: The oil is very thin, but high quality. It does run so begin rubbing right after application. The skin will stay slick for around 10 minutes before you will need to reapply. The oil allows some friction but not enough to ruin a massage. The oil pours very easily from the bottle and is only slightly greasy.

Creme: The creme is the texture of cold cream. It's a bit of a turn off until you begin rubbing this smooth stuff on your lover. It rubs right into the skin leaving a smooth, silky feeling. It also stays right where you put it and is not greasy.

Lube: The lube is thinner than most and runny. Even so, a little goes a long way and we did not need to reapply for 30 minutes of intercourse! Be careful though, it comes right out of the bottle! Luckily, it does not get greasy, sticky, or tacky! Yeah!

Taste / Aroma:

Dust: The powder is scented with sweet honeysuckle, but smells more like perfume to me. It's extremely sweet and the only good tasting body dust I have found. In fact, after tasting it, I dusted my guy with it and began licking his chest. This is the first that I really, really enjoyed.

Creme: This creme is scented french vanilla but tastes just like cake frosting. You'll only want to kiss it though. Do not ingest, as it tastes extremely bitter on the tongue but sweet on the lips. Why? I'm not really sure but take my word for it. The smell is very sweet and confection like.

Oil: The oil is not edible, but is scented just like the creme, even though it claims to be vanilla creme instead of french vanilla. Again, it smells just like cake frosting.

Lube: The lube has a strange, chemical smell when put right to the nose and a sickly sweet taste. I would not recommend ingesting.

Candle: Throw out your scented candles and buy a bunch of these! This soy candle smells both floral and fruity. It's amazing and not overpowering at all! You'll love it.

Flavor:

Honeysuckle / Vanilla

Performance:

Aw romance. I'm an old romantic myself. I love a bit of romance. I lit the candle and it burned bright, then my guy and I dusted each other with the love dust. It was so wonderful to lap it off of each other and enjoy every moment of it.

Once that was done, I rubbed the creme on him. I kissed it and then rubbed it right into his skin. It made him feel silky smooth. He then proceeded to apply it to my nipples for kissing. Yummy! At this point, we tried out the tickler. It's about three inches long and made from long down feathers. Although he thought the tickling was too light for him, I loved it. It provided me with that provocative, light, tickling sensation which is on the bounds of being just enough but not too strong. The feathers are extremely soft. At this point, I turned over and received my massage. I noticed a bit more friction but the oil absorbed nicely into my skin and didn't get my sheets greasy. Hey, that's a real plus.

Finally, we were there. It was time to try the lube! I applied some to myself and he applied some, spilling a lot. Remember, I said to be careful with this. Anyway, we ended our night of romance with some hip grinding good fun.

The set includes:

French Vanilla Crème Body Soufflé
Vanilla Crème Oil of Love
Sweet Honeysuckle Honey Dust with a feather applicator
Love Liquid water-based Lubricant and a Romance Candle

Packaging:

The Getaway Kit comes in a small, 6 x 4 x 2 black canvas zip bag. A red and green cardboard band covers the bag and gives ingredients and a description of the product.

The creme comes in a 1.8 ounce plastic tub with a black screw on cap. Both the candle and body dust come in very small, tea candle sized tins with pop off tops. The oil comes in a tiny glass bottle (amount unmarked) with a black, screw off top. Finally, the lube comes in a 1 ounce squeeze bottle with a black flip cap.

The bag is perfect for storage as it comes with a plastic insert that cradles everything. It's also perfect for travel!

Volume:

1.8 fl.oz.

Weight:

0.75 lb

Other

Special Features:

Gifts
Moisturizer
Scented
Small size