The Perfect Kit for a Getaway or Romantic Night at Home
Whether you are spending a romantic evening at home or going away for the weekend, the Getaway Kit is a must-have! With such smooth, sensual products, you're sure to have a wonderful time!
Published:
Pros:
- Variety in products
- Scents
- Romantic
- Sturdy storage bag
Cons:
- Oil of Love is bitter
- Lubricant is runny and contains glycerin
The Getaway Kit by Kama Sutra is the perfect mix of items for a sensual night with a partner.
The Getaway kit includes:
- Honey Dust, Sweet Honeysuckle: body powder - net weight 2 oz / 56 g
- Feather Tickler
- Body Soufflé, French Vanilla Crème: body/massage cream - 1.8 fl oz / 53 ml
- Petite Candle - 1 oz / 25 g
- Oil of Love, Vanilla Crème: body/massage oil - .75 fl oz / 22 ml
- Love Liquid Classic: lubricant - 1 fl oz / 29 ml
All of the products are gluten free and don't contain parabens.
The Getaway kit comes in a small black pouch with a zipper. The items are neatly arranged on a plastic container inside of the bag. For storage purposes you may choose to keep the plastic. Personally, I chose to recycle the piece because the tickler nearly jammed the zipper.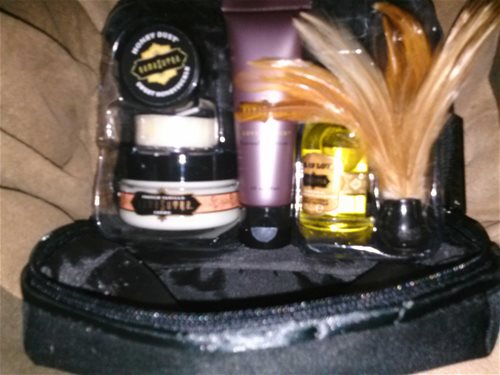 There is a cardboard sleeve wrapped around the bag, which has some information about the kit (e.g. the ingredients).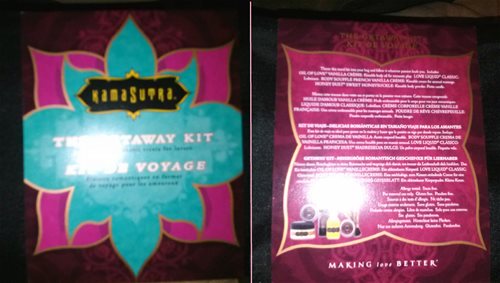 Honey Dust
The honey dust is a soft white powder that can be applied with the feather tickler. The scent is Sweet Honeysuckle, but it reminded me of sunblock. In all honestly, I like that scent, but I know not everyone does. Even if you aren't a fan, the powder's aroma is very light and becomes even less prominent when rubbed into the skin. As for taste, I did lick some off my partner's skin; it was sweet, but not overpowering in any way.
In order to apply the powder, you can use the feather tickler. The tickler is approximately 5 inches in length and comprised of some of the softest feathers I have ever felt. That being said, when run over sensitive areas, it does indeed tickle. My boyfriend and I actually enjoyed the sensation, as long as it was not prolonged. If you don't like it, you don't have to use the feather applicator; you can simply use your hand instead.
My only complaint about the powder was that it is definitely not like the one listed on the product page, or even like the one shown in other people's reviews. I was expecting a tin of pink, shimmery powder, but received a plastic container of white dust (which looks like baby powder). I was looking forward to the shine it would leave on my skin, but the product I received rubs in completely. You can't even tell it's been applied. Regardless, I still like this product.
One of the great things about the powder, as well as all of the other products, is that it doesn't stain clothing. I actually had a hard time opening the container for the honey dust the first time; when I did finally unscrew it, powder flew everywhere. I was happy to learn that I was able to wipe it away with a tissue and just a little dab of water.
Ingredients:
Corn Starch Modified, Glucose, Zea Mays (Corn) Starch, Honey (Mel/Miel), Silica, Honey (Mel) Extract/Extrait de Miel, Sodium Saccharine, Fragrance (Parfum), Sodium Benzoate, Amyl Cinnamal, Benzyl Alcohol, Eugenol, Hydroxy Citronellol, Benzyl Salicylate, Geraniol, Linalool, Citronellol, Benzyl Benzoate.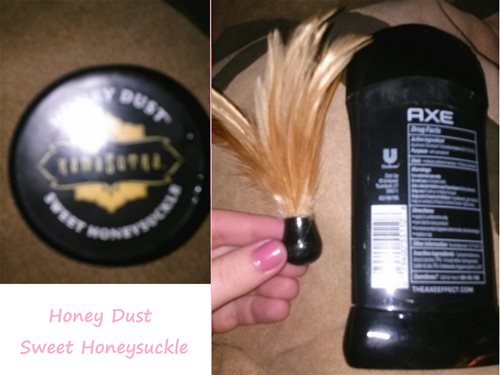 Body Soufflé
"Designed for sensual massage, this delicately textured, kissable cream is enriched with moisturizers and melts away completely with water, leaving only a subtle sweetness on your lover's lips and fingertips."
The body soufflé has the texture comparable to a somewhat thick body cream. A little bit goes quite a long way for massage purposes. It runs into the skin very nicely and doesn't leave a slick or sticky feeling.
Of all of the products, the body soufflé has the strongest aroma and taste. If I close my eyes, I would swear someone was baking a cake in the room. When licked off of the skin, the taste of the cream lingers on the tongue for a few minutes. I was pleasantly surprised by how much I enjoyed it. In the past, I have tried many creams that became bitter, but this one did not!
Ingredients:
Water (Aqua/Eau), Ethylexyl Palmitate, Cetyl Alcohol, Glyceryl stearate, Caprylic/Capric Triglyceride, Glycerin, Dimethicone, Cetearyl Alcohol, Flavor (Aroma), Polyacrylamide, C13-14 Isoparafffin, Laureth-7, PEG-100 Stearate, Carbomer, Sodium Saccharine, Sodium Hydroxide, Potassium Sorbate, Tetrasodium ETDA, Phenoxyethanol, Caramel, Yellow 5 (CI 19140), Yellow 6 (CI 15985).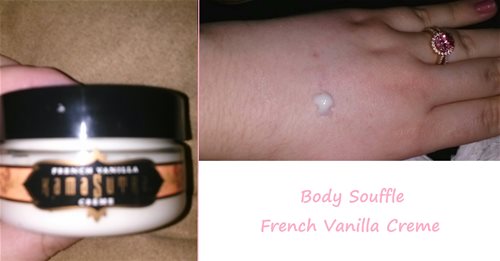 Experience
Continued:
Petite Candle
This soy-based tealight candle is pretty small, and therefore doesn't last very long. I was able to get two uses out of it before it was pretty much gone.
The packaging says not to burn the candle for more than 30 minutes at a time. You really can't burn it much more than that anyway, since the candle is so small and melts pretty quickly. Additionally, it says to trim the wick to less than 1/4 inch before each use.
For safety purposes, place the candle on a flat surface and away from any flammable objects. Never leave a candle unattended, especially about children or pets since it easy to knock the candle over.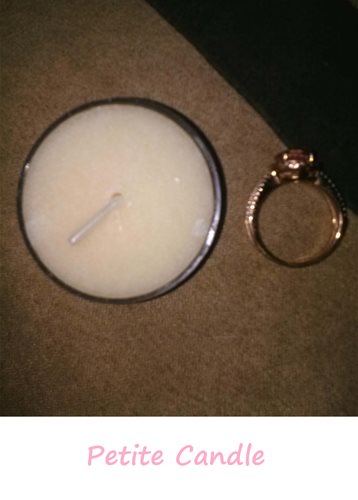 Oil of Love
"Dab it. Blow it. Kiss it. Now Play."
The massage oil is as thick as most massage oils, so it coats the skin quite well. It's a little on the runny side, but that's a good thing since a little goes a long way and you want to spread it out. When rubbed into the skin it does leave a slick film, which not everyone will like. That's pretty standard with massage oils though.
For scent purposes, the oil smells lovely. It is vanilla crème and, like the body soufflé, reminds me of cake batter. It is a light and airy scent that does stick to the skin. Sadly, this does not taste good at all; it is actually quite bitter. So, you may want to avoid kissing your partner's skin after application.
Ingredients:
Glycerin, Propylene, Glycol, Water (Aqua/Eau), Sucrose, Flavor (Aroma), sodium Saccharine, Citric Acid, Yellow 5(CI 19140).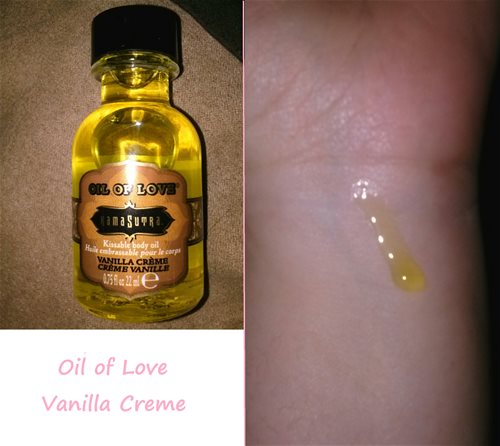 Love Liquid Lubricant
"Lead the way to more sensuous lovemaking with a little help from this silky liquid, specially created to stay slippery smooth all through the night. Its unscented, water-based formulations washes of easily and won't leave a stain."
The lubricant is pretty runny, so I didn't enjoy it very much for sexual intercourse; it was just too slippery. Instead, I decided to use this lube when I give my boyfriend a hand job. Since it is thin and slick, my hands can easily glide along his shaft. It gets the job done, and he really enjoys it.
As the note on the packaging states, the product is unscented. Furthermore, it does not have a designated flavor. I have gotten some in my mouth, and it wasn't terrible (but it was far from good). It was slightly bitter, but not as bad as the Oil of Love. If possible, I avoid getting this lube in my mouth.
Ingredients:
Water (Aqua/Eau), Glycerin, Propylene Glycol, Hydroxyethylcellulose, Tetrasodium EDTA, Citric Acid, Sodium Benzoate.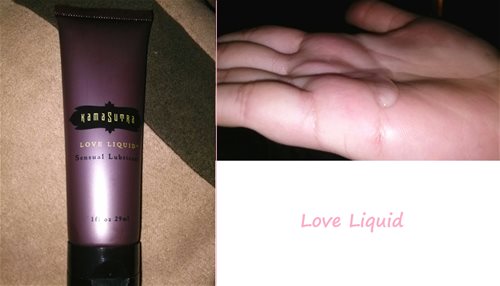 As the packaging says:
"Throw this travel kit into your bag and follow it wherever passion leads you".
Whether you are pampering yourself, letting your partner spoil you, or taking care of your partner, the Getaway Kit is sure to please!
This product was provided at a discounted price in exchange for an unbiased review. This review is in compliance with the FTC guidelines.

Thank you for viewing
The getaway kit
– sensual kit review page!