Evolved The Love I Owe You 52 love vouchers - Adult game from Evolved

The Love I Owe You 52 love vouchers videos
Product Details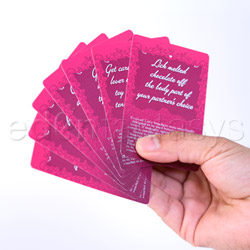 Summary:
If you're looking for a great gift for a partner, or are just looking for a way to spice things up in the bedroom, this deck is a simple and fun way to do it. There is a good variety of cards, the game is set up so that each partner gets to use the cards, so the favor is always returned at some point. The cards are simple and small, they can be easily tucked away and pulled out when you want to redeem one.
Pros:
Fun ideas, something in the deck for everyone.
Cons:
Some cards might not appeal to all couples.
Best use:
Purpose / Audience:

These cards are designed to be given to your partner as a voucher for what's listed on the card, one for each week of the year. More adventurous couples may have find the items listed on the cards a bit boring or ordinary, but a couple who hasn't done much experimenting will likely find that these cards open a new world of fun and exciting ways to spice up their sex life.

Rules / Content:

This isn't really a game per say, but more just a fun way to spice up your sex life. Basically though they're designed to be given to your partner and then used once a week for the entire year. You can choose to include others in on the fun if you and your partner so choose, or keep it between the two of you if you're a monogamous couple.

Since it's not really a game there is no winner, well it might be more accurate to say that there is no real loser since really you both win by having some sexy fun times! There are certain cards that do require more work on the receiver's end, the one who is given the card on some does have to put a bit more work into it and gains less in return. However; the rule is that once the card is redeemed the one that it is given to is then entitled to redeem it themselves. So, once you have given the favor on that card you can save the card and then redeem it for the same favor whenever you wish. It's a nice way to let each person have their own turn to be pampered fully.

The cards are pretty balanced in the sense that some are fairly quick and some take time. For example one is simply "flatter your lover with five sexy compliments", that can be done even if the day is a busy one without much time for "extra curricular activities". Then of course there are more drawn out ones such as 30 minutes or oral sex, sexy bath together, role play scenarios, etc.

There might be some cards that don't appeal to every couple. For example there are some that involve food, and some that involve fetish gear or walking your partner around on a leash. If you're open to trying things like this it can be a great way to see if you like it, but if you already know you're not into it, it can end up a wasted card. But, there is still quite a few cards that would fit for just about everyone, so even though you might not find a full 52 weeks worth of cards, you could always recycle them.

Most of the cards only require simple things, and what you don't have shouldn't be too expensive to purchase. There are a few that require a vibrator of some sort, some that require blindfolds (but a scarf could be easily used for that) and some that require high heels, lingerie, whipped cream, strawberries, etc. It isn't hard to make substitutions if needed.

Design:

The deck is pretty simple, with a pink, white and purple design. They're a bit smaller than a standard deck of cards, and a bit flimsier. They're about the quality of a cheap deck or a deck of cards that you'd get with a board game. They do have a shiny coat on them which should help a bit with keeping them looking new.

Each card says "52 Love Vouchers" and then "The Love I owe you" followed by "Give your sweetheart an erotic favor for every day of the week" so essentially each card says the game rules on it. The favor is listed on the back and also states further rules regarding the favor including the information about how to redeem them.

The cards are nice because they're small and compact. You can store this just about everywhere, and it's easy to throw in a pocket or a purse for travel. This way it's more exciting since you can truly spring this card on your partner at any time.

Personal comments:

My husband and I have never played a sex game before, so this was pretty interesting for us. When going through the deck there was certainly some that we would not use. I have issues with food..I just don't find it mixes well with sex at all. My husband is also not into lingerie at all, so the lingerie ones didn't really fit for us. But, the majority of the cards center around pleasuring your partner and there is actually a few ways in here that I hadn't thought of before. Such as silent sex. The card recommends using ear plugs, but it can also be fun to just make a "no talking" rule for that session. It's interesting to find how often in sex words or noises are made and using body language instead to express your wants and needs. Sex with both of us blindfolded is another one that we hadn't done that turned to be really erotic and fun.

Some of the cards were things that we already do, so for us the only exciting part of those is the idea that it can be used at any time. It's kind of exciting to not know when it'll be given, which adds another element to acts we've been doing for years.

We've also found it something different to have one of us get a sexual favor without the other getting something in return. We've always just been pretty mutual about any encounter. It's never been a spoken thing or something that we felt we had to do, it's just what we've always done. So experimenting with giving each other a card and having it be that for that moment the only one getting something was the one who gave the card was pretty exciting.

Other

Special Features:

Bachelor party
Bachelorette party
Birthday party
Gags
Gifts