I Win - You Win!
These cards can be used by anyone! Couples, a threesome, gay/lesbian, doesn't matter. There's a lot of variety of favors to ask for and the game is really simple. The cards are nice and glossy. Every single card almost looks the same so visually they're not that interesting but they're a lot of fun! These would be great for couples that need some creativity in the bedroom. I honestly just got them for fun because I wanted to read them all!
Published:
Pros:
Nice quality glossy cards, variety of favors from sweet to kinky, anyone can use these!
Cons:
A little expensive, instructions printed on every single card isn't that visually appealing to me.
This cute deck of cards contains 52 different sexy favors ranging from sweet to kinky. If your love life is stuck in a rut, you're looking for something fun to spice things up, or just want to try something new these cards are great!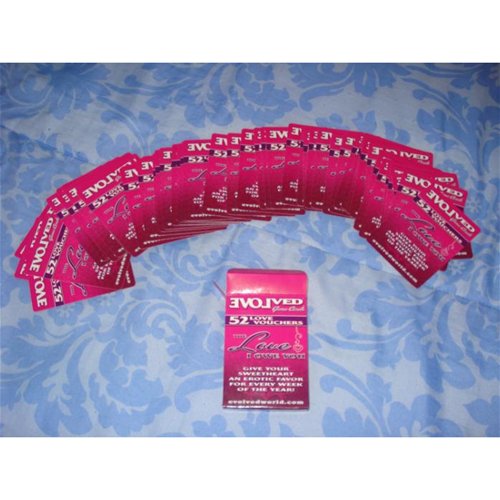 The card box says "The Love I Owe You" and says, "Give your sweetheart an erotic favor for every week of the year!" Let's see... how many weeks are in a year? I'll just guess and say 52 because that's how many different cards you get in the pack. The back of the box states the "rules of the game." This isn't really a game but you can get creative and make it a game if you want. Or you can just use them as "love coupons" to trade with your partner or partners.
"Evolved Love Vouchers were specifically designed to be used between any set of lovers. If mutually agreed upon by active couples, outside members may be propositioned to fulfull certain Evolved Love Voucher debts. The holder of this card is entitled to it's face value at the time of redemption. Once the face value of the card is fulfilled, the new holder of the card is entitled to it's value. For redemption, simply present the voucher to participating partner at any time."
The one thing I don't like about these cards are that the instructions are printed on every single card. That's a lot of text and to me it's kind of an eyesore to look at. It's so simple I don't think it's really necessary to have printed them that way. The text is pretty, the cards are glossy and pink, and overall they're nice quality cards.
The first part of the rules says that these cards can be used between any set of lovers. ANY. So if you're just a couple or want to invite someone in (threesome, foursome!) these cards allow you to do that because they're not couple specific. Two of the cards seem a little gender specific towards females (wear high heels, act like a saucy wench!) so those might not work out for everyone unless you're a man into high heels and acting like a saucy wench, but come on who isn't? Anyway, most of the cards can be used by anyone.
The first thing to do is figure out how to split the cards. You can give all of them to your partner to use whenever they want or divide them evenly. The more random the better I say! Or you can randomly draw one card from the pile any day any time. You can do this however you want. When the time comes when you or your partner need a favor, present the card of your choice and (hopefully) they'll perform the favor on the card. Afterwards the card gets handed over to the person that did the special favor for them to use later. It's a pretty simple concept and I like the simplicity.
Or you can play sexy 52 pickup! Have your partner dress up sexy, throw the cards all over the floor, and watch them bend over to pick them all up.
The cards have a really good variety of tasks. Some are sweet, some are funny, and some are just kinky!
Sweet examples:
1. "Your lover must go out and get whatever sensual food you crave." Can pizza count as sensual?
2. "Share a sensual bubble bath." I'd love to but our tub is way too tiny for that.
Funny Examples:
1. "Roleplay! The pirate on the high seas traps a saucy wench and ravishes her!" I just love reading this card outloud with enthusiasm!
2. "Take pictures of eachother naked." This one just cracks me up because I just don't see this one happening EVER.
Kinky Examples:
1. "Suck on your lovers clean bare toes." I sure hope they're clean!
2. "Lead your lover around by a leash." Too kinky for me personally.
There's a good combination in this deck. They're really fun to read. Some of the cards I feel I'll actually participate in but some of them are just wacky to me. That's what makes it fun! I'm giving this deck of cards as a gift to my boyfriend on Valentine's Day. It's fun just to read through them and I'm sure we'll probably use some of them.
This product was provided at a discounted price in exchange for an unbiased review. This review is in compliance with the FTC guidelines.

Thank you for viewing
The Love I Owe You 52 love vouchers
– adult game review page!