Aslan Leather Vegan jaguar collar - Collar from Aslan Leather

Vegan jaguar collar videos
Product Details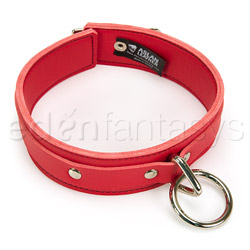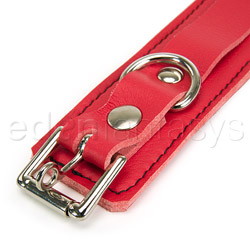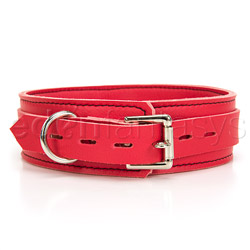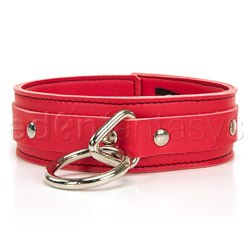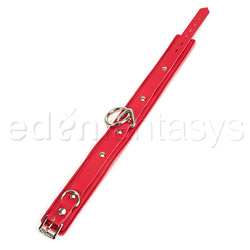 Summary:
The Vegan Jaguar Collar by Aslan Leather is a beautifully crafted collar. It is made of faux leather, but looks and feels like the real thing. It is easily adjustable, and is comfortable to wear. It features a locking buckle to keep it on the wearer and an O-ring to attach a lead if desired.
Pros:
Vegan friendly, well made, beautiful and functional, can be locked.
Best use:
This collar is great for beginning and advanced users alike. Both will appreciate its simple elegance and high quality. The collar is adjustable to fit a variety of neck sizes, and can even be locked onto the wearer.

It features an O-ring for leash play, and is comfortable for long term wear.

Design / Craftsmanship / Material / Size / Fit:

The design of this collar is simple, yet elegant. The faux leather is a nice matte red color with small grain. The collar piece is 1 1/2" wide, and the two pieces are sewn together with black stitching. The back side is finished, as is the front, and the back is comfortable on the skin.

The buckling strap is 3/4" wide, and attached to the collar by 7 nickel-plated brass studs. The studs go through the top piece of the collar, but do not come through the backside except where the buckle is attached to the strap and collar. A small black tag with "Aslan Leather" is attached to this stud. The back of the strap has a suede look and feel.

A sturdy nickel-plated steel triangle is attached to the strap and collar by the studs, and from this triangle hangs a nickel-plated steel O-ring that is 1 1/2" wide. The ring completely turns through the triangle, and is suitable to attach to a lead.

The collar is 15 1/2" long. The strap overhangs the sides equally, and is 20" long, including the buckle. The collar is a perfect end-to-end fit at 16 1/2" around. For smaller necks, the collar will overlap, while for larger necks there will be a gap in the back.

The strap has 6 adjustment slots through which the buckle closure fits. This closure has a small loop at its end, and a small padlock can be inserted to lock the collar on the wearer.

This is a well-made piece, and it has a lifetime guarantee.


Material:

Faux-leather

/

Metal

Material safety

Length:

20"

Width:

1 1/2"

Closure:

Buckle

Hook style:

O-ring / Triangle

Weight:

0.2 lb

Performance:

The collar is easy to put on, whether by yourself or by your partner. It's substantial and not feather-light, so you will definitely not forget you have it on. The O-ring hangs nicely, and jingles against the triangle during movement.

The leather is comfortable on the skin. It does have a tendency to trap sweat, but it is not as bad as a collar made from PVC or other non-breathable materials.


Care and Maintenance:

This collar is easy to care for. It should be cleaned with dish soap or leather cleaner. A toothbrush can be used to gently scrub the surface. It should never be soaked in water. Excess soap should be removed with a moist cloth.

After washing, the collar should be patted dry to get all water and moisture out of any folds or creases. It should be stored out of direct sunlight and heat.

To disinfect the collar, it can be wiped with a solution of 70% isopropyl rubbing alcohol.

The collar can be reconditioned with leather conditioner. If properly cared for, cleaned regularly and dried thoroughly prior to storage in a cool dry place, the hardware will not tarnish.


Packaging:

The collar comes in a simple plastic bag held closed by a sticky label with the item product code. The collar comes rolled inside, and a tag is attached by plastic loop to the piece. A smaller fabric black tag is attached to the back side of the collar by a stud.

Personal comments:

This collar is made in Canada. It is guaranteed for life. If the collar breaks during normal wear or is defective, Aslan Leather can be contacted for repair or replacement. The tag contains a toll-free number and a website address for the company.

Experience:

I was very excited to get this and surprise my partner with it. I love red, and decided to pair this with matching wrist cuffs, red panties and heels, and some nipple clamps. I was able to put this on myself without any problems.

My partner was absolutely floored. He really liked the way the collar looked, and found that hooking his finger through the collar ring and tugging was a rather effective way of putting me in my place.

I even bought a small padlock, which I let him use to lock the collar. That certainly added to our play!

There's just something about a girl in a collar. This one has gotten a lot of use since it arrived, and I expect it will for a long time to come.


Other

Size:

One size fits most

Safety features:

Food-grade material / Latex free / Non-porous / Phthalates free