California Exotic Booty call booty rockets - Vibrating probe from California Exotic

Booty call booty rockets videos
Product Details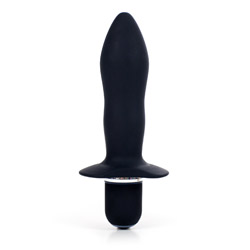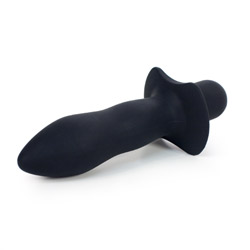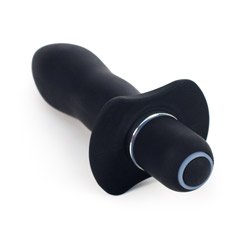 Summary:
Booty Call is a one-of-a-kind anal vibrator that both fills you up and leaves you wanting more. It is the perfect material for anal play. It is waterproof so you can use it anywhere you like. You couldn't ask for more in a vibrating anal toy.
Pros:
Vibration memory, Multi-function, Waterproof
Cons:
Easily turned on or off.
Best use:
The Booty Call is a waterproof anal vibrator by California Exotics. Its main demographic is men, but it can be used for women who like double penetration, or the feeling of being full.

Because it has a flared base, it is safe for anal use and you don't have to worry about it "getting lost."

The Booty Call is a fairly large anal toy, so I am not sure that this would be a great toy for a beginner, but more advanced users would love it.

It can also be used vaginally and for clitoral stimulation. The vibrations are felt mostly in the shaft. This toy could be a great match for those who like rumbly or buzzy toys; Booty Call has a great mix of both.

Also, this is waterproof, so you can play with it in a shower or wherever you like.
Material / Texture:

The Booty Call is made of a soft velvety silicone that is very flexible when the bullet is not inserted. Ihe bullet itself is a hard slick plastic. It has a slight chemical smell that you can't detect unless your nose is pressed right against it. The scent washes away, so you don't have to worry about it really. Booty Call has no taste (of course I tasted it before I used it).

The tip of the toy is semi-hollow which allows for the vibrations to travel throughout the toy. Silicone has a safety rating of 10 and is hypo-allergenic, latex free and Phthalates-free.

Material:

Plastic

/

Silicone

Material safety

Texture:

Velvety

Safety features:

Food-grade material / Hypo-allergenic / Latex free / Non-porous / Phthalates free

Design / Shape / Size:

Booty Call has a pointed head that is almost 3 3/4 inches in diameter at its widest, and tapers down to a smaller bulge which is 3 ¼ in diameter. It is 5 1/2 inches long and is insertable up to 3 ¾ inches.

It has a flared base which makes it safe for anal use.

Because it is waterproof you can use it in the tub pool or shower.

There is a slight seam on the side which you can feel with your hands, but not when it is inserted.

Because of it's size it might not be the best for beginners, but more advanced users will love it.



Color:

Black

Length:

5 1/2"

Insertable length:

3 3/4"

Circumference:

3 3/4"

Diameter:

1 1/4"

Weight:

0.2 lb

Functions / Performance / Controls:

Booty Call has 10 amazing vibration settings that are controlled by a light-up button on the bottom of the toy. They are as follows:

1. High, steady vibrations.
2. Medium, steady vibrations.
3. Low, steady vibrations.
4. Low to high vibration.
5. Medium pulsing.
6. Short, high pulses
7. Medium, high vibrations
8. Short, medium vibrations
9. Long, medium vibrations
10. Short, low Vibrations.

The really cool thing about it is how the light pulses to match the vibration pattern.

It is also cool that it has a vibration memory. Once you find your favorite vibration all you have to do is play till you're satisfied, and when you turn the toy back on next time it will already be set to your favorite setting.

It is a very quiet toy. You may be able to hear it across the room, but you cannot hear it outside of a closed door.

It takes one AA battery which is inserted in the twist-off cap on the bottom of the toy. Included in the Booty Call packaging are instructions that show you how to twist off the cap and insert the battery. I have played with it for about 2 hours and it still worked just as strongly, so you don't have to worry about this toy being a batter guzzler. However, the button is super easy to push and could accidentally be turned on. If you are traveling with it make sure you take the battery out.

Functions:

Escalating / Pulsating / Vibrating

Special Features:

Flared base
Light indicators
Multifunction
Powerful
Pulsating
Waterproof

Control type:

Push button

Powered By:

Aa-1

Care and Maintenance:

The removable silicone sleeve can be boiled, bleached or tossed in the dishwasher to sanitize, or washed with warm water and anti-bacterial soap. Make sure to let it air dry completely before you put it away. The bullet is waterproof, so to clean it all you have to use is some warm soap and water, and air dry before replacing inside the sleeve.

Because it is made of silicone you should not use a silicone lube, only water based lube. For anal use I would be very generous with the lube.

Even though this toy is made of sterilizable silicone, if you are going to share it you should use a condom.

Because this toy is a very soft velvety silicone it collects hair and lint like a magnet, so I would store this vibe either in the pop-apart plastic packaging or a small plastic baggy.



Care and cleaning:

Soap and water

Packaging:

The Booty Call comes in a plastic pop-apart package. There is no included instructions or information packet on the toy.

The packaging is small enough that you can use it for storage but it definitely is not discreet due to the way it displays the toy.

Experience:

What can I say other than "Wow!"? This is one great toy. When I first got it I thought it would be a little too big, but boy, was I wrong. It was perfect.

The tapered head made it very easy to insert. I first used it in the tub, so I could be nice and relaxed for the first use. It was a little challenging to insert at first, but as soon as it was it in, it felt amazing. I used it with my Pink Allure glass dildo and it sent me over the edge.


Next I moved into the bedroom and used it with my Harmonia; once again, there are just not enough words to describe what a powerful, explosive orgasm I had. This is one great toy. It will be an integral part of all my sexual dalliances from now on.