California Exotic Dynamic duo vibrating X-10 - Vibrating probe from California Exotic

Dynamic duo vibrating X-10 videos
Product Details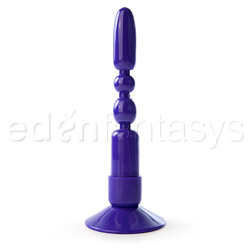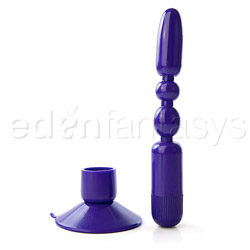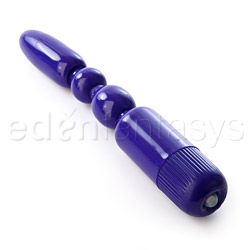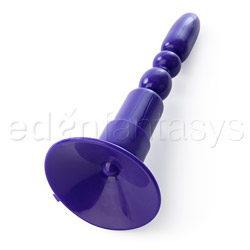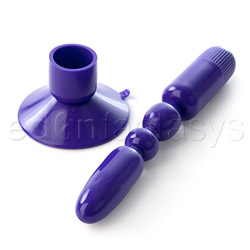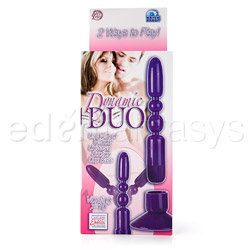 Summary:
Whether you're male or female the Dynamic Duo X-10 Vibrator will get the job done. Operated with a helping hand or firmly stuck to any flat surface the vibrations and beaded design make for some excellent play for whatever body part you had in mind. We don't give out 5 stars easily but this toy has earned the highest mark. Invest in two or you'll be fighting over the X-10!
Pros:
Truly a multi-functional vibrator made for either sex with the best suction cup base of any toy.
Cons:
Cannot be sterilized.
Best use:
The Dynamic Duo Vibrating X-10 gave us a bit of a surprise. This product was assigned to us to review and, truth be told, we weren't very interested in this vibrator. Wow, were we mistaken!

The X-10 has proven to be a welcome addition to our toy chest and it's functionality never ceases to impress us. It can be used vaginally, anally, or for clitoral stimulation. We've also used it on nipples with the vibrations providing lovely sensations. The X-10 can be used either by hand or mounted in the provided suction cup, hence the Dynamic Duo moniker. Sorry, no buff Batman, or cute boyish Robin to entertain you but with this buzzing away in your utility belt you won't be needing them to fight for your orgasmic bliss!

The suction cup has the best holding power of any we've ever used making riding the X-10 with reckless abandon part of the menu. No worries of it becoming detached whatsoever when used or the bedpost, or the nightstand, or the shower wall, or the kitchen table, or the fridge door, or the ....... you get the idea!

Both men and women can enjoy this vibrator with the beaded design giving great anal stimulation and working as a prostrate massager. This is another toy with something for everyone.
Material / Texture:

The X-10 has no odor whatsoever that our highly trained noses could detect. It's made from PVC (polyvinyl chloride for the chemists out there) and is smooth and sleek, designed for being coated in slippery stuff and sliding in and out of bodily orifices. It also has a nice heft to it which most everyone associates with quality toys. There is an extremely tiny, barely noticeable seam line running down the middle of the entire length of the Duo but it's not an issue and can't be felt nor could it do any ill-effects to your innards.

The cover for the batteries has a pronounced knurling to aid in opening when you've burned through a set of AA's and it really locks the housing making the Dynamic Duo completely waterproof.

This vibrator can also bend as well but just not that easily as the PVC is fairly stiff. The shaft will bend about 45 degrees but it does require some effort and anything past that angle could cause some cracking damage. Why risk it because I certainly wouldn't do that to my lover's cock.

Material:

TPE

Material safety

Texture:

Beaded / Smooth

Safety features:

Hypo-allergenic / Latex free / Phthalates free

Design / Shape / Size:

The bullet shaped head and bulbous beaded design can certainly be felt during insertion in any body part and also feel great when rubbed across the clitoris externally. California Exotics didn't go crazy with the X-10's dimensions either with a comfortable 6 1/2" of insert-able length. Total length is 8" so technically you could go deeper but anally there is risk of loss inside and vaginally my cervix would be getting bumped.

This toy has a completely round diameter of only 1 1/4" so it's not meant to pack you full but just let you know its presence. If inserted in the backdoor the size is awesome for me and my husband and the beaded shaft make for some great sensations when pumping it in and out. Vibrations are focused in the head of the vibrator and consist of three speeds, the highest of which is intense.

It must also be said that his toy cannot be 100% disinfected due to its PVC material. We've covered it with a condom during each use and swapping between body parts. I think we just may buy another for my man to have one of his own!

The suction cup addition really is excellent and has the staying power of the most seasoned porn star. It stays stuck to any smooth surface with ease and even has a little tab to pull up to help break the seal to aid in removal. Obviously that is a testament to how how great this cup can hold on. The vibrator is much more likely to pop out from the cup but even that hasn't happened to us yet. Hands-free isn't only for cellphones but Bluetooth is still not an option.

Color:

Purple

Length:

8"

Insertable length:

6 3/4"

Circumference:

3 1/4"

Diameter:

1 1/4"

Weight:

0.4 lb

Functions / Performance / Controls:

The Dynamic Duo without a doubt is 100% waterproof as confirmed by own usual hot tub experimentation. It's really quite the test facility separating the posers from the real deals. The X-10 is the real deal with a tight fitting battery cover complete with an inner silicone ring for sealing.
The controls are push button style, with one button cycling through the low, medium, and let 'er rip intensities. Even the control on the cap is covered in a thick silicone coating to prevent any water ingress further backing up the water tight claims. It takes a good firm twist to open/close the control cap for battery access and it only fits one way so don't try to fumble with this in the dark.
Vibrations are centered at the bullet shaped end of the toy and feel absolutely lovely as I've already said. Power is good with noise about average. Even on high speed it can't be heard through a bedroom door especially if it's further insulated by a warm and wet vagina! My personal favorite speed is medium, as I just find the high setting provides so much stimulation that it becomes almost numbing.

Functions:

Vibrating

Special Features:

Bendable
Multispeed
Suction cup
Waterproof

Control type:

Push button

Powered By:

Aaa-2

Care and Maintenance:

Care is fairly straight forward with soap and water being the recommended routine. As mentioned earlier the PVC X-10 cannot be sterilized so sharing or switching holes requires a condom wrapping. I'm not aware of PVC reacting with other toy materials but we always keep our playthings stored away from touching each other. Thank goodness for a handy carpenter husband and my big hidden toy chest! For those not so lucky, toys can be wrapped in separate towels or placed in individual zip-lock type bags.

Lubricant choice is entirely up to you with silicone and water based lubes being compatible with the Dynamic Duo. Personally I'd stay away from oil based products, not so much for the toy but they really shouldn't go inside you and can cause nasty bacterial infections.

Packaging:

The Dynamic Duo beaded vibrator comes in a standard cardboard box with a graphic of some happy couple obviously about to engage in enjoying the product... It does mention how the suction cup base allows for 'total freedom of movement and exhilaration'. I'll have to agree on that statement.

Experience:

So far we've really put the X-10 through it's paces despite our initial lack of interest for this toy. Both my husband and myself have taken it anally with him stating that it did a great number on his prostate (proven by the gusher of his big 'O'). For me it was while he was penetrating me vaginally and the vibrations transmitted through to his cock while I felt not overly full but satisfied by the buzzing DP. I've ridden the Duo on it's suction base in quite a few different locations in the house as well as in our hot tub both by myself and while putting on a show for my man. Clitoral orgasms have came easily and the medium power setting has done the trick without fail.