California Exotic Mini vibra tease - Vibrating anal plug from California Exotic

Product Details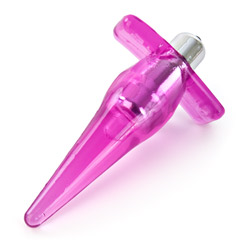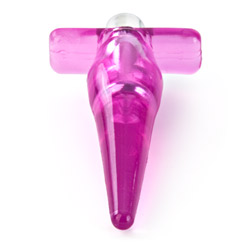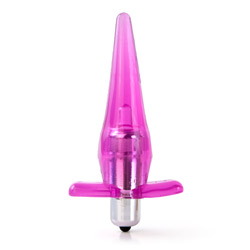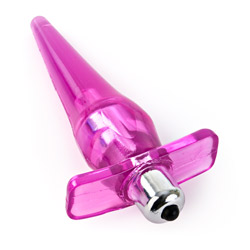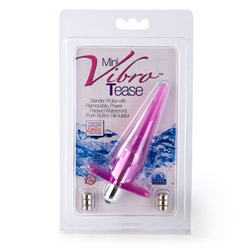 Summary:
The Mini Vibra Tease can tease me any time. It's just the right shape for effortless anal insertion or for teasing around your little pucker, with a thrill of vibration to tingle all the way through you. A great way to prepare yourself for more intense anal play, or just to tease and arouse, get your partner to use this vibe on you and you'll be begging for more.
Pros:
Great for anal beginners, and great foreplay for anyone.
Cons:
Doesn't stay put on its own, vibe hard to remove. Easy to hit the switch accidentally during play.
Best use:
The Mini Vibra Tease is very well named. It's small enough to be very easy to use, and it's a delightful tease -- it won't get you there, but it'll make you squirm for more. The tip tapers almost to a point for very easy and gradual insertion, and the vibration from the included one-speed bullet vibe is proportional for the size of the toy. More would be too much, less wouldn't be enough, but this little tease has it just right.

It's also a tease because it doesn't have enough of a narrowed taper at the base to let it stay inside you. This toy's meant to move. The base is wide enough that it won't go too far in, but you won't be able to leave it in and trust it to stay while you're otherwise tormented (teases rarely stay where they're told to!), and the way the vibe extends out of it will probably keep you from being able to sit down on it. Because it doesn't stay by itself it requires constant handling, so I recommend it more as a toy to share with a partner than one to use solo.

But that's okay. Tease it is, and tease it does. It's perfect for a taunting in-and-out glide, and that vibe feels fantastic when the slim tip teases circles right around the outside of your ready pucker. It's a great foreplay toy for a partner to use on you to get you gently opened up for further ass-play, and squirming and begging for more.
Material / Texture:

The Mini Vibra Tease is made of TPR - it's more porous than silicone and it can't be sterilized, so unless you want to wrangle a condom that might be longer than the toy itself, this one isn't for sharing. It cleans up easily with soap and water or toy cleaner when you're done, and you can use it with water-based or silicone lube.

The consistency is nice and sturdy without being inflexible, and the texture is smooth. A little bit of lube and it slides right in, with enough give to let your muscles really clamp down on it.

The bullet vibe has a waterproof seal, so you can take this baby into the water with some silicone lube and put jacuzzi jets to shame. It's metallic colored but not completely smooth in texture, which helps you get a good grip on it.

Material:

TPR

Material safety

Texture:

Smooth

Safety features:

Hypo-allergenic / Latex free / Phthalates free

Design / Shape / Size:

My only complaint is that the toy doesn't have the narrow base that would let it stay inside, but I'm willing to take that in stride and look at it as a feature and not a flaw. It's more a probe than a plug, and as a probe it does the job very well.

It comes in friendly purple, clinical clear, and serious black. Since it's not fit for sharing without a condom, this means we can color-code them in my household. (Purple only gets used on me, clear only gets used on my partner... And, hmm... a black one, unused, in case we have company!) It fits in my hand and I've got pretty small hands, so I'd say it's discreet enough to store privately or to travel with.

This is an excellent anal toy for beginners, and as a seasoned practitioner I enjoyed it too. The tiny circumference at the tip widens seamlessly to a good, comfortable width, perfect for spreading your rear passage gently and slowly, and the vibration is just right. It's a great warm-up to more anal play, or a fun tease all on its own.

Length:

4 3/4"

Insertable length:

3 3/4"

Circumference:

3 3/4"

Diameter:

1 1/8"

Weight:

0.2 lb

Functions / Performance / Controls:

The one-click bullet vibes are always hit or miss for me. It's easy to hit that button when you don't want to, and hard to catch it just right when you want to. This one isn't bad, but if you were willing to give up the waterproof quality, you could replace with another bullet, even one of the corded ones with multiple speeds. I was happy with the one that was included.

Since the toy is so small, there weren't many options for the placement of the vibe. I'd rather the vibe didn't stick out the bottom so that I could sit with the toy inserted, but on the other hand, where TPR and vibe meet, it's always a little bit of a fight to get them unattached. At least this way, you can change the batteries quickly and easily without having to get into coaxing apart materials that don't want to separate.

Functions:

Vibrating

Special Features:

Batteries included
Vibrating bullet included
Waterproof

Control type:

Push button

Powered By:

3 watch batteries

Care and Maintenance:

The Mini Vibra Tease is easily washed with soap and water and/or your favorite toy cleaner solution, patted dry with a paper towel (I'm picky -- cloth towels leave fuzz on toys!) and then stored in clean non-shedding cloth. I use (clean!) orphan socks for storing toys because it keeps them from picking up lint and cat hair, and keeps them pretty much ready to go (though a rinse before you start is never a bad idea). Since this probe is TPR and not silicone, don't put this one in the dishwasher or boil it. It won't love you if you do. It's compatible with silicone and water-based lubes.

Packaging:

The packaging is small and easy to open -- it's one of those plastic holders that was meant to come apart, not one of the childproof ones that you need a chainsaw to open. It comes with basic instructions and TWO SETS of three watch batteries, which I really appreciate! It's not that I was just that enthusiastic when I unboxed it (well, I was, but anyway...) but personally I tend to steer away from the vibes that use watch batteries because they're so annoying to replace. It takes forethought and advance ordering; you can't just discreetly pick them up on your regular supermarket trip, or cannibalize them out of the TV remote in a moment of desperation. So, getting two sets was a definite bonus for me.