California Exotic 7 Function power play bullet - Bullet from California Exotic

7 Function power play bullet videos
Product Details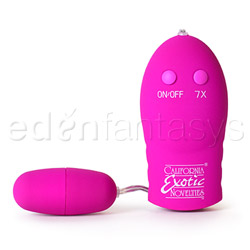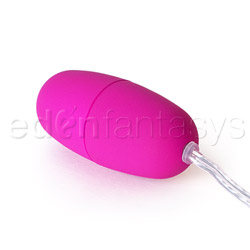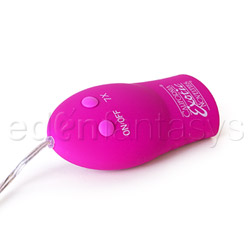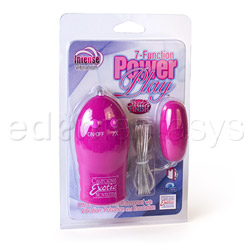 Summary:
If you are up for a high-powered intense bullet with 7 functions, this is the toy for you. The Power Play bullet is waterproof and can be fully submerged. It is also made of soft, satin-finished plastic that is smooth and offers firm clitoral stimulation.
Pros:
Satin finish, smooth, 7 functions, intense vibration, waterproof, and push load battery pack.
Cons:
Connected to a cord that may get in the way and a bit on the noisy side.
Best use:
The 7 function Power Play is an ultra-waterproof bullet, with vibration, pulsation and escalation. It has a push-glide, easy load battery pack that locks into position and features an easy on/off button. The Power Play is a high intensity toy that is ideal for any user who enjoys high level vibration. It is created for external use only and should not be placed internally because it is affixed to a cord. The Power Play is perfect for couples that want to spice up the bedroom or use it solo.
Material / Texture:

The Power Play is made of plastic that is both non-porous and smooth. It features a satin finish that creates a soft, velvety texture. The toy came packaged and free of smell or taste. The smooth texture works great against my skin. The bullet is has a firm surface but it does not irritate my skin. I can press the bullet firmly against my clitoris and it feels great. The satin finish adds extra stimulation because it is softer than normal plastic and it responds better to natural fluids and lubricants. It becomes slick with little moisture and can be rolled around my clitoris without dragging. The middle point of the bullet does have a horizontal seam. I have not encountered a problem with it thus far, however. The overall texture is good for beginners or advanced users. It is not too hard or too soft; just right in the middle. As for the material, as a whole it is better for your body and does not attract lint or dust. It also does not hold bacteria as much and can be wiped down with alcohol after cleaning to sanitize it.

Material:

PU coated plastic

Material safety

Texture:

Velvety

Safety features:

Food-grade material / Hypo-allergenic / Latex free / Phthalates free

Design / Shape / Size:

The toy begins with a bullet that is around 2 inches long. It is bound together at the center with a horizontal seam. The bullet is pretty standard in size and covers a good area during use. It can be used to stimulate the clitoris or nipples. It should not be inserted because it is attached to a cord. The cord is connected at the base of the bullet which has a silicone casing around it. This allows the bullet to be fully submerged. Go ahead and enjoy it in the shower or bath. The only part that can be submerged is the bullet though. The power pack is only splash proof so do not submerge it. The attached cord is probably about 2 1/2 feet long. This allows the power pack to be set out of the way. The long cord also makes it possible for couples to interact with this toy together. One person can control the power pack, whilst the other moves the bullet around.

The power pack fits into the palm of my hand. It is made of the same material as the bullet. It has a push-glide easy load battery back. I really appreciate this because I have long nails. It can be difficult to get into the battery compartment, and I love the push open loaders. I just have to push at the base of the power pack and the battery pack comes out. I load it with the batteries and push it back in. These new push load battery packs remind me of loading a gun. I know, crazy right? I can't help it. It just does. The control pack is complimented with two buttons. One is the easy on/off switch and the other controls the functions.

Length:

2 1/4"

Circumference:

3"

Diameter:

1"

Weight:

2.8 oz

Functions / Performance / Controls:

I must warn everyone (or I suppose praise this product) that every setting on this is high. It is an intense bullet and if you are extremely sensitive, I would go with a product that has low and medium speeds. If you are like me and love you some power, let me tell you about the excellent variety in function and bumping power. It is powered by 3 AAA batteries (not included). It has long lasting power and the batteries have not been drained yet. Also, my batteries have not been drained from sitting in the toy. I love that. I swear this bullet is like the toy connected to an electrified amp. It has that much power. I am impressed.

So, to get the toy going, you are going to want to turn it on first. This is done by pressing the on button. The other button will control the 7 available functions.

1. You have a high speed steady vibration.
2. You have very fast pulsating. It turns to a new pulse about every 1/2 second.
3. You have a few fast pulses that turn into a long steady pulse that lasts about 10 seconds and then escalates to a higher steady vibration and then returns to fast pulses. If you like to be teased, this is probably the setting for you. It rocks my world.
4. You have fast pulses that last about 1 second each and then it goes to faster pulses that last about 1/2 a second, back and forth.
5. You have long steady vibration that escalates from high to medium. It almost isn't noticeable just from listening to it. You really have to feel the change on this one.
6. You have a mix of speed in pulses that escalate up to a short steady vibration. Fast, fast, fast, fast, long, long, long.
7. You have very fast pulsating that turns into a long steady pulse. The last function reminds me a lot of the 3rd setting. I have used it a few times times trying to figure out the difference. I have not succeeded yet. I am sure something is a little different. I just cannot put my finger on it.

To turn the toy off you can push the on/off button and it turns of instantly. There is no setting memory. Each time it is turned back on, it will return to the first setting. I really like this bullet because it is really powerful and I can enjoy the variety of pulsating, steady, and escalating vibrations. I run through every setting during a masturbation session. Most bullets are too low for me and I have to find the highest steady speed to climax. The Power Play has me wanting to climax in just a minute and it does not matter what function it is on. They are all powerful and intense. Yummy.

The noise level of the bullet is not horrible. It is not the quietest toy. I have really hollow walls and doors and it can probably be heard through them. I just put on some music or turn up the television while using. As with all plastic, hard surfaces will make it chirp like a jackhammer.

As for water performance, it did just beautifully. It did not drag on my skin while submerged and the water did not hold back the vibrations at all. I was afraid they would become more shallow; they did not. The bullet came out free from retaining water and is still in tip-top shape.

Functions:

Escalating / Pulsating / Vibrating

Special Features:

Multifunction
Powerful
Waterproof

Control type:

Control pack

Powered By:

Aaa-3

Care and Maintenance:

The Power Play bullet is a synthetic polymerization product. It is non-porous and phthalate-free with a smooth texture that does not trap bacteria, dirt, or lint. It can easily be cleaned with antibacterial soap and hot water or by wiping down with isopropyl alcohol. It is compatible with oil, water, and silicone based lubricants. Storage is also very user friendly. You can put this bullet basically anywhere you want. It does not absorb dyes and it is not a lint magnet. You can put it back in the original package, a drawer, toy chest, suitcase, pouch, purse, etc.

Packaging:

The Power Play bullet comes in standard Cal-Exotics plastic packaging. It serves just enough purpose to get the toy to you. It does have very informative information about the toy and does include a pamphlet. I usually throw out the Cal-Exotics packaging and use something more attractive to store my toy.