WHK GmbH Dual climax - Bullet from WHK GmbH

Product Details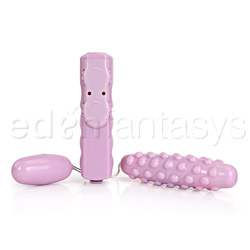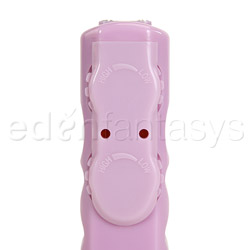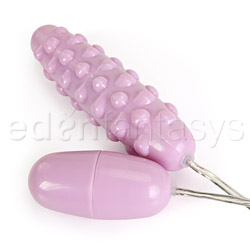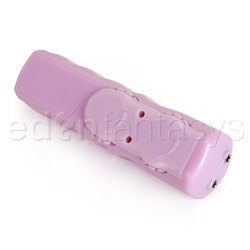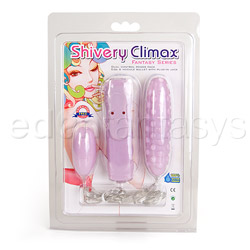 Summary:
This double bullet set is a cute, inexpensive toy with more nice features than most in its price range. The vibrations are strong and deep, but still quiet. The bullets plug into the controller with interchangeable jacks, and are controlled independently on separate power dials. The bullets are waterproof, making cleanup a snap. This is a good basic set of bullets, both for beginners and for more advanced users looking for a strong, simple toy.
Pros:
Inexpensive, bullets are waterproof, strong, removable bullets, independent controls.
Cons:
Controller isn't waterproof, no dedicated on/off button.
Best use:
This set of double bullets is designed to be used both externally and internally. Because the bullets themselves are waterproof, ladies can use them vaginally without worrying that a sudden squirt will short them out. While safe for vaginal use, neither of the bullets can be used anally, as the cords can't be relied on to pull them back out.

The controller is not waterproof, so these are unfortunately not a bath or shower toy. The Dual Climax has one basic egg-shaped bullet and one long, nubby bullet, both of which can be unplugged from their jacks in the top of the controller. Because the jacks have separate control dials, both bullets can be adjusted from a feather-light vibration to a hard, fast rumble. Those who are very sensitive may find the vibrations too strong, as the lowest vibrations are still of moderate strength.
Material / Texture:

The bullets and controller are made of hard plastic. Where the wires enter the bullets, there is a soft plug to keep the water out. As can be expected with plastic, it was free of smells or tastes. The hard plastic of the bullets transmits vibrations very well, and for those who need pressure in their clitoral stimulation, it makes it easier to press down on them as hard as you need. The hard plastic nubs on the longer bullet add texture for more intense stimulation. Because they have no give, these nubs are very prominent and easily felt. Beginners and those sensitive to intense textures may find the nubby bullet to be too much internally.

Material:

Plastic

Material safety

Texture:

Noduled / Smooth

Safety features:

Food-grade material / Hypo-allergenic / Latex free / Phthalates free

Design / Shape / Size:

The smaller bullet is a standard egg-shaped bullet: smooth, slick, about 2 inches long and an inch wide at the thickest point. The longer bullet is covered in hard plastic nubs. Some may find this bullet to be too heavily textured for internal use. This 4 inch long bullet is as thick as the smaller bullet, but is flattened at each end.

While it is non-threatening in looks, this is not a discreet toy. With its long wires and the long controller, it couldn't be hidden under a pillow very well, and when seen it is quite obviously a sex toy. It does pack down rather well for travel - if you have room in your bag for a neatly rolled laptop charger, you have room for these bullets and their controller.

This bullet set is aimed at beginners; and for these users, it provides a nice variety of powers and textures to experiment with. More advanced users who enjoy solid vibrations instead of pulsating patterns may enjoy this as an inexpensive but well-made variation on the basic double bullet.

Color:

Purple

Length:

2" / 4 1/4"

Circumference:

3 1/4" / 3 3/4"

Diameter:

1 1/8" / 1"

Weight:

0.4 lb

Functions / Performance / Controls:

The Dual Climax is a powerful set of bullets. Even its lowest speed is enough to send it rattling across a table, and is stronger than an average phone set on vibrate. The middle of the speed range is about double the power of the lowest setting. The continuous increase stops just before the top end of the dial, where it abruptly jumps into overdrive to a power level found more often in bullets powered by 3 or 4 AA batteries. While many find this level of power pleasurable, it can be a bit of a shock when it's not expected.

Both bullets have their motors in the first half inch from the tip, centering the vibrations in the end of the bullets while still diffusing some of the power throughout each bullet. While these bullets are not quiet enough to use while another person is in the room, they are completely silent through a closed door. The long, nubby bullet is significantly louder than the small bullet. If used separately, the long bullet is audible throughout a medium sized room, while the noise of the small bullet can be completely hidden by muffling with blankets and some white noise (think fans blowing or music playing).

The bullets plug interchangeably into the two jacks on top of the controller, and are powered by 4 AAA batteries. Because it must accommodate four AAA batteries, the controller is on the longer size. Indentation on either side of the controller make it comfortable to hold in either hand, positioning the thumb where it can either adjust the power dials or rest comfortably out of the way.

The bullets themselves are waterproof, but the handle is not. This protects the bullets from shorting out from lube or lady juices, or while being washed. These can't be taken into the bath or shower, since there is nothing to keep water out of the controller.

Functions:

Vibrating

Special Features:

Control type:

Control pack

Powered By:

Aaa-4

Care and Maintenance:

The Dual Climax bullets are easy to clean, because they are waterproof and made of hard plastic. They can be washed with soap and water, sprayed with a toy cleaner, wiped down with toy wipes, or swabbed with a 10% bleach solution and then rinsed.

As with all battery powered toys, this set of bullets should be stored with the batteries removed. The bullets can be left plugged in or unplugged from their jacks. Plastic is compatible with all lubricants, including water based, oil-based, and silicone; it will not react with other toys if they are stored touching each other.

Experience:

For photos of the Dual Climax and my experiences, head over to my blog.