Jimmyjane Iconic bullet - Bullet from Jimmyjane

Product Details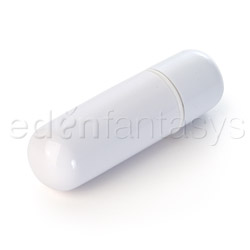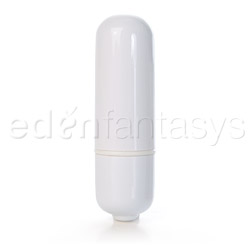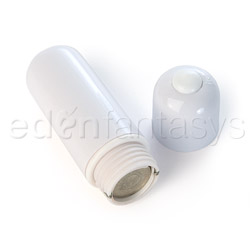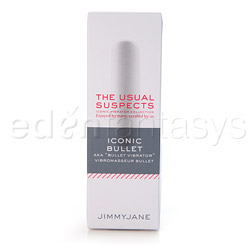 Summary:
The power-packed Iconic bullet has all the features you could want from a bullet vibrator; it's quiet, waterproof, and has multiple speeds to please a wide variety of people.
Pros:
Quiet, multiple speeds, and waterproof.
Best use:
Bullet vibrators have always been appreciated for their versatility, and the Iconic bullet from Jimmyjane is no different. You can use it to stimulate erogenous zones of the outer body on both male and female partners, or to replace any standard-sized removable vibrator in your favorite dildo. And while not really designed for internal use, bullet vibes can be placed inside of a condom for vaginal play as well.

This toy features three power levels, and women who like intense vibrations on their clitoris in particular will appreciate the sensations this little gem delivers on high. Even at its lowest setting, the Iconic bullet is a bit stronger than some, so it might not be the best choice for stimulating areas on the throat and neck, nor for very sensitive users.

The Iconic bullet is also fully waterproof, so the fun needn't stop in the bedroom.
Material / Texture:

Made of hard ABS plastic with a perfectly smooth high gloss finish, this toy glides across your skin with no drag whatsoever. It's non-toxic, and has no noticeable scent or taste to distract you from play either.

Material:

Plastic

Material safety

Texture:

Smooth

Safety features:

Food-grade material / Hypo-allergenic / Latex free / Phthalates free

Design / Shape / Size:

The Iconic is what we tend to call a "standard" size bullet, meaning that its 2-1/4" length and 5/8" diameter is the same as 99% of the bullets we've used. This means that it fits in a large number of dildos that have holes in their bases to accept vibrators, which tends to be a bonus considering that most dildos come with boring single-speed vibes.

It's also extremely easy to use and takes no real talent to put it where you need it during use.

The biggest advantage of these little capsule-shaped vibrators though is that they are much more discreet than other sex toys. It doesn't matter if you need to squeeze one into an over-stuffed purse or hide it in a rolled-up pair of socks in your drawer, it's easy to have around and doesn't immediately register as a sex toy on first sight.


Color:

White

Length:

2 1/4"

Circumference:

2 1/4"

Diameter:

5/8"

Weight:

0.1 lb

Functions / Performance / Controls:

The Iconic bullet runs on three LR44 watch batteries (included) that are inserted by unscrewing the bottom third of the bullet. There is a single push button on the end to turn it on and control the three vibration levels.

One press of the button and you have average-intensity vibes that can easily be felt anywhere on the body, and a quiet humming sound that's not likely to be heard outside of the covers. Two presses and the vibrations are strong enough to satisfy most users, with a higher pitched hum that is still very quiet. The third press of the button unleashes a numbingly intense vibration level that is for the power-hungry amongst us, yet it's still quiet enough not be heard outside of the blankets. One more press of the button turns the toy off.

Fair warning though; you don't want to set the Iconic bullet down on the bedside table or other hard surface even for a second when it's turned on. If you do, it will hop around like crazy with a loud clattering that definitely will be heard through a closed door!

The vibrations at all levels are tight and "tingly" and can be felt evenly all over the bullet. These kinds of vibes make for a unique experience in the bath, because the water spreads the sensations in a wider area. Try teasing your partner by moving it between their thighs near the scrotum or labia (without touching them) and you'll see what we mean. Just be careful not to touch the bathtub though, or you'll get the same unwelcome noise mentioned above.


Functions:

Vibrating

Special Features:

Batteries included
Multispeed
Travel
Waterproof

Control type:

Push button

Powered By:

3 watch batteries

Care and Maintenance:

Because the Iconic bullet is waterproof, no special precautions need to be taken when cleaning it. Simply wash it with antibacterial soap and water or a toy cleaner and you're good to go. Alternately you can rub it down with a bit of isopropyl alcohol, but keep in mind that none of this fully sterilizes the toy so it's still not a good idea to share it with people you aren't fluid bonded with.

Any kind of lube is compatible.

Packaging:

Jimmyjane has a unique packaging style for this line, consisting of a small white cardboard box that is just as tasteful as what you might find for high-end cosmetics. There are no scantily-clad models, garish colors or bawdy catch phrases, just a simple hazed product photo with some brief information written on the outside. The box opens from the side, and the instructions and warranty info (yeah, it comes with a 1-year warranty!) can be found on the box's inner flaps. The toy nestles in a red cardboard insert, and it's all durable enough to use for long-term storage.


Experience:

Michele says:
We don't use bullet vibes apart from dildos very often. When we do, it's usually either when I'm giving oral sex (I press the vibe against my cheek to give him extra pleasure) or for clit stimulation on me. This bullet excels in both areas because it's quiet enough not to be a distraction when I use it for the former and powerful enough to actually bring me to orgasm during the latter. It seems really well-built, and I can't think of anything bad to say about it!

Alan says:
To be honest, I didn't notice much to set this toy apart from any other multi-speed waterproof bullet besides the fact that it's white. Not that that is a bad thing, in fact it's rather classy, but a bullet is a bullet for the most part. That being said, we haven't had a lot of luck finding ones that were both waterproof and multi-speed, so I guess that's the real plus here.