NMC Ltd Insepera balls - Egg from NMC Ltd

Product Details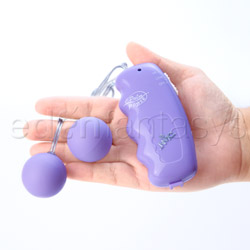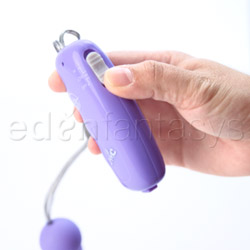 Summary:
A powerful bullet toy but probably not necessary if you already have a great bullet. The spherical shape was a nice difference, and I appreciated the versatility that they allowed. Having two bullets is definitely better than one.
Pros:
unique shape, good battery life
Best use:
I believe that everyone needs a bullet vibrator. Insepera balls is a dual bullet vibrator. Having the two bullets really opens up a lot more options for stimulation. I liked it best for clitoral and vulva stimulation. I was able to use it vaginally, but I didn't like it as much that way. The wires were strong so it was pretty easy to retrieve the bullets, but you will still want to take care when doing so and cover it with a condom if possible to protect it. I can't recommend trying to use these anally because even though they are pretty secure on the wires, they could come loose and then you will have a major problem on your hands. The vibes are powerful and good for both solo and couple use. The Insepera balls are great for teasing and foreplay.
Material / Texture:

The Insepera balls are made of a hard plastic. The balls themselves are velvety, which I enjoyed because I like a little drag to my toys. There isn't so much drag that there's no slide at all though. The balls slide very well against each other which I appreciated because I thought it felt nice to be able to easily juggle the balls in my hand. There is a seam on each of the bullets which more sensitive people may notice

I did notice a strong smell when I opened the package. I was surprised that it smelt like burnt rubber bands since it was made of plastic. After washing it a few times, the smell has lessened but is definitely still present. I think it will continue to diminish as time goes on.

Material:

Plastic

Material safety

Texture:

Velvety

Safety features:

Food-grade material / Hypo-allergenic / Latex free / Phthalates free

Design / Shape / Size:

What separates Insepera balls from so many other bullet vibrators is that the bullets are spherical. I personally loved this and thought it really opened up a lot more ways to use them. According to the packaging, the balls are 1.36" or 3.5 cm in diameter, so these aren't huge nor are they teeny tiny. The wires are 20" long so I do wish they were just a little bit longer. The wires are well fixed to the bullet. I actually tried to pull the wires from them and they were definitely fixed in there very well.

The battery pack/remote has grooves to fit easily in your hand. I think this was a nice thought, but it really didn't do anything for me for a couple reasons. First of all, since there are only two settings, I didn't really feel the need to be holding it the whole time and usually just set it to the side. The other reason is that since the labels are only on one side of the remote, if you are left handed you either need to hold it so you can't see the controls, or hold it so the grooves are on the wrong side. It does fit comfortably in your right hand, so this won't be an issue for most people like it was for me.

Color:

Purple

Length:

1 1/4"

Insertable length:

1 1/4"

Circumference:

4 1/4"

Diameter:

1 1/4"

Weight:

0.2 lb

Functions / Performance / Controls:

There are two settings: low and high. I thought low was actually pretty strong, and it might be a bit much for people who are more sensitive. The high setting was very powerful and was a bit much for me. I would have preferred more settings, but I was able to find one that worked for me. I do wish that there was a feature to allow each bullet to vibrate on a different setting, but there isn't. The vibrations were pretty buzzy so if you like deeper vibrations you may want to move on.

It is quite noisy, especially compared to other bullet style toys that I have. It is very noisy on the high setting. I could easily hear it through a door with the TV on.

I left it running on high for 30 minutes, and the bullets started to get warm so it may damage them if you left it on much longer than that

I wouldn't call it waterproof, but I was able to wash the toy with soap and water without any issues and had no issues with lube or bodily fluids affecting the toy.

Functions:

Vibrating

Special Features:

Control type:

Control pack

Powered By:

Aa-2

Care and Maintenance:

The product didn't come with any care instructions other than to not mix battery types and to remove weak and dead batteries. I have found it to have very good battery life. I've run it several times for a total of probably 3 hours or so, and it is still running on the original pair of AAs that I put in when I got it

I've been using basic soap and water to clean it and have not had any issues. I would try and avoid trying to get it too wet or getting the battery pack/remote wet if at all possible. You could also use toy cleaner or wipe it down with a bleach solution.

It is plastic so it should be compatible with various types of lube. There is a seal around where the wires meet the bullet to keep fluids out, but it isn't waterproof so try to keep lube out of the battery pack.

Packaging:

The toy came in clear plastic packaging. I appreciated that it did not have any scantily clad women on the packaging like many toys tend to do. There was very little information included with the toy, but I feel that a lot of extra information was not needed because it's a pretty intuitive toy. It is possible to get the toy back in the packaging, but it is difficult and the packaging is fairly bulky anyway and not really suitable for storage.