Don Wands Mini bang snackbox - Bullet from Don Wands

Mini bang snackbox videos
Product Details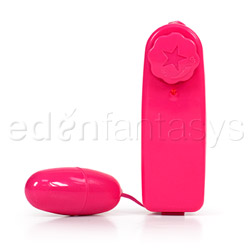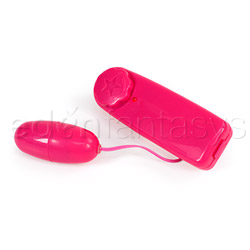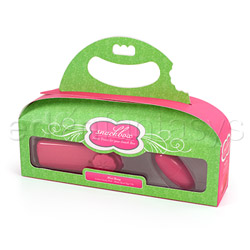 Summary:
The Mini Bang Snackbox is a great toy as well as a great tool. While it can be used on the clitoris for masturbation, it can also be used heavily during foreplay to make the experience better for everyone involved. Its intense vibrations and easy to use design make it a great buy for beginners and veterans alike.
Pros:
Small size, discreet vibrations, strong vibrations, easy to use, bold color and look.
Cons:
Not waterproof, cannot be inserted.
Best use:
The Mini Bang Snackbox is a bullet vibe with multiple speeds of vibration. While its main purpose is to be used as a clitoral vibrator, it can be used all over the body for stimulation and titillation. It can be used to stimulate the opening of the vagina and anus, but should never be inserted. The cord that connects the controller to the bullet was not intended to be pulled on, and you might break the toy.

This toy can be used with a partner, or on your own. With a partner, this toy is a great tool for foreplay and teasing. When alone, this toy is sure to get you there via your clitoris.
Material / Texture:

This toy is made of ABS plastic, which makes this toy nonporous, latex free, phthalates free, and hypoallergenic. Since this toy is made of plastic, you have another perk when owning this toy. You can use whatever kind of lube you wish. That's right, plastic is safe to be used with silicone, oil, and water based lubricants.

The feeling of the bullet portion of this toy is completely smooth. The plastic is as shiny to the eye as the plastic is sleek to the finger. This toy has virtually no drag and is completely solid with no squish whatsoever to it.

Size Comparison to a pen:


Material:

Plastic

Material safety

Texture:

Smooth

Safety features:

Food-grade material / Hypo-allergenic / Latex free / Phthalates free

Design / Shape / Size:

The design of this toy is very simple and minimal. Part of the allure of this bullet, in comparison to the many others on the site, is the awesome color this one comes in. The bold blue remote has an easy to use dial and is connected to the bullet by 26" (or 2'2") of matching blue cord. The bullet itself is very similar to bullets you have seen in the past, in both size and design. It is an oval shaped bullet with a groove wrapping around the width of it. This is probably where they put the two pieces of plastic together to enclose the vibrations. The bullet itself is 2 1/4" long and 1" wide at its widest point. The controller is 3 7/8" long and 1 1/4" wide.

At the top of the controller, the side with the cord protruding, you will see a 1" dial with a 5 point star inside it. This dial is also labeled with with way to turn it to turn it on, and which way turns down the vibes and turns it off. Both the bullet and the controller have a clear rubbery piece that guards the wire protruding from the toy.

Length:

2"

Insertable length:

2"

Diameter:

3/4"

Weight:

0.2 lb

Functions / Performance / Controls:

This bold looking blue toy has only one control, a rotary dial. Turning the dial to the left turns on the toy and turns up the steady vibrations. Turning the dial the opposing way will turn down the steady vibes until the toy turns off. Just below the rotary dial is a little red light. This light turns on and intensifies as the toy is turned on and turned up. This toy does not have any pulse functions. At this toy's lowest speed of vibration it is still fairly strong, getting at least 2 vrooms from me. When this toy is turned all the way up it has crazy strong vibrations, and I would give them a vroom level of 4. While this toy's vibrations are super strong, the noise level is also worth bragging about. Even on its highest setting, the vibes of this toy cannot be heard through a closed door.

Rotary dial, and light on:


This toy takes 2 AA batteries. The back panel of the controller slides down and then lifts up to expose your battery lodge. Inside, you will see that it has been labeled which way to insert your batteries.

Slide down and lift up:


Functions:

Vibrating

Special Features:

Control type:

Control pack

Powered By:

Aa-2

Care and Maintenance:

As for cleaning, this toy is super easy to keep in tip top shape. Antibacterial soap and warm water will do the trick. Other options for cleaning are wiping down with a toy wipe or using rubbing alcohol from your bathroom cabinet. Regardless of what you choose to clean this toy with, you will want to pay close attention to the groove that wraps around the bullet's circumference. This would be an easy place for bacteria to hide and build up. Using your nail or a toothpick behind whatever you are cleaning with should do the trick, since it doesn't appear that deep of a groove.

Other than being cleaned, this toy doesn't require much else of you. You can store it in the box it comes to you in, or you can always just toss it into your toy box. Since it is made of plastic, you don't have to worry about it melting onto other toys or anything of that nature. It can be stored almost anywhere and can even be taken with you on the go. Your options are vast for this small sized toy.

Care and cleaning:

Soap and water

Packaging:

This toy comes to you in an adorable box which is shaped similarly to a lunch box. The packaging is orange and blue with white writing. The packaging is designed to be cute and fairly discreet, despite the fact that you can see the toy inside through a clear panel on the front. On the top of the box, the manufacturers send it to you looking like someone took a bite out of the box.

Front:


Back:


Inner Packaging: