Rocks Off Limited RO-120mm bullet - Bullet from Rocks Off Limited

Product Details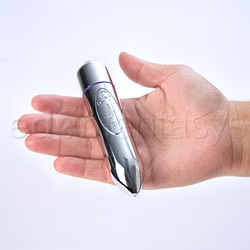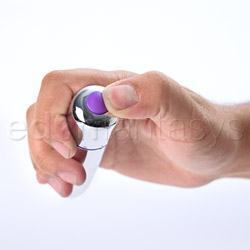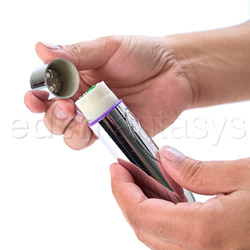 Summary:
The RO-120 mm bullet is a very strong bullet that works well for those who require a discreet toy. It's very easy to clean and very easy to store.
Pros:
Easy to store and clean, very strong for bullet, Rocks Off also sells sleeves for it.
Cons:
A little loud, can numb hands.
Best use:
The RO-120 mm bullet works best for clitoral stimulation. While it could be inserted for vaginal stimulation, the bullet is a bit short for optimal stimulation. It lacks a flared base, so this bullet can not be used for anal stimulation either. However, in other Rocks Off products, the bullet is paired with a large sleeve that makes it possible to insert this bullet comfortably and more effectively. This bullet can also be used for stimulation of other erogenous zones including the nipples or testicles.

Since the RO-120 mm is waterproof, this bullet also works well for shower and bathtime play. Since the bullet is small, this also makes it optimal for vacationing since it packs easily into luggage. It is easy to pull out and insert the batteries which makes it even more optimal for travel purposes. For those who require discretion in their everyday lives (college living, living with parents), the bullet is also optimal since it easily fits into small spaces.

Since the vibration levels are pretty strong, this bullet would suit those who require moderate to strong vibrations. Since even the low setting is pretty strong, those who are sensitive to vibrations may find that this bullet is too strong for use.

Because of the small size, this bullet also would work well for couples use since it would be easy to keep around for extra clitoral stimulation during sex. Since it isn't phallic-shaped, it also works best for those who are first experimenting with toys.
Material / Texture:

The RO-120 mm bullet is a bullet made from plastic. While the bullet looks metal, it is because the plastic was painted over with a metallic paint. Plastic is compatible with all different kinds of lubricants, is completely body-safe, and is very smooth. Plastic responds well to lubricant and doesn't absorb it at all - it means you usually have to use less lubricant than if you were using something made of silicone.

The bullet is completely smooth and does not have any texture. The only small addition of texture was on the side of the bullet where the product's name (RO-120 mm) was etched into the side of the bullet. This etched name is not noticeable during use, so the bullet is basically textureless.

Plastic is completely rigid. It does not have any sort of flexibility to it. This works well for a bullet since it is intended for clitoral stimulation. Plastic is also pretty light, so this toy is easy to hold. The material of this bullet also transfers vibrations well, so the vibrations will easily be felt throughout the body of the toy. This toy has no smell nor any taste.

Material:

Plastic

Material safety

Texture:

Smooth

Safety features:

Food-grade material / Hypo-allergenic / Latex free / Phthalates free

Design / Shape / Size:

The RO-120 mm bullet was shaped to be like a larger version of your "average" bullet. Make sure you use the "View Actual Product Size" feature before your purchase since this bullet is much larger than the pictures make it seem. (The Real Size feature also does make the bullet appear slightly larger than it is, so keep that in mind.) The bullet is about four inches in length with a diameter of about an inch. This makes it about three/four times as long as your average bullet.

The bullet does not have any particular shape. It is just long and straight to make it easy for broad-area stimulation. The bullet does taper down into a point towards the tip of the bullet which makes it have the traditional "bullet" shape. The opposite end of the bullet is home to the small button that must be pressed to scroll through the vibration patterns.

Since the toy is small in size (smaller than an average toy but larger than a regular bullet), this makes it optimal for travel and discreet use. It can easily be stored in small areas and requires very little forethought for storage since the material doesn't pick up hair.

Since the bullet is small in size, holding it can be frustrating. The vibrations are very strong in this bullet, so holding it with your hand can cause your fingers to become numb after extended use since the vibrations are so strong. However, with the waterproof ring that separates the battery cap from the shaft of the body, it is easy to grasp and keep a hold of the bullet.

Color:

Metallic

Length:

5"

Insertable length:

3 3/4"

Circumference:

3 1/4"

Diameter:

1"

Weight:

6.5 oz

Functions / Performance / Controls:

The RO-120 mm bullet takes two AAA batteries. The battery compartment opens easily. The battery compartment also has a neat feature - the side of the compartment and shaft both have a small line etched into them. When the battery compartment is fully closed, the two lines will line up. Unless those two lines are lining up, the toy is not waterproof. When the lines match up, the toy's waterproof claim seems to hold strong.

The bullet's vibrations are very strong. This is much stronger than other bullets, and most other toys as well. The vibrations are very rumbly and can easily be felt. Applying pressure with the bullet does not make the vibrations weaker. The vibrations are strong enough that most women should easily be able to orgasm with this bullet. Those who are sensitive may find that the vibrations are too strong. The vibrations are not too quiet - they could easily be heard in the same room and could possibly be heard through a closed door if someone was attempting to listen in. Putting on music or television does mask the vibrations nicely though.

The bullet has three vibration modes. A medium-high steady vibration, a high steady-vibration, and a high pulsation pattern. Pushing down the button will scroll through the vibration settings - holding the button down for two seconds will turn the bullet off.

Functions:

Pulsating / Vibrating

Special Features:

Batteries included
Multifunction
Multispeed
Powerful
Quiet
Waterproof

Control type:

Push button

Powered By:

Aaa-2

Care and Maintenance:

It is extremely easy to care for this bullet. Since the bullet is made from plastic and is waterproof, the outside of the bullet just needs to be wiped down with warm water and antibacterial soap. Since plastic is non-porous, the bullet could be sterilized with a bleach solution for use with multiple, non-fluid-bonded partners.

Since this bullet is made from plastic, it can be used with both water-based lubricant, silicone-based lubricant, and oil-based lubricant.

Plastic does not pick up any type of hair, so this bullet can be stored wherever is best for you. However, the metallic coloring on the plastic is paint, so avoid putting it anywhere near where the paint could chip off.

Care and cleaning:

Soap and water / Toy cleaner

Packaging:

The packaging for the RO-120 mm bullet is completely made from plastic. It's very minimalistic since the packaging is barely large enough to cover all of the bullet. The packaging is clear and see-through, and it allows you to see the bullet really easily through the front clear portion of the plastic. If shown in a store, the packaging would be hanging by a little heart which serves as the plastic part to hang the toy.

This packaging would serve okay for gift giving. It isn't crass in any manner, but it isn't spruced up either. It does showcase the product nicely. The packaging could be used for long-term storage of the bullet, but since the plastic seems to be a bit thin, it wouldn't do much to protect your bullet while in storage.

The packaging does include instructions on one side of the packaging. The instructions are very basic and just let you know what batteries are included, what batteries should be used, how to replace the batteries, and how to use the bullet.