California Exotic Teardrop 10-function - Egg from California Exotic

Teardrop 10-function videos
Product Details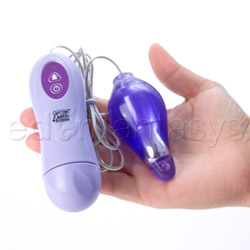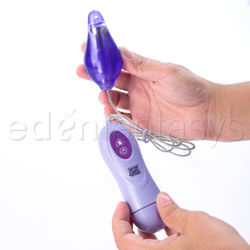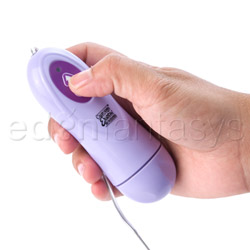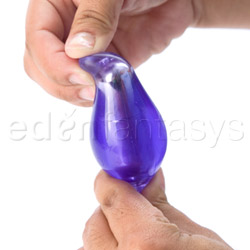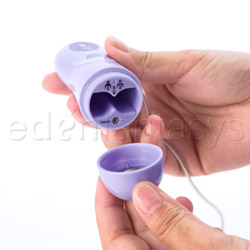 Summary:
This Teardrop is definitely from tears of joy. Oh what fun you and your clit will have with this little powerful teardrop. With 10 amazing vibrating, pulsating and escalating functions you'll have a hard time trying to choose just one. So, why not try them all. You can do that with the Teardrop 10-function and its waterproof. It's even lightweight enough to take while traveling. Just let the tears of joy fall.
Pros:
Powerful with lots of functions to choose from and waterproof.
Cons:
Well, not any that I can think of.
Best use:
The Teardrop 10-function by California Exotic Novelties has a unique shape, which was very intriguing to me. I just had to give it a try. This is the first toy of this kind for me. I wasn't sure what to expect from it or if I would even care for this kind of toy, but I was pleasantly surprised.
Material / Texture:

With the Teardrop being made of TPR it is body safe. TPR is a very flexible, soft and smooth material without any scent. It is also Phthalates free, Hypo-allergenic and Latex free, always a plus in my book. Since it is TPR you can use silicone and water based lubricants. The control is made of hard plastic and both the Teardrop and control are waterproof.

Material:

TPR

Material safety

Texture:

Bulged / Smooth

Safety features:

Hypo-allergenic / Latex free / Phthalates free

Design / Shape / Size:

This is a very clever design in purple. With the stimulator in the shape of a teardrop it's perfect to use on your clitoris. I just had my IUD out and wasn't supposed to have anything vaginally for a week. I used my Teardrop to stimulate my clitoris during this time. It worked great. It can rest right on your clit between your legs in your V and there you go… instant pleasure. You can also use it just inside your vaginal entrance, but I didn't find this all that pleasurable, not deep enough for me. The Teardrop is 3 1/4 inches in length, which is also the insertable length. The circumference is 5 inches and diameter is 1 ½ inches. It only weights .3 lbs, making it a good choice for travel. The cord is 32 inches long. Plenty of length to hold the control wherever you want or perhaps your partner can have the control.

Color:

Purple

Length:

3"

Insertable length:

3 1/4"

Circumference:

5"

Diameter:

1 1/2"

Weight:

0.3 lb

Functions / Performance / Controls:

The Teardrop has 10 functions of vibrations; pulsation and escalation with the tip giving you pinpoint stimulation.

You have an on/off push button and a push button for the 10 different vibes. There is a light that changes color to show you if it's low/green light, med/yellow or high/red.

Here's how they range.
1. Low steady vibration/green
2. Med steady vibration/yellow
3. High steady vibration/red
4. Med short broken vibe/yellow
5. Broken vibe - 1 med short/yellow – 1 high long/red
6. Broken vibe - 2 med short/yellow – 1 high long/red
7. Escalating from a soft med to a hard med – yellow
8. Escalating from low/ green to high/red with 2 med/yellow
9. Pulsating & escalating from low, med and high
10. Pulsating & escalating from low, med, high and back down high, med, low

All 10 are very quiet. And I have kids to worry about hearing it but I don't have to.

Functions:

Escalating / Pulsating / Vibrating

Special Features:

Light indicators
Multispeed
Travel
Waterproof

Control type:

Control pack

Powered By:

Aa-2

Care and Maintenance:

The Teardrop is easy to take care of. It should be washed before and after use with soap and warm water and let air dry. No need to worry about water getting into the controls as it is waterproof. I submerged it under water to make sure. It passed with flying colors. I store mine in a zip lock baggie to keep dust, lent and hair off of it.

Packaging:

It came in a mostly pink box. It has a picture of the Teardrop 10-function on 3 of the sides. There is also a picture of a pretty girl on the front and back nothing revealing.

Personal comments:

I've enjoyed my Teardrop so far. It's certainly not for anything deep. But it words wonders on your clitoris. It has great power and a selection of 10 sensations to choose from. It's lightweight and easy to take when you travel. You can have fun in the bath with it. I wouldn't use it anally since it doesn't have a flared end, wouldn't want it to get stuck in there. All in all I think it's a great toy to have around. I think I'll keep it!