Vibe Therapy Ascendancy - Clitoral vibrator from Vibe Therapy

Product Details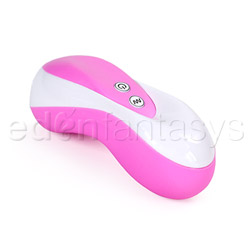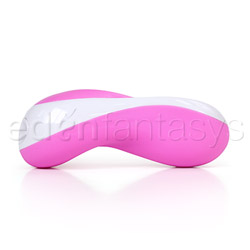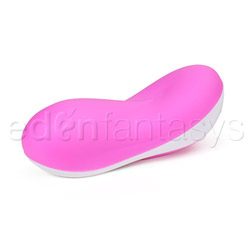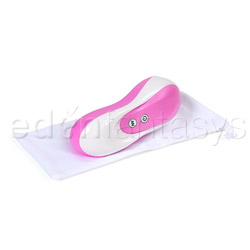 Summary:
The Ascendancy is a really good, soothing and pretty little massager. Made of silicone and hard plastic it is sure to last a good long time and while it won't vibrate the walls of the house it will do the trick for the vast majority of users. Good for a face or scalp massage and great for grinding against this toy can please you from top to bottom!
Pros:
Hygienic materials
Good vibration strength
Waterproof
Cons:
Vibe strength might not be enough for some users
Best use:
The Ascendancy is a nice little silicone vibrator that is great for stimulating many different areas of the body. It can relax a tight neck; excite the nipples, clitoris, scrotum, penis, backs of the knees, heels and arches of the feet. The only drawback is that the medium strength vibrations might not be powerful enough for every user. For some users this will be a great warm up and for others it will be the whole show. It really depends on the individual sensitivity of the player. The user could also use this as a "lay on" vibrator, riding it rather than stroking it on the genitals.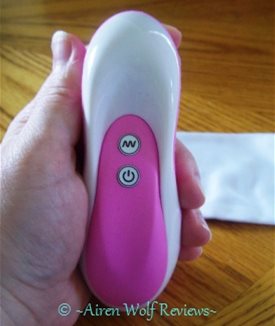 It is a gorgeous little toy that fits the hand well. I am not a pink fan but I kinda like this little guy...or maybe I have just been a color snob.
The toy is waterproof and quiet making it perfect for tub or shower use.
Material / Texture:


The Ascendancy is composed of firm and smooth silicone that has a matte finish on the body of the toy. The dragginess of the silicone can be almost entirely turned to smooth gliding action with a touch of lube. The matte finish is great for users who like to rub against or drag a toy over their genitals.

The upper portion of the toy is composed of hard plastic that is very smooth. The vibrations are muted at the tip of the toy on the plastic area making it perfect for really sensitive clitorises. There are a few seams on the toy but none of them seem to catch and hold fluids or lube. They are smooth and don't cause any friction or pain when in use.

The textures are really meant to be as enjoyable as possible for the largest group of people as possible. This is not a toy that has a learning curve making it perfect for all levels of experience.

Material:

Plastic

/

Silicone

Material safety

Texture:

Smooth

Safety features:

Food-grade material / Hypo-allergenic / Latex free / Non-porous / Phthalates free

Design / Shape / Size:

I quite like the design of this toy. It is small, firm, high in quality materials and the shape is just perfect for laying on with it under your neck or under your genitals. The gentle hourglass shape allows for pinpoint vibration and a wide variety of strength in terms of where you direct the vibrations. For instance if you have a serious migraine you might use the butt end of the toy where the silicone is flared because the vibration strength is muted there. Also, if you have seriously sensitive palms holding the toy here will cause less vibration to be in contact with your palms. Keep in mind that the vibrations strength never gets into the jackhammer range and should be enough to satisfy all but the super clits-o-steel.

The Ascendancy measures just 5 inches long and 5 1/2 inches around at its widest point. It's not an insertable toy, though it is waterproof. It doesn't have any features that would make insertion desirable as far as this reviewer is concerned.
Again, this toy really doesn't scream beginner or more advanced player. It's good for a wide majority of toy users and is a sort of workhorse type toy. It'll get the job done and look stylish while doing it.

This toy is easy to hide away but doesn't look like a sex toy, per se, so if you accidentally leave it sitting out it won't shock Grandma. It can easily be added to an overnight bag, or tucked into a carry on bag and easily explained away as a pressure massager for in flight relief.

Color:

Pink / White

Length:

4 1/2"

Circumference:

5 1/2"

Diameter:

1 3/4"

Weight:

6 oz

Functions / Performance / Controls:


The buttons are what controls the vibrations. They are in a recessed part of the toy so that you won't hit them by accident at that crucial moment. press the bottom button once to turn on the toy and then adjust the speed and variations with the upper button. To turn off the toy press the second button again. Easy as that!

The vibrations are primarily located in the smaller tip of the toy north of the power buttons. They carry through the toy but with a muted action making the toy easy to hold. This toy offers three levels of straight vibration with the highest level being a solid medium strength. This is no power house vibe but it's no slouch either. It then offers 4 variations of escalating, pulsating and rollercoastering patterns. These are nice but not overwhelming in speed and strength.

The toy is not silent but it isn't going to alert the neighbors, either. I used it in bed one night and my more noise sensitive partner, Sigel, was completely unbothered by the noise. It was just a quiet hum under the blankets. I used it in the bathroom and no one knew, which is a good thing because my bathroom seems to amplify sounds like nobody's business. I think it could be used in a shower stall with the same results but you would probably be heard in a public shower stall.

I was a bit concerned by the door to the battery housing but I couldn't get the thing to leak so I am convinced it is 100% waterproof. The toy takes two AAA batteries and the directions for insertion are clearly visible on the toy. This toy doesn't seem to drain batteries quickly and it has a pretty good power for a AAA battery toy.

Functions:

Escalating / Pulsating / Vibrating

Special Features:

Ergonomically shaped
Multifunction
Multispeed
Waterproof

Control type:

Built in control pad

Powered By:

Aaa-2

Care and Maintenance:

The Ascendancy should be washed in warm water and soap or a commercial toy cleaner. It is silicone and plastic so it is nearly 100% non-porous and can be cleaned fully with soap/water alone. It should not be boiled for obvious reasons but a 10% bleach and water solution will disinfect the toy quite well.

The toy is silicone but a spot check on my toy showed no reaction to silicone lube. Water based lube is always a great choice, however. Lube and body fluids will wash or wipe away easily from the surface of the toy.

The toy comes with a lovely white satiny pouch with a drawstring that is perfect for storing the toy. It can then be stored in a toy box, bedside table drawer or other type of storage medium.

Care and cleaning:

Toy cleaner