NMC Ltd Deep lick - Tongue vibrator from NMC Ltd

Product Details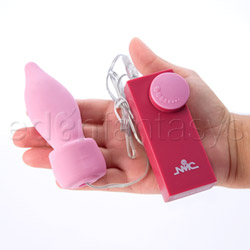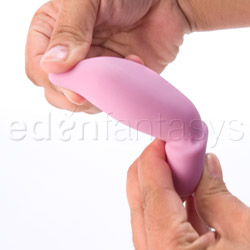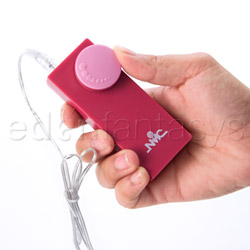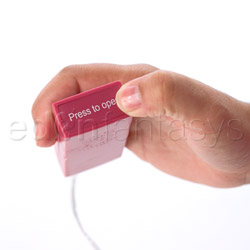 Summary:
This item can be viewed as worth it or not. It really depends on your own style. In my opinion, this toy was worth it because I hate feeling lonely and sometimes I need to just let loose. What better way to do that then using something very similar to a real life experience?
Pros:
Small, great stimulator, and Easy to use
Cons:
Semi-loud vibration and can't use it in the shower.
Best use:
Hello, ladies! Feeling lonely? Sick of getting hot & bothered with no action to fulfill you? If so, check out this item! For the best of use, use this little sucker (pun intended) on your vagina. It works like a real tongue so you will be stimulating your clitoris & your G-spot if you decide to go in a bit deeper. This toy will work for any kind of girl whether you are straight, bi, or a lesbian! The best time to use this is when you are lying in bed, sitting on chair, on your couch, etc. That is right! You can use this anywhere! (Except the shower because it is battery operated & you can ruin your tongue, sorry!) It is also travel friendly! Hurray! If you are going on a business trip, & you don't have your partner or anyone to help you out, this little baby can go with you. It is nice & small, so it can fit in your purse, in a bag, or just anywhere you want! This will also work great with asexual women. Don't want a partner, GET THIS TOY! It will provide the same pleasure, maybe even better, that a human can.
Material / Texture:

My impression of this toy at first was, "How can this little fake tongue help me orgasm?". I then realized I was shit out of luck when my boyfriend went away for two days! I needed a replacement fast. So I popped this little sucker in & voila! It was very easy to use & it felt great! Worked like a real tongue so the experience was wonderful. Its texture did add extra stimulation because it felt real. It easy-to-use bonus lets advanced users & beginners operate it! Who knew licking could be so fun?

Material:

Plastic

/

TPR

Material safety

Texture:

Smooth

Safety features:

Food-grade material / Hypo-allergenic / Latex free / Phthalates free

Design / Shape / Size:

Let me tell you that I absolutely loved its design. Like I said before it is shaped like a real tongue so obviously it is meant to lick & vibrate you wherever you want. My opinion of its size is that it very convenient. Because it is small, I can store it anywhere & use it anywhere. The size is for a beginner & an advanced user. The toy is easy to hide, lucky for us discreet women, due to its little size. I have already said that it is suitable for travel. Unfortunately, the vibration can alert a couple people listening to you closely. But, hey, if that turns you on then it is for the better!

Color:

Pink

Length:

4 1/2"

Circumference:

4 1/4"

Weight:

5.5 oz

Functions / Performance / Controls:

My opinion of the functions & performance is that it's very easy & stimulating. The vibrations are located on the little tongue area. The control/buttons for it is on the remote along side it. The function I think is best is the highest vibration level. The feeling I got from it was AMAZING. What is not so great about it is the obvious part of not being able to work in the shower & the fact that it does not bite my clitoris like my boyfriend usually does (which adds greater pleasure).

The controls are very convenient & easy to use. You just switch the circle to the level of vibration that you want to try or experience. This toy is semi-noisy. Seeing how it is a vibrator it does make the vibrating noise, unfortunately it's not that low, but hopefully the noises you will be making over power it. This toy is NOT waterproof. It is battery operated so it can not be placed in water or it will get ruined.

Functions:

Vibrating

Special Features:

Control type:

Control pack

Powered By:

Aa-2

Care and Maintenance:

To take care of this toy do not use or leave it near water. Do not use or leave it around fire either. Store at room temperature due to its battery operated quality. It is very easy to care for as you can see. You do not have to go all out to take care of it. You can store it in a drawer, in a box, or just anywhere you hide your toys. You can use this toy along with any kind of lube. It makes the experience so much better.