California Exotic Dr. Laura Berman Pomona massager - Clitoral vibrator from California Exotic

Dr. Laura Berman Pomona massager videos
Product Details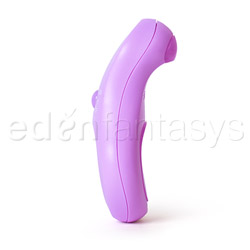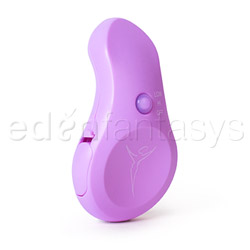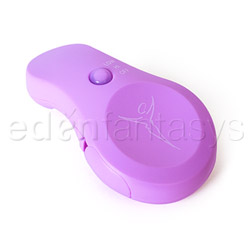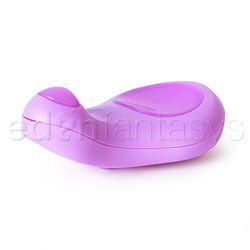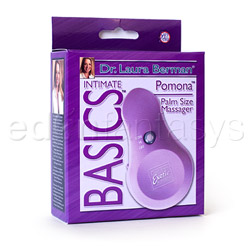 Summary:
The Pomona can be a great first clitoral toy if your budget is limited. We all know that any vibe can be used on the clitoris, but they are not usually shaped to make the experience comfortable to your hand. This one is and it has enough power to get you there.
Pros:
Ergonomic, strong vibrations, smooth material at the tip, simple to use.
Cons:
Seams are clearly visible, not waterproof.
Best use:
This clitoral vibrator has an interesting feature, which consist of having a pad of softer material on the tip. Even if the box says that it is soft and plushy, that section is still relatively firm, but at least it's slightly softer than plastic.

The other section with TPR is the the larger circular pad underneath it, and it offers a comfortable grip as it has more drag than plastic. However, as it is hollow, I do not believe it could really be used to stimulate.
Material / Texture:

The main part of the Pomona is made of ABS plastic and some TPR is covering the tip, the hollow circle on the bottom and the push button. Both materials are hypo-allergenic, latex-free, non toxic and do not contain phthalates. Even if plastic is non-porous, TPR has some porosity and cannot be sanitized, but it is still easy to wash.

The materials allows the vibrations to travel really well to the tip of the toy, and since there isn't much of TPR at the tip, it does not dim the vibrations at all.

The toy doesn't have a taste or a particular smell, except for faint plastic, but there is definitely not any strong chemical smells.

Material:

Plastic

/

TPR

Material safety

Texture:

Velvety

Safety features:

Food-grade material / Hypo-allergenic / Latex free / Non-porous / Phthalates free

Design / Shape / Size:

The design of this toy with the two materials is interesting, which is why I was curious to try this toy, but I have to say that I expected the TPR parts to be more squishy. It's true that the tip is softer to the touch when I apply some pressure with my fingers, but when pressed against the clitoris I do not believe that it gives way much, or I would have to really crush it. Since the softness was a feature claimed on the box, I can't give this toy a perfect score.

The size and shape of this toy work well together, and the rounded edges are ergonomic and there are a few ways to hold it without being uncomfortable. I have long fingers and my grip sometimes feels cramped, but I was happy to find that it was not the case with the Pomona. The most ergonomic position I found was when I would place a thumb on that pad and the rest of my fingers on the hollow part on top. It is also possible to cup the largest end within the palm to have better access to the push button.

As for the target audience, I think it is for women who have never had a clitoral vibrator and wish to try one at a modest cost. Then they'll be able to see if they want a more advanced one.

Color:

Purple

Length:

4"

Width:

2 1/2"

Weight:

1.9 oz

Functions / Performance / Controls:

It is particularly simple to use: there is a very obvious push button on top, and you will hear a loud click when it is pressed or released. It is used for turning it on and off, and for cycling through the two vibrations settings which are both fairly strong, resembling the strength of a bullet vibe. I do mean both, as it's hard to differentiate the level of intensity of the settings.

The vibrations are concentrated at the tip and if I could describe the settings independently, I'd say they're both high. There is a slight difference in intensity (high and higher) and noise level (noisy and noisier). The noise level is not that bad and would not be heard though a door, but I find that pitch of that sound is annoying, and even my boyfriend commented on that sound - but he's used to my quieter toys.

The battery compartment, located on the side, is opened by pressing a plastic tab sideways and it will spring open. Inside there is an indicator showing in what direction you must insert the 2 AAA batteries, which are not included.

This toy is NOT waterproof, and the reason why I stress it with capitals is that there is an unsealed seam running all around the edge of this toy and the battery opening. You need to be careful when you wash it, as it really cannot be immersed in water or put under running water.

Functions:

Vibrating

Special Features:

Ergonomically shaped
Multispeed
Powerful
Quiet

Control type:

Power switch / Push button

Powered By:

Aaa-2

Care and Maintenance:

For taking care of this toy, you must remember at all times that it is not waterproof. So, for washing, I would suggest a damp soapy cloth or toy wipes. A toy cleaner could also be sprayed on a cloth before cleaning. Make sure to clean the toy before and after each use and try to pay attention to the seam, which looks like it would be hard to clean if something got in there.

If you need lubrication, this toy can be used with water or silicone based lubricants, but make sure to use with great moderation, a drop should be enough.

I do not know if TPR could react with other materials, but you can never be too prudent by keeping soft materials separated so I suggest placing it in a plastic or cloth bag. Besides, the TPR parts tend to pick up dust and some animal hair. Make sure to remove the batteries from the toy when you store it away.

Care and cleaning:

Soap and water