Little disappointed by the doctor.
The Pomona is a cute lite play clitoral vibe. It is shaped to fit the palm of your hand, and perfect for women who are sensitive. I had higher expectations for this toy because it was made by a doctor. I was highly let down because I require stronger vibrations. The textured grip makes it perfect for holding on too.
Published:
Pros:
Discreet size, Dr Approved, Made to fit in your palm, Discreet sound.
Cons:
Not strong enough, Limited settings,
Pomona is the first item I've ever used by Dr. Laura Berman. I must start off by saying that I'm a little disappointed. I do not know what I expected, but I did expect it to be a little better, being it was made by a doctor. It is a cute toy, but it is nothing I'd order again. The vibrations were too weak for me and did precisely nothing for me. I think it would work better for someone who is way more sensitive, but if you even need a decent strength of vibrations this would not work for you.
The Pomona comes inside of this thin cardboard box. It has a picture of the item on the front and back of the box. This may not be ideal for someone who wants to give this away in an open setting. The box also has information on the doctor that made the toy. I thought it was kind of a good addition; I enjoy learning about the people who made my toy. It also has a lovely picture of the doctor on the side. She is rather an attractive woman. The back of the box does have some information on the toy.
-Fits the contour of your hands.
-Unique, discreet size.
-Powerful 2 speed vibrations
-Soft TPR pleasure point.
-Palm size massager.
The massager is supposed to provide stimulation to the entire vulva, and an ergonomic grip. When you open up the box it comes inside of a plastic bag, and the plastic bag you can keep or trash it. The box can be used as storage, but it is larger than the actual toy. You actually do not need to keep it.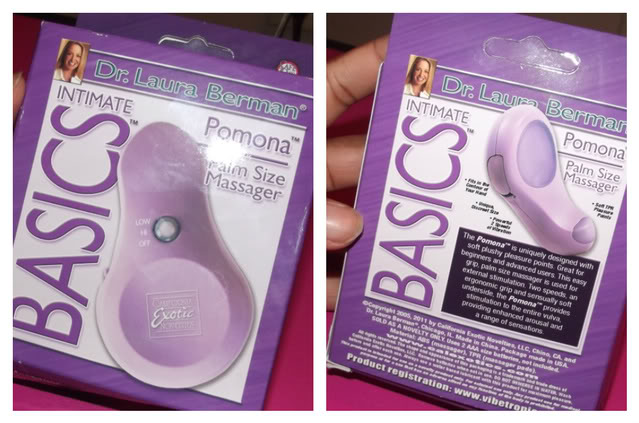 It has two different setting, which are low and medium. It personally feels like an extra low and a low. I was highly disappointed with the vibration settings, but I can see how it would work for some people. The Pomona runs on two triple A batteries. It does suck up batteries kind of fast I noticed. It is operated by one single push buttion. I've had it for about a month, and I've used it a handful of times. I had to replace the batteries four times. This can be annoying because batteries are not that cheap. The vibrations are felt throughout the toy; this is where the labia stimulation comes from.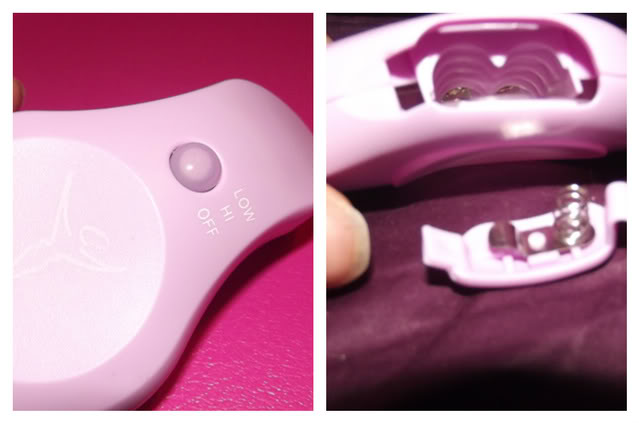 I have to admit I do love the shape and size of the toy. The size of the toy allows it to fit in the palm of your hand. I do not have the largest hands, and it fits perfectly in mind. The Pomona is made up of two different materials. The tip that comes in contact with your clit, also in the center that allows you to get a better grip is made up of TPR.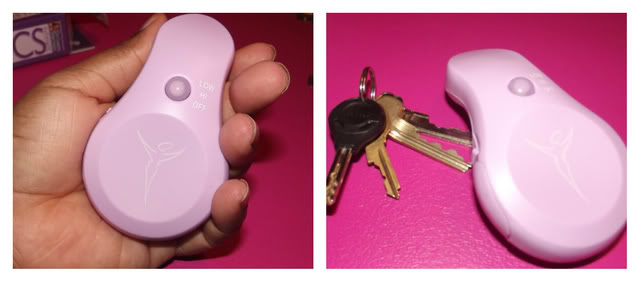 TPR has an excellent flexural fatigue resistance and high impact strength. It is still a porous toy, so when sharing I'd recommend using a condom, or a dental dam. I'd recommend the dental dam rather than the condom, only because fitting a condom over this toy can be complicated. Also, because, it is a clitoral toy dental dams would work best. The rest of the toy is made up of plastic. When using this toy you should only use water and silicone based lubes.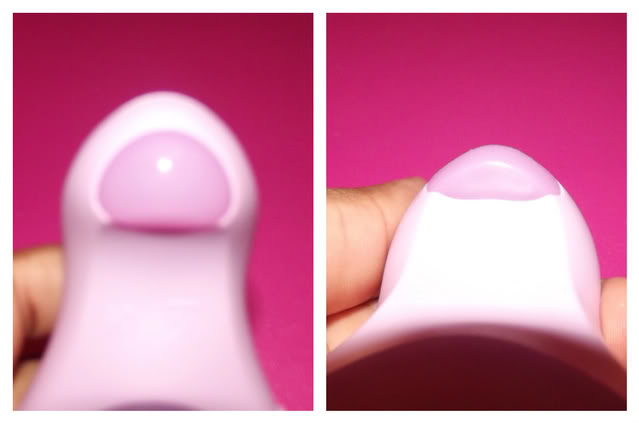 The Pomona is Length: 4 inches and a Width: 2 ½ inches. The tip that comes in contact with your clit is about an inch from the toy. When looking at the handle, the TPR on the inside of the handle is about 1 1/2 inches across. The TPR one the inner handle, allows for easy handling, and makes it so that the toy will not slip from your hand when in use. Both the tip and the inner handle have some drag to it, so when using you may need to apply extra lube.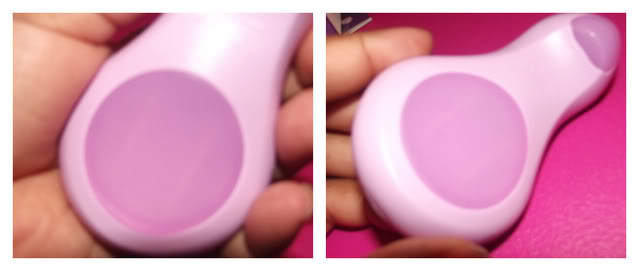 When washing, you can use mild soap and water. Keep water away from the battery compartment. If you do happen to get water into it, allow it to air dry before trying to use it again. You can also use your favorite toy cleaner. You should wash it before and after each use. When storing you can use the box, or place it into your favorite toy case.
Experience
Just a little about Dr. Berman
Dr. Laura Berman's award-winning radio show is coming to life on TV, every Monday evening at 10 PM Eastern Time! The Dr. Laura Berman Show is a one-hour series that features lively, no-holds-barred discussions between Dr. Berman and her audience about everything from sex and intimacy to family and relationships. With questions ranging from embarrassing sex blunders to how to incorporate toys in the bedroom, there's no topic too outrageous, and viewers will be entertained and informed as Dr. Berman talks with callers from around the country. She has helped countless couples, individuals and families to improve their relationships and quality of life.
This content is the opinion of the submitting contributor and is not endorsed by EdenFantasys.com

Thank you for viewing
Dr. Laura Berman Pomona massager
– sex toy review page!