Best use: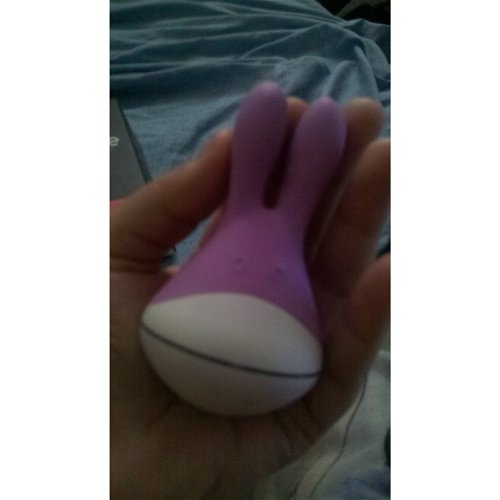 The Muse Massager, made by NS Novelties, is pretty fantastic. It is lovely to look at a little angry Bunny FuFu as his eyes get bigger and angrier with the intensiveness of the setting. Honestly, we all know he is a little scary to look at, but in a really cute way. As I don't have much to compare him to with other rechargeable products, I did put this to the test of my Leaf. It really does live up to Leaf. I was surprised myself that the vibrations in the Muse Massager had the intensity as my prized Leaf, but now all I need to do is share my attention with both of them.. more pleasure time for me.
This little angry Bunny FuFu massager is mainly for women and their clitoral needs, but it can be used as a full on massager for men and women. I used it as both and it seriously got the job done. I felt more relaxed with my massage, since he obviously wanted to massage me first, then I felt some fantastic pleasure on my clitoral area as he massaged that, too. He really is a go-getter and gets the job done, even if he is angry.
It really is an adorable product that has a really cute concept behind it. It is rechargeable and completely waterproof. It has ten speeds that are pretty orgasmic. I personally like the pulsating feature. It has straight vibrations in low, medium, and high. It also has settings for the patterns. You literally have to poke his little eyes to get the settings. Whenever I switch to another setting, I think to myself, "I'm poking his little eyes!". That is just me, though, and it really is quite fun to make him mad. When he gets mad.. his eyebrows make the shape of a mad face and show you how angry he is to be around that area of your body.
I almost feel like, well.. if he is looking at me like that, challenge accepted!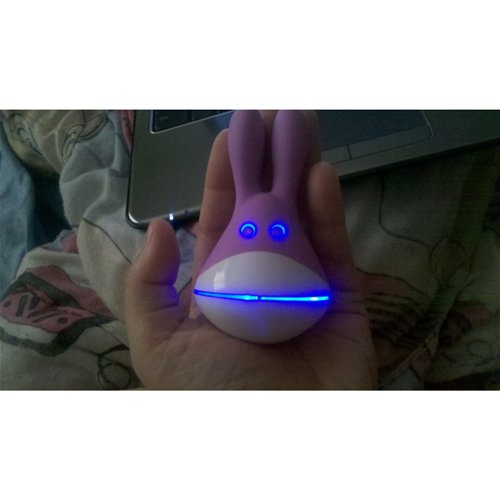 And his little angry Bunny FuFu face... :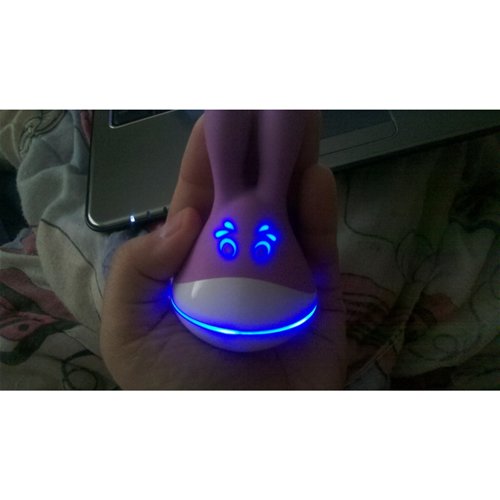 Material / Texture:

The Muse Massager is made out of a very velvety silicone that feels so nice to touch; the bottom of Muse is plastic. My first impression of holding angry little Bunny FuFu was that he felt extremely nice to my hands and wasn't as heavy as I thought he was going to be. There was absolutely no smell or taste to him. There is no texture since it is just really the straight out silicone feeling that is smooth. The bottom of angry little Bunny FuFu is made of plastic and is actually a really nice thing to grab hold of.

Silicone is a semi-organic polymer, man-made material known for wide-ranging stability and water repellency. It is also a tight molecular structure and retains heat. Try to soak silicone toy (make sure it's waterproof) in warm water before using it to get nice warm feeling. Silicone also repels dirt and bacteria and doesn't fall apart with extended friction. Silicone has a safety rating of 10.

Plastic is a synthetic or semi synthetic polymerization product. It is also a non-porous and phthalate-free material with a firm, smooth textures. Plastic has a safety rating of 8, which is still really good.

Each of the materials that this product is made out of is also food-grade material, is hypo-allergenic, is latex free, and is nonporous.

I always like the safety features of my favorite products, because I like to know exactly what I am putting near my genital area. For people who have a latex allergy, no fear. I know that I have a latex allergy that is very minor, but I still try to stay away from products that have that material. It is nice knowing that my little angry Bunny FuFu is very safe and can be used on my clitoris safely.

His ears are flexible, so you can get the perfect angle to hit just the right spot. His little ears DO reach the g-spot if you have a shallow one, but it might not for everyone. The Muse Massager is mainly for external use, and I wouldn't insert him for that kind of pleasure. He is made to stimulate and massage your outer sensitive areas such as the clitoris, nipples, penis and balls. I wouldn't really insert this anally but you could if you wanted to. Silicone is a very nice material that you can disinfect quite easily, so it is possible. It could potentially hit a p-spot and give great pleasure to the male user.

Material:

Silicone

Material safety

Texture:

Velvety

Safety features:

Food-grade material / Hypo-allergenic / Latex free / Non-porous / Phthalates free

Design / Shape / Size:



I really think the design of the Muse Massager is pretty genius. It is just an adorable little angry Bunny FuFu. The design of him is really incredible, to the point where his little ears just get the job done. There are two motors in his ears that make him work so amazingly. While you hold him at the base of the product, which is the plastic material, your hand does not get numb from the vibrations. I especially liked that feature of the Muse Massager, because it did not make my hand numb and I could use it and not be irritated by holding it. It was really a nice moment knowing that he knew how to get the job done.

He is completely waterproof and can be taken into the shower or bathtub. I have taken him into the bathtub with me and even submerged him; he works perfectly fine. It somehow makes a bubble so no water can get inside. It is quite genius, and I am pleasantly surprised that it can do so many amazing things. The insertable charger part is actually pretty hidden, and it took me a few seconds to find out how to charge him up. It is located at the backside of little angry Bunny FuFu. It is between the silicone part and the plastic part, right in the middle of it. You really have to push hard to get the charger even inside of Muse. I like that feature, because I know that the charger won't fall out and it won't be charged when I come back into the room.

The size is just perfect for clitoral use. It is small, fitting in my hand, and the small to medium ears of him are just the icing on the cake. He is made with love, and the creators really knew how to make him as pleasurable as possible.

Here are the measurements of our lovely little angry Bunny FuFu :
Length: 3 1/2" (He is quite tiny but perfect to fit in your hand)
Circumference: 6 1/4"
Diameter: 1 3/4"
Weight: 0.6 lb

He is very flexible. The ears can be moved closer to your own preference, and your anatomy down there will thank you.



He is very easy to hide. From a non-suspecting eye, he just looks like a little bunny figurine. I leave him out on my dresser and have no problems showing people my room. If someone did see it, I wouldn't mind. I would just say he was a children's toy that I picked up because he looked so cute. He is very discreet in his sounds and is extremely quiet. You cannot hear him from under a blanket or even behind a closed door. I could definitely say that if you have roommates, they will have no idea. If you live in a dorm situation, I would be a little cautious but not too worried.



Length:

3 1/2"

Circumference:

6 1/4"

Diameter:

1 3/4"

Weight:

0.6 lb

Functions / Performance / Controls:

My opinion of the functions and actual performance of the Muse Massager is quite incredible. There are ten settings, depending on which eye you poke to get to them. The controls are very convenient to press and are easy to learn.

There is obviously a low, medium, and high setting. They are straight out vibrations that are steady and don't let up. He really has some big power, because I like a lot of pin-pointed stimulation in my clitoral area. He gives that and so much more. He is pin-pointed to the point where I can maneuver him to be in the perfect place: right on my clitoris and above/under my clitoris, depending on my mood. I can have an explosion of an orgasm on the medium setting. He definitely can be compared to some of the great external clitoral massagers out there. I will do a comparison in my video for everyone.

There are also seven patterns that range from pulsating to roller coaster. There is a range of strengths that they each have which is pretty fantastic. I really like poking his little eyes to get what I want. His eyes do make an "angry" face when the vibrations get higher. He lights up as each pattern does what it does best. It is very good for couples playing with vibrations and patterns, because the partner using this product on their partner can see which setting it is on from the red lights coming from this little guy's eyes and his eyebrows. His mouth also lights up, and in every pattern setting makes a LED blue light so you know exactly which setting he is on at all times. He is engineered with a lot of love and a lot of craftsmanship. The creators of Muse Massager really heard the community when it came to "I don't want my hand numb!", "I want bigger vibrations!", "I want more patterns!", "I want it to be flexible!", "I want it rechargeable!", and "I want it waterproof!". They met all my expectations, and I hope they meet yours, too.

There is absolutely not one thing that I would change about my little angry Bunny FuFu. He is perfect, and I am so in love with him. He makes me extremely happy, even when he has his angry face on and I poke his eyes constantly. He is such a trooper with the abuse I put him through. He really does love me, though: he gives me such incredible orgasms... it makes my legs shake.

The first time I charged him, I left him charging for about three hours. I usually do that with all of my rechargeable items just to make sure that they charge properly. On the highest setting, he has a charge for at least 6 hours for continuous use. If you turn him on/off and use him leisurely, he lasts for days. As with many rechargeable toys, he will lose strength completely in about a week if not charged. That is completely normal. I haven't charged him in seven days and he is still kicking around. He isn't even drained yet. He doesn't even feel as if he is losing any power. He is one bunny that goes on and on.

Functions:

Escalating / Pulsating / Rollercoaster / Surging / Vibrating

Special Features:

Dual vibrator
Light indicators
Multifunction
Powerful
Waterproof

Control type:

Built in control pad

Powered By:

Rechargeable

Care and Maintenance:

As the Muse Massager is made out of velvety Silicone and Plastic, it is very easy to clean him. My little angry Bunny FuFu loves to be cleaned and loves to splash around in the bathtub.

For many silicone products that are purely just silicone, you can fully disinfect them by boiling for 3 minutes or by throwing them into the top rack of your dishwasher. I wouldn't boil our little guy or run him through the dishwasher, because he is motorized and made of two materials. I use antibacterial wipes or spray to clean him off completely. It is a very quick and easy thing to just clean your silicone toys and not have to worry about them being dirty. You should always clean your toys before and after use.

For plastic products, they can easily be cleaned with antibacterial soap and hot water or by wiping down with isopropyl alcohol.

I personally store this on my dresser, just lying out. I am still in the "I love my angry little Bunny FuFu!" kind of mode and want to use him frequently. After that, I plan to store him in his luxurious box.

With silicone products, you cannot ever use silicone lubrication with your toys. It can damage your velvety silicone, and we all want to strive to keep our toys in the best condition possible. You can use water-based lubricant, which is safe for all products. I personally use the Wet 1 in 4 watermelon lubricant on all my toys.

Care and cleaning:

Soap and water

Packaging:



The Muse Massager was packaged ever so lovingly. It was just beautiful to look at. It gave a lot of information and really made me feel at ease. It is form-fitting into the box and looks very stylish at that.



It is a pretty smallish to medium box that my little angry Bunny FuFu comes in. It is black and has an "actual size" comparison on the front of the box, with his little eyes lighting up as well as his mouth. On the bottom, there is a pink strip of color and it says "NS Novelties" and "Silicone".

On the side of the box, it says everything in a different language for those that prefer to read that way. On the bottom of the side of the box, it does say "Care Instructions : Wash toy after each use with liquid anti-bacterial soup and water. Pat dry with soft, cotton towel and allow to air dry completely. For maximum pleasure, use lubricant with this product".

On the back of the box, it shows a picture of our little angry Bunny FuFu. It tells us that he has a dual motor in his little cute ears, he is made of body safe silicone and ABS.

It also says on the back of the box, "Increase intensity/switch to next mode (hold for two seconds to turn off) on his left eye. On his right eye it says, "Decrease intensity/switch to previous mode". It also says, "10 functions, accent LED light, waterproof, and rechargeable (charger included)."

He doesn't sit up straight... he kind of wobbles. He is obviously weighted, and it is pretty cute that the creators made him this way.



Experience:

The first time I used my little angry Bunny FuFu, I was curiously surprised about how powerful he really was. He has numerous settings that you can turn up/down while poking his left and right eye. He is very quiet and extremely cute with his lights on his eyes/eyebrows and mouth.

I used him on my clitoris on the low setting at first. It was pretty nice to have the dual motors on each side of my clitoris. I moved it up so one of his ears was directly on my clitoris and the other was on top or the bottom area of my clitoris. I turned him up by poking his eye. The medium setting was surprisingly high, and I wondered if I was on the medium or high setting. I turned it up again by poking his eye and he was now on the high setting. It was very intense and precise. He was pin-pointed and got the job done very well. His patterns were literally out of this world. My favorite was the pulsating pattern and I just rode it out. I could definitely orgasm on the medium setting, while I am used to the medium/high setting on my Leaf. I just want to keep reiterating that he is very powerful.

He exceeded all my expectations and more. I literally could not be happier with this product.