Big Teaze Toys Holiday ball gold duckie - Discreet massager from Big Teaze Toys

Holiday ball gold duckie videos
Product Details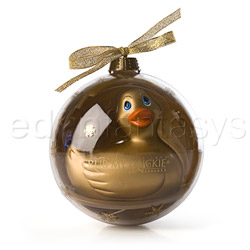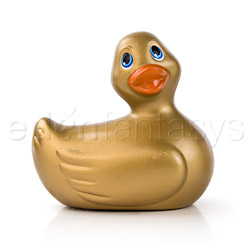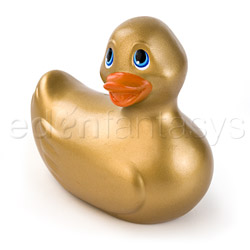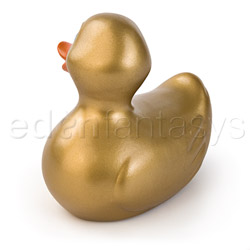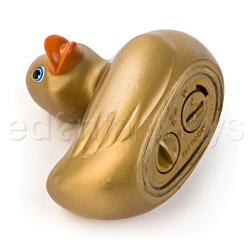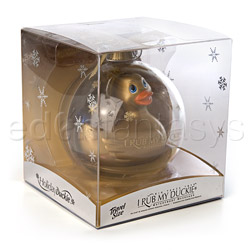 Summary:
The Gold Ball Holiday Duckie is a fun, holiday themed toy that can be used all year round. Perfect as a discreet gift or a bit of fun. It's amazingly strong for such a small toy, and is very effective at providing pleasure. Excellent for anyone who prefers whimsical and non realistic toys.
Pros:
Strong, discreet, small, easy to hide, non threatening.
Best use:
The Holiday Ball Gold Duckie is the epitome of cuteness and functionality for the Christmas season. It looks like an adorable ornament in it's packaging, and can certainly be used as one. Out of it's packaging, it looks like a toy and is absolutely discreet. In use? It's an oddly powerful little vibrator that can go in the tub with you.

The Duckie itself is best used as a clitoral (or other erogenous zone) stimulator. Its entire body vibrates, but is not really designed to be insertable. Pressing its head, beak, tail feathers or body against your clit, however, gives plenty of naughty fun.

Because it's so non threatening, strong, and even friendly and fun, the Holiday Ball Gold Duckie is the ideal toy for just about anyone. Beginners to advanced users are sure to get a kick out of it.
Material / Texture:

The Duckie is made from phthalates free rubber and is quite firm. It feels more like plastic than rubber to me. The material is smooth to the touch with the only texture being the bulges and details of its body; beak, feathers, chubby cheeks. The only of these areas to really add extra stimulation is the beak, which is great if you like pinpoint clit stimulation as it's quite the pointy protrusion.

Beyond that, the hard rubber body is stimulating pretty much only when it's turned on and vibrating. Unlike a lot of rubber toys, this one has no noticeable smell, even immediately upon opening the package.

Material:

Phthalate Free PVC

Material safety

Texture:

Bulged

Safety features:

Phthalates free

Design / Shape / Size:

This Duckie is the travel or mini size, and measures approximately 3 x 3 x 2, including the head. It's physical design is super discreet, beyond cute and definitely non intimidating.

As a vibrator it's quite strong, especially as it runs on only 1AAA battery. It's a little bit bulky and strange to use if you're used to a more sleek and ergonomic vibrator, but a bit of creativity and playfulness has the duck doing exactly what it's supposed to do; vibrating you into a happy pleasure zone.

Because it can be left in the ornament ball for the holidays, left sitting in the bathroom, left just about anywhere without people thinking much of it, this is probably the epitome of a discreet toy. You could even remove the batteries and travel with it and no one would think anything of it.

Color:

Gold

Length:

3 1/4"

Width:

2 1/2"

Weight:

0.4 lb

Functions / Performance / Controls:

The Gold Duckie runs on one AAA battery that is inserted into the battery chamber on its underside. A coin, screwdriver or butter-knife is required to open the compartment - very reminiscent of many battery operated toys when I was a kid. The compartment seals tight when you screw the cover back on and vibrations are turned on by twisting a small dial in the same area.

There is only one level of vibration and, on the toy I received, those vibrations are quite strong and loud! In this regard, the Duckie is not very discreet. It's going to be heard if you're using it in the bathtub - or anywhere - unless you have very thick doors and walls. It's not jackhammer loud but it's very obvious something is vibrating.

Its waterproof functionality works well - I've only had water get in the battery compartment once and that was when I left it in a sink for a few hours. If it does get wet inside, simply remove the battery and allow the interior to dry before closing it up again.

The Gold Ball Duckie floats but not right side up. It sort of tips over drunkenly but it does float.

Functions:

Vibrating

Special Features:

Powerful
Quiet
Waterproof

Control type:

Power switch

Powered By:

Aaa-1

Care and Maintenance:

Rubber is porous, even hard rubber, so don't share your duckie unless you're fluid bonded with someone. Keep this toy as your own.

It can't be sterilized, but can be kept in good shape with a soap and water wash.

Both water based and silicone lubes are okay with the Duckie.

Packaging:

The Holiday Ball Gold Duckie comes in a festive plastic package that contains both the gold and clear "ornament" and the Duckie inside that ornament. Everything is taped and tied down quite securely but once you open it, it's hard to get it all back together again.

If you wish to display this as a Holiday decoration, I'd suggest leaving the Duck in the ball.