California Exotic Lia G kiss - Discreet massager from California Exotic

Product Details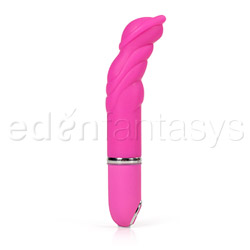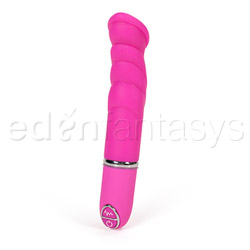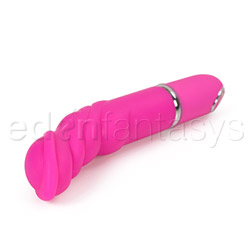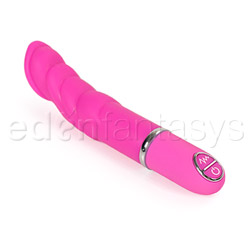 Summary:
This is a fantastic, very balanced toy. Its controls are very simple and easy to use. The design is great and manages to find your g-spot every time. While it's size and texture may be a little lacking for advanced users, for most I would say this is a good choice for either a first g-spot vibe, or a new go-to toy.
Pros:
Different control buttons
Good design/size
Waterproof
Cons:
Buttons don't always work
Best use:
Lia "G" Kiss was designed with one purpose in mind (to hit your g-spot every time), and I can tell you it does an awesome job at that! However to be fair, I've never had any trouble finding it, so I shouldn't make guarantees for anyone else, just check with other reviewers! Of course, that's not its only use. Being a vibrator it's great for clitoral play and stimulation of any other erogenous. Keep in mind though, this toy has no sort of flared base, so you should never use it for anal play. Also, it's waterproof (tested and true) so it works great in the shower!

This you is really fantastic. It's not over sized, and the controls are very straight forward, so I can easily recommend this for anyone who's interested. It's also great for almost any occasion--either by yourself or with a partner!
Material / Texture:

This toy is made from silicone, which is a 10 on Eden's safety scale, and as always, an absolutely great choice! Silicone is a nonporous material, which means care is very easy, you can boil it for 3 minutes, put it in the dishwasher, or any toy cleaner will also work. You must be careful though, water based lube is fine, but silicone based lube can damage your toy. It has no noticeable smell and the taste was also negligible. The material itself has a smooth texture, with just a touch of rubbery drag. The texture of the design has several rounded bumps, one leading into another which lead into a rounded tip. This tip is fairly flexible, but the shaft is stiff (where the actual vibrator is located). Personally I didn't find this to be anything extraordinary, but it certainly may please someone who's more sensitive to different textures. Since it's simple, this design is great for beginners, but more advanced users may find it a bit bland. I can't imagine that anyone would find it unenjoyable, though.

Material:

Silicone

Material safety

Texture:

Ribbed

Safety features:

Food-grade material / Hypo-allergenic / Latex free / Non-porous / Phthalates free

Design / Shape / Size:

I loved the design, mostly because it does exactly what it's supposed to do. The slightly curved shape with its rounded tip is great at finding your g-spot, and stimulating it as much as you need! It's 5 1/2" overall, with 3 3/4" insertable and has a 1 1/4" diameter at its widest. This means that toy is exactly as big as it needs to be. It's not too wide for beginners, and it's almost exactly the right length. While it's definitely great for beginners, more advanced users may find it a little underwhelming. As stated earlier the bumps in the design weren't anything to brag about. The other pro of its size is that it's relatively easy to hide and easy to travel with. Granted, the design definitely isn't subtle, so you'll have to make sure to hide it from any prying eyes.

Length:

5 1/2"

Insertable length:

3 3/4"

Circumference:

3 1/2"

Diameter:

1 1/4"

Weight:

2 oz

Functions / Performance / Controls:

The controls were probably my favorite part of this toy--in fact, I wish more toys would follow this design. There are actually two different buttons: one for power, and one for cycling through the different vibration patterns, both of which light up to let you know it's working. I love this, because you don't have to cycle through every pattern to turn the thing off again. While I loved this set up, I do have a complaint--the vibration cycle button worked every time for me, but more often than no I had to press the power button several times before it would turn on or off. Hopefully this is a fluke, and everyone else's toys work great! There are 10 different vibration patterns, none of which is out of the ordinary. The vibrations are located around the middle of the toy where the vibrator itself ends (you can easily feel where it ends, because the toy becomes more flexible at the top). This toy made fairly little noise, and isn't a horrible choice if you need to be discreet (though there are better options). I can't say much to the battery life. It uses one AA battery which has lasted the last week or so of use, so at least it doesn't kill them too quickly. I do wish it was rechargeable though. Lastly, it performed great in the water, no problems to report at all!



Functions:

Escalating / Pulsating / Vibrating

Special Features:

Multifunction
Multispeed
Small size
Travel
Waterproof

Control type:

Built in control pad

Powered By:

Aa-1

Care and Maintenance:

Made out of silicone, this toy is super easy to take care of. It's a nonporous material and can be totally disinfected by boiling it for 3 minutes or by putting it on the top rack of the dishwasher. Of course you can always use your favorite toy cleaner too. Because it's silicone though, means you should not store it in direct contact with other silicone toys. They can be in the same box/drawer, just not physically touching one another. Also, make sure to never use silicone based lube with this toy. Only use water based.

Care and cleaning:

Bleachable / Boilable / Dishwasher safe / Soap and water

Packaging:

The packaging was a step above the normal flimsy cardboard box most toys/lingerie come in. It's clear plastic with floral designs, which let you see the toy inside. There's a plastic insert inside to hold the toy. Honestly, this box is fairly small and I would say it's not a bad idea to use it for storage. I wouldn't say it's terrific for a gift, though.