California Exotic TCB Taking care of business - Discreet massager from California Exotic

TCB Taking care of business videos
Product Details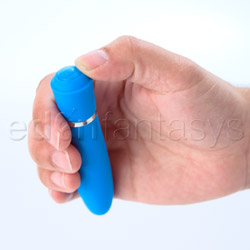 Summary:
Taking Care of Business is a three speed, waterproof bullet vibrator. It has a good amount of power and works well for clitoral stimulation. It is very easy to use and is great for beginners as well as more advanced users.
Pros:
Good amount of power, water proof
Cons:
Button can be hard to push at times
Best use:
Taking Care of Business is a three speed bullet massager made from velvet coated plastic. It is easy to use, and is pretty powerful. I use it mostly for clitoral stimulation and sometimes nipple stimulation as well. It is my "assistant" because I tend to use it along with a dildo for added stimulation.
The bullet vibe is good for both beginners and advanced users because it is easy to use and should be powerful enough for most. It also makes a wonderful assistant because it is easy to take anywhere and is even waterproof for shower fun. This is important because a dedicated business partner or assistant should be willing to go wherever the boss goes!
Material / Texture:

This vibe is made from plastic with a velvet coating and is very smooth which allows it to glide nicely on the skin (just like an assistant in the office gliding about getting work done). I like this smoothness because it is easy to slide along the labia and clitoris. The fact that it is smooth makes it great for all users. Being made out of plastic means that there is no give, so this can provide firm, pin point stimulation.
It does not have a taste, but did have a little bit of a plastic smell when I first took it out of the package, and now I can only smell it when it is held close to my nose. It is coated plastic, and rates a 7 on the Eden material scale, it is phthalate free and body safe.

Material:

PU coated plastic

Material safety

Texture:

Velvety

Safety features:

Phthalates free

Design / Shape / Size:

This bullet is pretty light weight and easy to apply vibrations to various locations on your body. The length also allows you to insert in 2 3/4 inches if you are looking for a slim toy to stimulation the entrance of the vagina. It has a circumference of 3 3/4 inches with a 3/4 inch diameter. It weighs less than two ounces, so it is very easy to use for a long time and in a variety of situations (like standing in the shower!).

The shape works well for providing pinpoint stimulation to the area of your choice. The vibrations can be felt along the entire bullet so it feels nice when allowed to rest between the labia.

It is a small size that would be easy to hide. Anyone who knows anything about bullets or sex toys will most likely know what it is. The size also makes it very easy to use this in conjuction with other toys.

Length:

4"

Insertable length:

2 3/4"

Circumference:

2 3/4"

Diameter:

3/4"

Weight:

1.7 oz

Functions / Performance / Controls:

This bullet has three levels of steady vibration. The first level is a little more "rumbly" than the other two. In my opinion it is pretty strong and works very well for me to use for warm up. The second level is a little bit louder and there is a noticeable difference between the level and the first. This level is a bit buzzy and is enough to get me off, as it is pretty strong. The highest level is stronger than the middle one and is usually too much for me, so I rarely use it. This level is also pretty loud.

To control the vibration levels, you simply push the button at the bottom of the toy every time you desire to increase the speed. There is no designated on/off switch so you have to go through all of the vibrations in order to turn the toy off. The button is pretty easy to push, though sometimes while in use I have trouble pushing down hard enough on the button (especially when on the verge of orgasm).

Functions:

Vibrating

Special Features:

Multispeed
Powerful
Travel
Waterproof

Control type:

Push button

Powered By:

Aaa-1

Care and Maintenance:

I keep this toy in a drawer in my dresser or sometimes on my laptop stand near my bed so that I can get to it quickly whenever the mood strikes! It is small enough to fit many places so it can be put anywhere that is easy to get to should you need it in a hurry.

Velvet coated plastic is easy to care for. The fact that it is water proof also means that thw whole toy can be washed. I find that due to its small size liquid tends to get all the way up the toy,including near the bottom.To clean this toy simply was it with soap and water or use a toy cleaner/toy wipe. It is also compatible with the lubricant of your choice.

Packaging:

The packaging for this toy was very simple. It comes in a small plastic box with a flap that opens at the top. Inside of the box the toy sits in a molded plastic insert. I do not use the box for storage, however it would work fine if one was to decide that.

This packaging is not very discreet as the box is clear and has information about the toy on it. There are is a very small amount of information about the toy on the back of the box pertaining to the material, it being waterproof, and what size battery it takes.

Personal comments:

When I saw this little bullet I wasn't sure how my business was actually going to be taken care of. I thought to myself, it has 3 speeds and only runs on 1 AAA battery, how much power can it have? I was definitely wrong. It has a good deal of power and at times on the higher levels I find it to be too stong. Overall I enjoy having my assistant around because it has really helped me enjoy some of my other toys so much more over the past weeks. I never valued combined stimulation that much until I started using this toy!

Experience:

The first couple of times I used this toy I used it alone for clitoral stimulation (to get more of a feel for its power on its own), but now I find that it does its best work when partnered with my Johnny Vixskin for an intense blended orgasm! As of right now Johnny is the King or boss in my toy box and this bullet loves to work with him to provide wonderful stimulation. I find that I do not use this toy by itself anymore, but I do think that it feels great when used on just my clit.