Evolved Travel vibes Ipanema - Discreet massager from Evolved

Travel vibes Ipanema videos
Product Details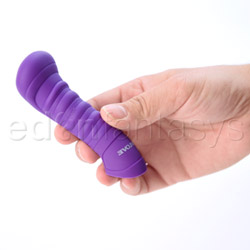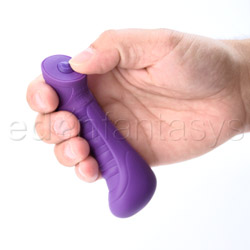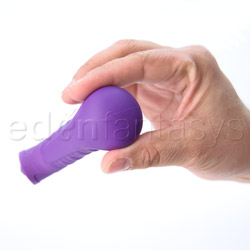 Summary:
If you're looking for some light G-spot stimulation, or simply just want an adorably cute and unique toy, Ipanema might just be the vibe from you. It's made out of a hard plastic which is body safe and the controls are simple to use. Ipanema's waterproof construction and low noise make this an ideal toy for shower play and for roommate situations.
Pros:
Small, discreet, cute design.
Cons:
Some might find the power a bit lacking, G-spot design but short shaft.
Best use:
Evolved's Travel Vibe "Ipanema" is a discreet vibrator made from a hard plastic. While Ipanema serves well as a clitoral vibrator, it also has a G-spot curve to it for an added bonus. Ipanema is a little one though, it won't be able to reach deep G-spots, but those who have a more shallow G-spot should get some nice stimulation from this travel vibe. Not only is Ipanema small and compact, but it's also waterproof and super quiet. Ipanema would be a great choice for those in roommate situations or those that prefer the shower for their fun times.

Please also note that while Ipanema does have a nice hook to the shaft, which would provide nice prostate stimulation, this is not an anal safe toy in any way. There is no flared base and it's too short to really get a good grip, so please stick to more appropriate toys for prostate stimulation and leave this one to the ladies for G-spot play.
Material / Texture:

Made from ABS plastic, Ipanema is body safe and phthalate free. There is also no smell given off from the toy, even right out of the package. This plastic has a PU coat, which gives it a nice soft feel with the slightest amount of drag. Most won't find that they need lubrication due to Ipanema's small size, but if you do prefer lubrication both water based and silicone based are fine to use with PU coated plastic.

There is some slight texture on Ipanema, though that seems to be mainly for design and less for added stimulation. There are ribs down the shaft on the one side, though when using it these can't really be felt. This is true both for clitoral stimulation and for G-spot use. The texture would definitely be just fine even for someone completely new to toys and/or texture.

Material:

PU coated plastic

Material safety

Texture:

Ribbed

Safety features:

Latex free / Phthalates free

Design / Shape / Size:

Ipanema is a cutie, that's for sure! It has a very whimsical look, and while it's functions are the same as a basic travel vibe, the design of it is truly unique. Now, based on the size one wouldn't really expect Ipanema to offer much in the way of internal stimulation. However; it actually does prove to do pretty well for G-spot stimulation. Those with deeper G-spots will probably only achieve a mild stimulation, a warm up perhaps. If your G-spot is more shallow, Ipanema's hooked shaft might be able to zero right in for some direct stimulation.

Whether Ipanema can only offer a warm up, or if it can get you all the way, Ipanema is a lot of fun. If you already know you like G-spot play and where you G-spot is, you can probably determine what kind of stimulation Ipanema will offer. This toy might be better suited to those new to the toy game, but advanced users will still surely delight in the fun design!

Length:

4 1/2"

Insertable length:

2 3/4"

Circumference:

4 1/4"

Diameter:

1 1/2"

Weight:

2.5 oz

Functions / Performance / Controls:

Ipanema offers two speeds of vibration, both of which are pretty buzzy but not irritatingly so. The speeds feel like a medium and high, there's nothing that one would exactly consider to be low. The intensity is pretty average, though more on the high side of average. This is not a toy that will make power queens rejoice, but it's not lacking either. The vibrations are stronger than your average pocket rocket and slightly less buzzy than a pocket rocket as well.

The controls are easy to operate; there is just a single button on the bottom of the toy. The button pushes in easily, though not so easily that it'll accidentally change speeds on you mid use. You just press once for the first level, again for the high level, and then a third time to turn the toy off. It really couldn't be simpler! Ipanema also runs on a single AA battery, which is inserted at the base of the toy, the battery cap screws off right below the bottom curve of the toy. The cap screws on tightly to ensure no water gets in while using Ipanema in the shower or bath. Even when submerging Ipanema in the water there was no moisture on the inside after use. Ipanema is truly waterproof and its small size would also make it a great toy to leave right in the shower!

Functions:

Vibrating

Special Features:

Multispeed
Travel
Waterproof

Control type:

Push button

Powered By:

Aa-1

Care and Maintenance:

As easy as Ipanema is to use and store, it's also quite easy to clean. You can wash Ipanema with a mild soap or a toy cleaner and then dry it off and store until the next time. You can store it right in a drawer, there is no special precautions that need to be taken to store a toy made from this material.

As mentioned above, both silicone and water based lubricants are fine to use with Ipanema. The plastic material also makes it compatible with other toys, so you can store it right along with your other items.

Packaging:

Evolved always offers fun packaging. Ipanema comes in a clear plastic tube with tropical decorations. The tube can be used to store Ipanema in and it's super cute, so it's definitely worth keeping around!

Personal comments:

I was pleasantly surprised by how well Ipanema worked for G-spot stimulation. My G-spot is pretty average as far as depth goes, so while I wasn't able to achieve a G-spot orgasm with Ipanema, it still made for a great warm up. It also made clitoral stimulation with another toy more fun. Using Ipanema internally I could get some G-spot stimulation going, which always intensifies my clitoral orgasms. As a clitoral toy I found Ipanema lacking a bit. I believe it's the shape of the head that wasn't really doing it for me. The vibrations seemed a bit too diffused, and while they were pleasurable they weren't enough to take me to orgasm on their own. I fully admit that I prefer more powerful toys though, so those who normally enjoy average vibrations of a somewhat buzzy nature, will probably have better luck with Ipanema clitorally. For me though, I found Ipanema to be better for some light G-spot play, and I have found coupling her with a waterproof pocket rocket makes showers a lot more fun!