California Exotic Couture collection Cyclone - G-spot vibrator from California Exotic

Product Details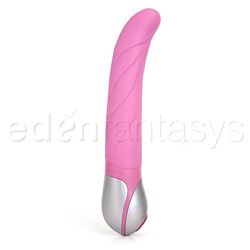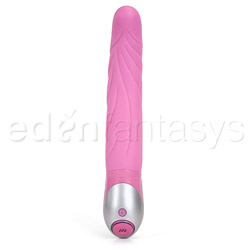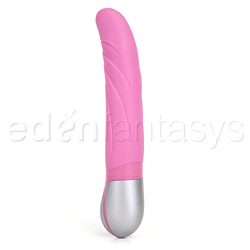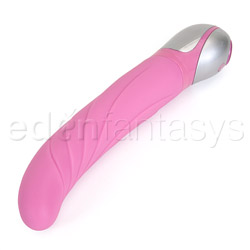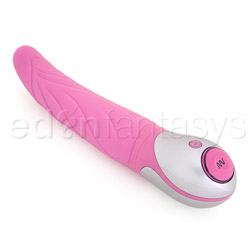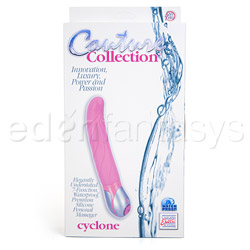 Summary:
The Couture Collection Cyclone is certainly a step up in quality from the basic California Exotics vibes. The quality is that of a more mid level vibrator, with standard features in an overall nicer design and durable form.
Pros:
Completely waterproof, quiet, safe material, easy to clean.
Cons:
Poorly placed vibrations, very difficult to remove batteries.
Best use:
The Couture Collection Cyclone is a silicone vibrator, designed to be used for vaginal penetration either in or out of the water. The tip is gently curved so that g-spot stimulation is easier than with a traditional, straight vibrator. Its thick, blunt shaft may be bigger than some prefer for anal penetration, but the non-porous silicone body makes the Cyclone a safe choice for those who might like to try it. For those who prefer external stimulation, the Cyclone is also useful. You might like to massage your clitoris with the vibe's tip, or simply lay the whole shaft between your labia to experience massaging pulsations from the outside in. I love sitting right on top of it with the shaft nestled against me while the vibrations pulsate on and off.

Because of its features, the Cyclone makes for a great all-purpose toy. Your partner can surprise you with different stimulation patterns at the push of a button, or you can spend some private time enjoying a few of the settings the cyclone has to offer. Because it's completely waterproof, the Cyclone could even accompany you into a warm bath with your favorite aromatherapy oils.

The Cyclone compromises a bit on power, but the result is a fairly quiet toy with enough vibration intensity to get the job done.
Material / Texture:

Of the dozens of sex toys I've come across and played with, the Cyclone is one of the first I've ever found to be completely non-offensive smelling right out of the box! The packaging reads "Seamless, Sophisticated, and Unscented", and for once, it's true! There is virtually no smell or taste on this toy, making it very appealing to me! The velvety finish of the Japanese medical grade silicone is slightly less textured than other "velvet finish" toys I've used, and the result is that it moves less smoothly across the skin or in and out during penetration. The shaft of the Cyclone has some ridges which don't provide much in the way of stimulation, but are difficult to clean well without scrubbing (a real downside in my book)!

The base of the Cyclone is a hard plastic case for the battery pack and control buttons. It has a few seams, but it fairly easy to clean and seems to be true to its waterproof description.

Material:

Silicone

Material safety

Texture:

Velvety

Safety features:

Food-grade material / Hypo-allergenic / Latex free / Non-porous / Phthalates free

Design / Shape / Size:

The gentle upward sweep of the Cyclone's shaft facilitates g-spot stimulation somewhat, but I would have preferred a more pronounced angle, myself. Also, the vibrations in this vibrator are felt strongest in the middle of the shaft rather than at either end, making it less than ideal for strong g-spot vibrations. The location of the vibrations can feel great as the strongest area contacts the labia and sweeps past the clitoris during penetration, but for consistent stimulation the Cycle falls short. For a toy that's labeled "Couture", I would love to see a motor in the tip, with vibrations that can be felt strongly throughout the shaft.

In my opinion, the Cyclone's size really hit's the mark. I found it big enough to be comfortably filling, but not so big that I felt stretched. While those who are used to smaller toys may be unsure of whether the Cyclone would be right for them, the fact that its intensity of vibration is fairly low to moderation might make this a perfect toy for someone looking to graduate to a new level of vibrator without too much intimidation.

Most women will probably find the 6 1/4" insertable length to be plenty filling, especially paired with the Cyclone's 1 1/2" thick shaft.

Color:

Pink

Length:

9 1/2"

Insertable length:

6 1/4"

Circumference:

5"

Diameter:

1 1/2"

Weight:

0.5 lb

Functions / Performance / Controls:

The Cyclone has a single motor located approximately 3/4 of the way up the toy's silicone shaft. While close to the solid silicone tip, I found that (especially on the lower settings), the vibrations tend to become diffused as they reach the tip of the toy. This is disappointing for a toy that's aimed toward the g-spot, as many women need direct, strong g-spot stimulation to really enjoy it. On the highest consistent vibration setting, I found that the vibrations were still not strong enough to be very satisfying on my g-spot, although someone who's looking for a less intense amount of stimulation may find just what they like inthe Cyclone.

The benefit to this lower intensity of vibration is that it makes for a fairly quiet toy. This is in part, due to the thick silicone body, and also the slightly higher quality construction than California Exotics' cheaper toys. On the highest vibration setting, the vibrator might be audible from under the covers, but definitely not outside the room. Remember that the acoustics of bathrooms tend to increase the volume of toys, so use discretion if you don't want to be heard outside the shower!

The "EZ-Load" battery case is anything but, as it took me well over 15 minutes to get the door off of the toy's base. In fact, I almost gave up entirely and was considering implementing some tools to get the job done. In the end, I was able to get it open with my hands alone, but I don't know whether that will happen again. However, the tight-fitting battery case and water-proofed buttons provide an optimal toy that's suitable for complete submersion for both play and clean-up.

Functions:

Escalating / Pulsating / Rollercoaster / Vibrating

Special Features:

Multifunction
Multispeed
Waterproof

Control type:

Built in control pad

Powered By:

Aa-2

Care and Maintenance:

Because the Couture Collection Cyclone is completely waterproof and made of silicone, cleanup is a breeze. You can use good-old-fashioned soap and water, toy wipes, or toy cleaner. Because there are electronics and hard plastic on the Cyclone, you cannot boil it to sanitize, but and alcohol based toy cleaner is suitable for that purpose.

California Exotics recommends that you remove the batteries from their toys in between uses. This is nearly impossible with the Cyclone because of how difficult it is to open the battery case. For this reason, battery corrosion is a risk with this toy, especially if it goes for a while between uses.

Silicone toys are luxurious, but they require some special precautions: Make sure you never use silicone lube with them, as it can ruin the finish of the toy; instead, use a water based lube. Also, don't store silicone toys touching one-another; wrap them with a lint free cloth or store them in their own boxes, bags, or cases.