Nomi Tang Getaway Luxe - G-spot vibrator from Nomi Tang

Product Details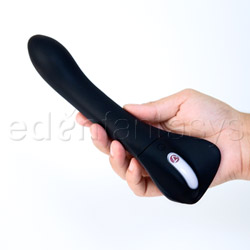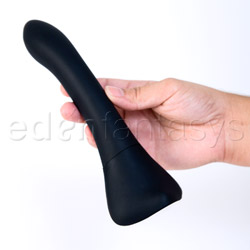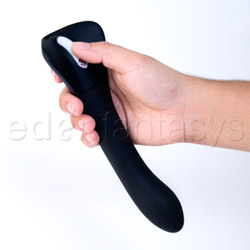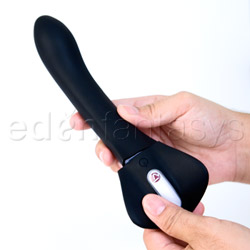 Summary:
The Luxe is a breath taking black matte beauty made of 100% silicone. The control pad, while easily bumped while using, is unique in that it is adjusted entirely by touch, with a button that controls on/off. The vibrations are very modest for being powered by 2-AA batteries. The unique shape leads the imagination to explore other uses for the Luxe.
Pros:
Futuristic design, unique control pad, waterproof, silicone.
Cons:
Weak vibrations, requires batteries.
Best use:
The Nomi Tang Getaway Luxe is a futuristic vibrator. The black matte silicone screams luxury and the futuristic touch pad to increase strength reminds me of Apple of vibrators. When you initially open the pure white box and the black Luxe stands out from the white satin it's sitting it, it can easily become hard to resist it's lure. The fact that it's a battery operated toy makes it a little more price friendly for a luxury option. While I wouldn't consider this a dual use vibrator, it can easily become one. The slim size should make this a good option for both beginners and those more experienced who know what their size preferences are.
Material / Texture:

The black, matte silicone is gorgeous. For some reason, in the land of silicone toys, black and white seems to just emit beauty & luxury to me. The texture gives that perfect bit of pull to the sensitive skin of the vagina, but at the same time a small amount of water based lubricant goes a long way in this nonporous material. Because it can easily be sanitized, vaginal/anal use is an option, be sure to use a 10% bleach solution (AND RINSE) to thoroughly clean it between uses. & Always use safer sex practices by doing the same with partners that you are not fluid bonded with.

Material:

Silicone

Material safety

Texture:

Velvety

Safety features:

Food-grade material / Hypo-allergenic / Latex free / Non-porous / Phthalates free

Design / Shape / Size:

This toy is so futuristic I had to take a step back to remind myself it is a vibrator. Once I got done playing with the dial pad, I cleaned it thoroughly and prepared for launch. I found the whole toy a bit awkward to hold, as I kept accidentally hitting the touch pad. The head of the toy is what I would call the middle ground for this line from Nomi Tang. The Getaway Pure being the most gentle for G-spot stimulation and the Getaway Wild having that beautiful head designed for g-spot stimulation. The Luxe's head is perfect for both thrusting and for g-spot stimulation because of this middle ground.

The size was adequate for myself, but be sure to check the specs on this if you know you prefer a toy with a bit of girth. When actually thrusting, in addition to hitting the touch pad I found it a bit painful if I went too deep because of the way this toy flares at the base. It's obviously a vibrator, so store it in a way it doesn't directly contact your other silicone toys & if traveling or storing it for some period- be sure to remove the batteries.

And finally, like mentioned, besides the exploration all vibrations afford, I found flipping the toy over and upside down (insertion end pointing up, touch pad pointing away from the vagina) that little nub on the base of the handle makes for some clitoral fun. While the vibrations are definitely focused in the shaft, it provides a nice tease.

Length:

8 1/2"

Insertable length:

6"

Circumference:

4 1/4"

Diameter:

1 1/4"

Weight:

12 oz

Functions / Performance / Controls:

The Luxe's fun touch pad was well worth exploring. There is a on button just above the touch pad that is easily turned on/off purposefully, but not accidentally. The touch pad on the other hand is really sensitive and can be accidentally hit during use. To increase the strength you run your finger the length of the pad away from the body, and opposite to lower the strength. To change patterns of vibrations you simply press and hold for 2 seconds the maroon symbol that conveniently glows blue when the toy is on.

The vibration patterns are continuous, an escalation, and a pulse. And those were honestly the only 3 I could find during my multiple trials- both sexual and curiosity. The blue indicator light also strangely flashes, but not in any sort of synchronization with the vibes.

Want some bath time fun? No fears! Not only is the Nomi Tang Luxe water friendly, it's one of the only toys I've found that gives a depth- 1 meter to be precise. I found that it performed well in the water and when washing it under rapidly running water. It was also very quiet and probably could not be heard from across the room under sheets.

And finally- just how well does it vibrate? The vibrations are weak to modest. For 2-AA batteries you can't expect super strength, but I was a bit underwhelmed. The manual suggests using disposable batteries versus rechargeable to receive more strength. I tried this and the vibrations seemed almost identical to me.

Functions:

Pulsating / Vibrating

Special Features:

Light indicators
Multifunction
Multispeed
Waterproof

Control type:

Built in control pad

Powered By:

Aa-2

Care and Maintenance:

The Luxe is relatively easy to care for. Make sure to remove the batteries before you store it and always have the battery compartment secure before using it or submerging it for washing. For cleaning I used a mild soap, but a simple rinse should work just as well. I did a small trial with silicone lubricant on the base with no adverse effects, generally it is recommended to only use water based lubricant with silicone. Just take note that water based lubricant will rinse off easily during water use. For storage, the included satin bag works wonderfully.