Rocks Off Limited Groovy Chick - G-spot and clitoral vibrator from Rocks Off Limited

Product Details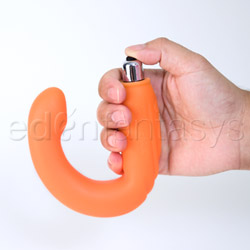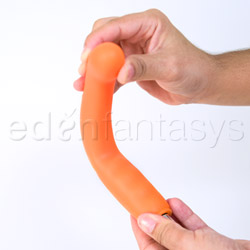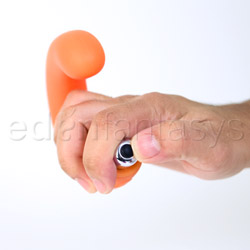 Summary:
The Groovy Chick is an ergonomic dual action toy that targets both the G and C spots. It can be used in a variety of positions and is extremely flexible. The slim body of the Groovy Chick allows it to flex comfortably during use. The Groovy Chick is made of 100% Silicone and is body safe.
Pros:
Body Safe, Ergonomic, Flexible, and Boilable.
Cons:
Could have more settings on the bullet.
Material / Texture:

Smooth, silicone, and straight to the point. The Groovy Chick is a simple toy. It is not packed with textures, shapes, or any other special options. What it does have is a simple smooth and silky surface that is comfortable and enjoyable. The Groovy Chick is ideal for those who want less textures and more toy. The smooth texture is welcoming on the clitoris and G spot. This toy has no grab, no drag, and over all works great.

The Groovy Chick is made of 100% silicone and is rated 10 in the material safety category. It is Non-porous, Phthalates free, Hypo-allergenic, Food-grade material, and Latex free. Silicone can be cleaned unlike any other toy. It is one of the safest materials to use for sex play.

The texture of the Groovy Chick is inviting to all users. Even though it lacks a variety of texture, it does allow straight, pinpoint stimulation.

Material:

Silicone

Material safety

Texture:

Smooth

Safety features:

Food-grade material / Hypo-allergenic / Latex free / Non-porous / Phthalates free

Design / Shape / Size:

As for design, the Groovy Chick is amazing! It isn't the ordinary toy that I have to lay back to play with. This toy is flexible and average sized which makes for a variety of positions. The Groovy Chick can be used in the standing position, sitting, or laying. I have tried many ways to play with it and found that I really enjoy sitting and rocking on it. They are not may dual action vibrators that I can do that with. Because it is slim and flexible, I am able to ride it with comfort and enjoy it just as much.

The overall design will work for most individuals. The flexibility allows the Groovy Chick to be moved to find your comfort and playful spots.

The Groovy Chick is 10" long but is curved dramatically leaving the inserting length at just 5". The circumference is at 3 1/2" and the diameter is 1 1/8". If you prefer an very large toy, of course the Groovy Chick may not be for you. The slim size is ideal for those seeking to step up play time by trying new positions. I believe all users will enjoy the Groovy Chick if given a try.

Length:

10"

Insertable length:

5"

Circumference:

3 1/2"

Diameter:

1 1/8"

Weight:

6.5 oz

Functions / Performance / Controls:

The Groovy Chick is equipped with a nice bullet that is powered by one N battery that is included. It is controlled by a small push button at the base. The bullet offers one speed. Push to turn on and push again to shut it off. The bullet is very easy to use and can be turn on and off during play for a more teased experience. The bullet can be removed and they toy can be used without it as well.

The vibrations are moderate and flow throughout the entire toy from base to tip. They aren't earthshaking but enough for most users. The key is to use the toy and it's flexibility to target your spot.

The Groovy Chick is waterproof as well and works amazing in the bath and shower. It is whisper quiet and cannot be heard making it very discrete. Make sure the battery compartment is sealed tightly and feel free to have some water fun. I haven't experience any leaking or battery damage. The toy is solid and works well.

Functions:

Vibrating

Special Features:

Batteries included
Waterproof

Control type:

Push button

Powered By:

N-1

Care and Maintenance:

To care for the Groovy Chick, simple remove the bullet and wash it with warm soapy water, rinse, and dry. The silicone toy can be boiled, put on the top rack of the dishwasher, or cleaned with warm soapy water. I recommend boiling. It sanitizes the toy. This is important, especially if you will be sharing it with a partner. I recommend placing the bullet back inside the toy after drying and storing them separate in a Ziploc bag, toy pouch, or other container. This will prevent damage to the surface of the toy.

The Groovy Chick can be used with water based lubricant.

Care and cleaning:

Soap and water / Toy cleaner

Packaging:

The Groovy Chick comes in a very cute purple box that can be used to store the toy in or for other use.

Personal comments:

If you would like to read an erotic tale of my experience with the Groovy Chick, please visit this [http://talesofthetoys.blogspot.com/2010/10/get-my-groove-on.html].