California Exotic Inked g-vibe - G-spot vibrator from California Exotic

Product Details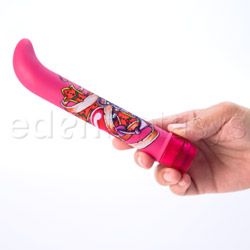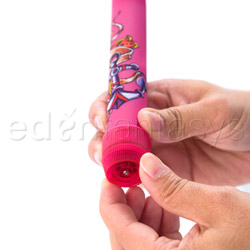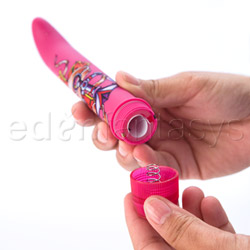 Summary:
The Inked g-vibe is simple but sassy. It's perfect for anyone looking to try out their first g-spot vibrator, and is sure to be appreciated by seasoned veterans as well. Though this toy isn't size queen friendly, the intense vibrations definitely get the job done!
Pros:
Intense g-spot vibrations, cute to boot
Cons:
A bit too slim, and a bit too loud
Best use:
When I first saw the Inked g-vibe, I got excited. Ridiculously excited. Not only was it the beginning g-vibe I was looking for, it had a tattoo on it (fact: I have a tattoo fetish). Since I don't consider myself the world's biggest girly girl, the black vibe is perfect for me. It has edge that says, "This is the vibe for a tough chick who knows what she wants!" But enough of my fan-girling.

Though made for finding the g-spot, the Inked g-vibe is also great for clitoral stimulation or teasing the rim of the anus. But why limit yourself? Try her out on the breasts and any other place you can reach as well. The vibration ranges from gentle to toe-curling, so everyone is sure to find a level that they are comfortable with. That combined with the slim size makes this vibe perfect for beginners or more advanced users alike.

This is the perfect vibe for anyone who is interested in g-spot play or has been enjoying it for years. It's also a great toy to use with a partner, particularly if your partner has little experience using g-spot toys. Use this as a teaching tool before moving on to more advanced toys, or simply use it to tease and please!
Material / Texture:

The Inked g-vibe is made of plastic and lovely velvet cote that gives it a velvety texture. It feels silky to the touch, and the smooth texture helps it glide in easily. On the other hand, those who enjoy a lot of texture may not find this vibe as stimulating as desired. The material has no foul scent and no noticeable taste. There is a slight seam that runs down the middle of the vibrator, but it is barely noticeable when stroking it and not at all noticeable during use.

The downside to plastic is that the vibe lacks flexibility. However, I did not find that this hindered my ability to find my g-spot. In fact, the firm material made it easier to really get the g-spot stimulation I was looking for. Again, this makes it ideal for beginners and advanced users alike.

Material:

Plastic

/

Velvet cote™

Material safety

Texture:

Smooth

Safety features:

Food-grade material / Hypo-allergenic / Latex free / Phthalates free

Design / Shape / Size:

I absolutely adore the design of this vibrator. Not only is it curved to perfection, the shaft is also decorated with iconic tattoo symbols: a cross, a heart, an anchor, and a banner.

The curved end of the vibrator comes to a rounded point made for really targeting the g-spot. Though technically the full 6 1/4" of insertable length is not needed to find the g-spot, the extra length allows for some thrusting as well as stimulation of other sweet spots. Using the tip, you can really hit any nook and cranny that strikes your fancy.

While it took me a few moments to find my g-spot with this vibe, I was in heaven once I did. The only complaint I have is the lack of girth with this toy, as I enjoy a nice full feeling. However, because it is only 1" in diameter, it is a great g-spot vibe for beginners or those who prefer their toys on the slim side.

Warning to the woman on-the-go: Though the slim girth makes it easy to slip this toy into the pocket of a larger purse, its 7 1/2" length means you won't get away with hiding this one in your clutch. That said, it isn't too obtrusive for traveling/vacation purposes.

This vibe is not discreet; chances are, if you leave it lying around, anyone who sees it will know exactly what its for. So slip it back into its box when you're done, and tuck it away.

Length:

7 1/2"

Insertable length:

6 1/4"

Circumference:

3 1/4"

Diameter:

1"

Width:

1"

Weight:

4 oz

Functions / Performance / Controls:

This vibe is controlled by a simple dial located on the base--just twist and go! No tricks to working this one. It has multiple levels of vibration ranging from gentle to strong, and this vibe is powerful for something that runs on 2 AA batteries. The vibrations can primarily be felt in the tip of the toy, right where they can work your g-spot the most, though they are present throughout the shaft of the toy as well.

I haven't gotten to experience the highest setting nearly as much as I would like to, as it gets loud when cranked all the way up, and I unfortunately have to keep my dorm setting in mind. So if you need really strong vibrations and your walls are as thin as mine are, you may want to reconsider.

However, the Inked g-vibe has the redeeming quality of being waterproof! Yes, you can in fact enjoy the quivering delight of g-spot orgasms from the comfort of your bathtub or shower. Always an enjoyable feature in a toy. Just make sure the bottom is tightly closed and enjoy. This vibe will perform just as well in water as out of it.

Functions:

Vibrating

Special Features:

Multispeed
Powerful
Travel
Waterproof

Control type:

Dial-base

Powered By:

Aa-2

Care and Maintenance:

Both velvet cote and plastic are non-porous and phthalates-free materials, and this vibe has the added benefits of being hypoallergenic food-grade material and latex free. Though velvet cote is generally compatible with both water-based and silicone-based lubricants, the packaging recommends that this toy only be used with water-based lube. To clean, just wash it off with warm water and antibacterial soap or your favorite toy cleaner. It can also be sanitized with your standard isopropyl (rubbing) alcohol. The smooth texture of the vibe makes clean-up a breeze, as there are no hard to reach areas that need cleaning. After wiping it down (and removing the batteries!), place it back in its box or storage container of your choice.

Packaging:

The Inked g-vibe comes in a bright pink box that is sure to make you smile. Though the packaging is not at all discreet and clearly shows off what is inside, it can be used as storage. The vibe comes complete with a nifty info sheet that contains info on use, battery insertion, and a list of what not to do. These instructions are listed in English, German, Dutch, French, Italian, and Spanish, which I found to be pretty awesome.